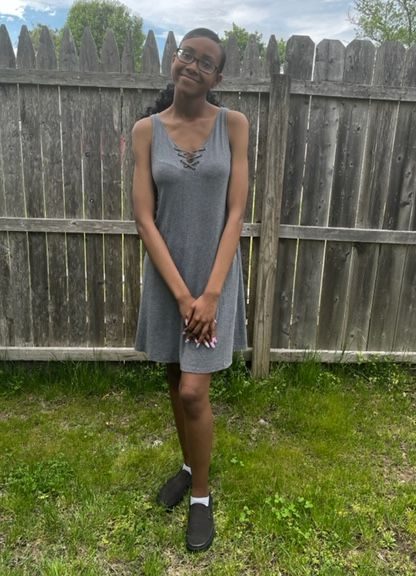 "Forever be grateful for everything": Nia Rolle, Opinions writer
"How lucky I am to have something that makes saying goodbye so hard." – A.A. Milne
Saying goodbye to RV, the Holly Spirit and the teachers here that have helped me grow as an individual is not going to be easy. I still can not believe that four years have passed since I first started high school. I have learned a lot since freshman year, from my schoolwork and becoming a better individual and a hard worker. The saying, "Time flies by so fast when you're having fun," is definitely accurate because I feel like yesterday I was just a new freshman and so nervous and in a couple weeks I will be walking across the stage and receiving my diploma. 
I am incredibly thankful for teachers like Mrs. Carlson, Mrs. White, Mrs. Caden and Mrs. Vizzacco. These three teachers have inspired me to do better and be creative. I have always liked history and Mrs. Carlson and Mrs. White made those classes awesome, their lessons were always creative and interesting. Then math came naturally easy to me, especially Algebra. RV has numerous clubs and organizations to be a part of and I am proud to say I was part of Black Student Union, the Holly Spirit, RV Best Buddies, Circle of Women, Cosmetology Club and the Spirituality Club. I am also proud to have started my own club, RV Cooking Club and we had over 60 members join and did a community service event making peanut butter and jelly sandwiches for the homeless. 
I have decided to further my education at Delaware State University, majoring in Chemistry and minoring in Entrepreneurship. Majoring in chemistry and minoring in entrepreneurship will allow me to become a cosmetic chemist and hopefully lead me to medical school to become a dermatologist and then have my own businesses and medical practice. Those are my initial goals for right now.
RV is a community where you feel like home, and I truly see how success is being performed from our school. There are incredibly creative and intelligent individuals in our school that will go far and I only hope my goals and dreams will allow me to go as far. 
My advice to others is just to be active and enjoy what you do especially on the newspaper, join a desk you know you will bring a lot of energy to and work to. Make friends with everyone, do not limit yourself to one or two people in the newspaper because everyone is different and intelligent. You may find your best friend in the newspaper or in any other clubs you may decide to join. But I would say Holly Spirit was the best of them all. 
Overall, I will miss RV and all of the experiences I had from freshman year up until now. Wherever I end up, whoever I become, I will forever be grateful for everything that happened to me up until this point. Hope everyone flourishes into who they need to be. 
Donate to The Holly Spirit