The wonderful world of Shawn Mendes
New documentary about the pop-star shows vulnerability and love behind the scenes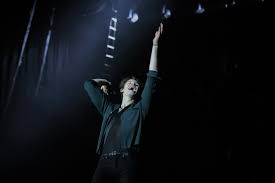 After binge-watching and re-watching every TV show and movie during quarantine, you may be wondering what to watch next. Look no further because singer and heartthrob Shawn Mendes has a new documentary out.
His documentary, called "Shawn Mendes: In Wonder," released November 23 on Netflix, gives fans an inside look to his recording life as well as the thoughts and feelings of Mendes himself.
The documentary takes viewers behind the scenes of Mendes's last tour, "Shawn Mendes: The Tour." Viewers are given a unique perspective on what tour life is really like including not only the joys, but also the hardships that go along with it.
"We're on a 104 show tour and… I'm so grateful I love these performances, but at the same time I also want to hang out with my parents and watch movies," Mendes said in the documentary.
There is also a look into the making of his new album "Wonder." The process of coming up with the lyrics up to the actual recording of the album is all shown. "I've definitely always felt the pressure to make music that's better than what I've done before," Mendes said in documentary. "I feel this time around I'm in the studio kind of just being like 'Okay whatever comes, comes.'"
The documentary also serves as an intimate look into where he grew up and an introduction to his family and friends. Viewers are shown his childhood home and bedroom and see where it all started for Mendes. Along with this, you also get to meet his family and hometown friends. Mendes talks about what a great support system his childhood friends have been to him throughout his whole journey.
"Without him, I don't know, I'd probably be, like, pretty crazy," said Mendes of his childhood friend Brian Craigen.
His family also played a huge role in his career. From the beginning, his whole family has been supportive of his singing career. "My parents, my friends, nobody looked at me and said you're crazy." Mendes said in the documentary.
Another huge part of his life that is showcased is his girlfriend, fellow pop singer Cabello. The documentary shows the support they provide for each other throughout their careers while showcasing a more in-depth look into their relationship, which also shows a more vulnerable side of Mendes. This aspect makes the documentary feel more personal and makes viewers feel like they are really getting to know him.
Above all, "In Wonder" showcases the highs and lows of Mendes's life as well as his reaction to them. In an interview with late night television host Jimmy Fallon, Mendes said of his documentary, "It's an insanely vulnerable, insanely raw, insanely honest portrait of what it is to be me and what my life is about."