Riots at the U.S. capitol in protest of electoral proceedings
Electoral college confirms Biden as the winner of the presidential election after forced recess
In the midst of yesterday's Congressional debate to vote on pending challenges to the results of the electoral college votes cast for president-elect Joe Biden, the Capitol was breached by an oppositional force claiming, in favor of President Trump, that the recent presidential election was fraudulent.
Their intention was to disrupt the voting process that they believed would fraudulently confirm Biden as the victor of the presidential election. The Capitol was infiltrated, the House was locked down and the lawmakers in the building were eventually led to evacuate while a recess was called.
In an interview with NBC news, Representative Ken Buck (R-CO) recounts the events from his perspective inside the House: he was set to speak when a message came through informing everyone of a sudden lockdown, and urging all personnel to put on their gas masks. Buck began to hear the windows shattering and he and several other members of Congress attempted to push heavy furniture against the Chamber doors in an attempt to barricade themselves safely inside. 
Amidst the chaos within the Capitol after the breach occurred, President Trump tweeted a now-removed video of himself urging protesters to "go home" after maintaining that "the election was stolen." This video did not disperse the rioters gathered inside or around federal property. Rioters were also seen breaking into federal offices to steal and view classified documents.
Reporter and rioter Elijah Shaffer documents in a now-deleted tweet: "BREAKING: I am inside Nancy Pelosi's office with the thousands of revolutionaries who have stormed the building… emails are still on the screen alongside a federal alert warning…" followed by an image of Pelosi's computer as it was left when the Senate-Majority Leader evacuated.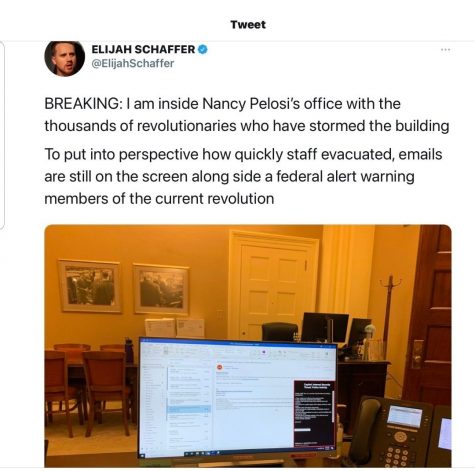 During the breach, several shots were fired, including one that killed a female rioter due to a shot to the shoulder. According to the Guardian, her name was Ashli Babbitt, and she was an unarmed MAGA rioter.
Shortly after Babbitt was shot, D.C mayor Muriel Bowser issued a strict curfew from 6pm to 6am, urging all citizens to stay indoors and avoid crowds during a press conference Wednesday afternoon. According to CNN, four individuals in total died during the breach.
The breach was carried out in protest to the voting proceedings concerning the electoral college results of the presidential election, and early this morning, the results were called; "Congressional leaders continued to vote through the night after a breach by a pro-Trump mob at the US Capitol… the president-elect [Biden] received 306 electoral votes," as reported on the Today Show. 
Biden has been confirmed the winner of the presidential election through the electoral college votes counted and was called this morning.
The story continues to develop with the FBI and Department of Homeland Security getting involved in searching for rioters for questioning.