Morgan Wallen's "Dangerous" thrills country fans
The double album by the Tennessee singer solidifies Wallen's rise to stardom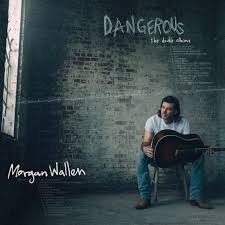 The increasingly-popular country singer Morgan Wallen starts off 2021 on a high note with the release of his second album, "Dangerous," on January 8. The exciting drop of the fresh-sounding album has reached the biggest-ever streaming total for a country album. Wallen has been on the rise to fame since his audition for the televised singing competition "The Voice" in 2014. The album contains 30 songs, each of which contains its own stories. Many of the songs are about a girl, although who they are about remains a mystery. Wallen was able to write all of these songs during his downtime amid the pandemic.
The most listened to song of the album currently is "More Than My Hometown," approaching 99 million streams. In an interview with "Country Music Minute," Wallen said, "I think it's a song that represents to me about not changing who you are for someone, even if you may really love that person." Fans are loving seeing this raw side of Wallen, and him staying true to himself. It exemplifies an important message to listeners, while carrying out a catchy tune. 
"Somebody's Problem" is his number one popular song right now, meaning, it is gaining country listeners' attention. The song was released in December 2020 and reached No. 3 on Billboard's Hot Country Charts. "The Voice" alumnus has yet to speak on the meaning of the song, although we are to assume it's about a complicated woman that he still loves. The song has a slow rhythm to it, and relatable lyrics, making us feel like we know the woman ourselves. The connection with Wallen and his soft, country tone makes the singer stand out from other country performers. 
And despite it being the title of the album, one of the less popular songs is "Dangerous," not even reaching the top ten of Wallen's songs. Although, Wallen does not seem to care, just being grateful for everything he has. On New Year's Day, he shared a post on social media saying,  "All in all, I'm far too blessed to complain." Seeing how grateful he is for his platform draws in the crowds. It makes it more pleasurable for someone to support someone, who is grateful for the support.
Wallen is no stranger to the spotlight, but perhaps for the wrong reasons. He was arrested in May 2020 for getting a little too rowdy at Kid Rock's Honky Tonk bar in Nashville. Then, in October 2020, Wallen made headlines again for being cut from a Saturday Night Live appearance after pictures surfaced on social media showing him at a crowded bar, maskless, before he was supposed to perform live on the show. Despite his questionable behavior, Wallen is on the verge of becoming country music's next big hit.
Wallen gives us a classic Nashville sound, one that can be appreciated by all country-lovers. Despite the secrecy of the influence of his songs, we can all agree, the release of the album was a great kick off to 2021.