RV celebrates Martin Luther King Day with county-wide "Unity Rocks" project
Students designed rocks with inspiring messages in honor of Martin Luther King Jr.
Principal Joseph Martin introduced a countywide project on January 8 in honor of Martin Luther King Day: "Unity Rocks." The project, in which RV students painted rocks with inspiring and uplifting messages on them, entailed placing the rock messages all over Burlington County. Principal Martin believes this was the perfect project to complete in light of what is currently happening in our country and world.
"Even though we're in the middle of pandemic and most people are staying home, it never meant we wouldn't and couldn't share and celebrate the legacy of Dr. Martin Luther King, Jr.," said Martin. "[Dr. King's] message of love, unity and peace is desperately needed across our country right now."
Many students utilized the small surface to create powerful, meaningful art. Senior Samantha Flanders shares the inspiration behind her "Love Rock."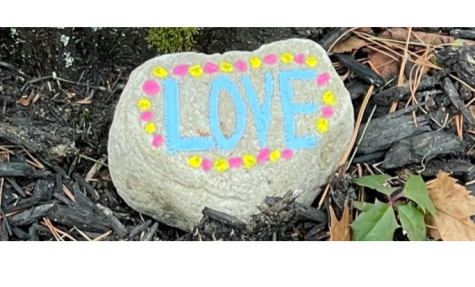 "The message I wanted to get across is that no matter your race, gender, or ethnicity, RV loves and respects everyone," she said. Similar to Principal Martin, Flanders "believes in this country right now, everyone could use a little love, compassion and tolerance similar to Martin Luther King Jr.'s message."
Senior Ashley Kaeser-Crowe used her rock to promote a powerful thought-provoking message.
"My message says 'Love 2 Dream' which is something I feel some people don't think about, how fortunate we are to be able to have dreams and to openly pursue them," Kaeser-Crowe said. "Martin Luther is an example of someone who dreamed and followed that dream but he also changed the world in a way that allowed others to do the same."
When asked about the end goal of the project, Principal Martin's answer was simple: "To spread messages of positivity, hope, love and unity throughout our county. If we put a smile on a person's face or promote kindness even just once, then it is all [that matters]. Our kids are amazing, their passion and dedication is what is making this work so well."