Humans of RV: Mrs. Venuto
Dee Venuto has been RV's librarian for 16 years. Recently she chatted with the HS about her life and journey to RV.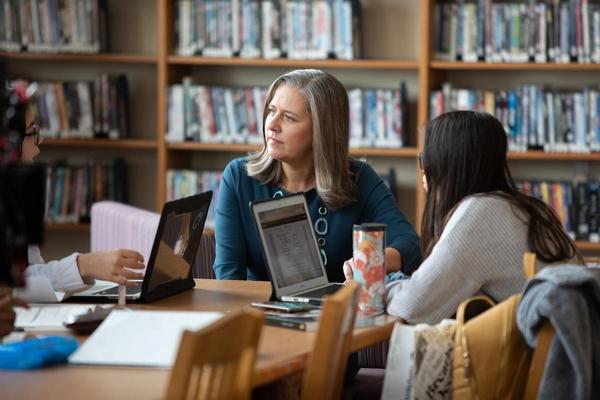 The Humans of RV project is a weekly column based off of Brandon Stanton's seminal "Humans of New York" project, which seeks to "catalogue the city's inhabitants" through photography and brief interviews. RV seeks to expand on this project with our own "cataloguing" of RV students and an examination into all the unique perspectives here at school. 
Note: this transcript has been edited and condensed for publication purposes.
Believe it or not, my home town is Lumberton, New Jersey; I grew up on Maine Street. My parents went to RV and I watched my grandmother graduate high school at RV when I was a little girl. My parents are both teachers, my mother taught at Lumberton and my dad taught at RV. My daughter already graduated and my son is a sophomore at RV.
I went to Shippensburg University and I played lacrosse. I really loved sports and they gave me a job helping the coach due to my athleticism. I was a double major in English and Library Science with a teaching certification. I really loved the education I got there but I did not like it socially because coming from RV – it was very difficult to go to middle Pennsylvania for college. Then I went to the University of Texas for my master's degree in Library Information Sciences and I was very blessed that I was able to do that right after high school, college education was much cheaper in 1987. I loved going to school in Houston and I wanted to get that degree because I wasn't sure what kind of librarian I wanted to be. What happened, in the long run, was that I was able to get a job the day I got off the plane from Texas when I graduated, and then I became a librarian at an elementary school in Medford. I ended up not liking elementary school librarianship. 
I had always worked at RV's library. When I was a student, I worked as a student worker and I was a substitute teacher after I finished my sophomore year of college. My dad told me that I should never be a librarian because I could never get a job since there is one librarian per county, although I always got a job. After that, I got a job at BCIT in Westampton and I worked there for over 12 years as a librarian. RV then had an opportunity for me to become a librarian, so within three weeks, I got my new job in the middle of the school year. 
"
My dad told me that I should never be a librarian because I could never get a job since there is one librarian per county, although I always got a job. "
I get to design and purchase everything in the library, which is a lot of fun. I have been a librarian for 29 years, but I have been the RV librarian for 16 years. 
I think becoming a librarian was in my blood; I have a sign that I painted when I was young hanging in my living room where I played in the library and my mother had framed it. I always loved libraries, the feeling they gave me, and I always loved to learn. As a librarian, I am constantly learning new things. I always read new ideas, new books to buy, and old or new topics of knowledge. 
The best part of being a librarian is that teaching young people allows me great insight into the human spirit. As a librarian, you always have to be willing to take risks and learn something new if you're going to be good at it. It's always interesting to see students mature and adapt. I feel the library helps some people grow in a good way.