How Black culture inspired current fashion trends
We explore many popular clothing trends throughout history and their roots in Black culture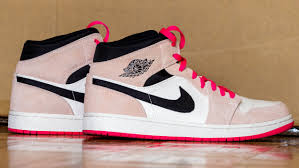 As we progress further into Black History Month, it is important we credit the source of many of our current fashion trends. There are common pieces of fashion that everyone has heard of, and many wear or have, yet many people are not aware of the origin and inspiration originated from the Black community. 
Starting off with acrylic nails, they date back to 3000 BC, where nail extensions could be seen on Egyptian women made of ivory, gold and bone. Although when the first Black woman, model Donyale Luna, was on the cover of Vogue wearing acrylic nails 1966, they then appeared in nail salons in the '70s. Then, during the '80s, Black American track and field athlete Florence Griffith Joyner (aka Flo Jo), became widely known for her incredible speed and iconic nails. Throughout her whole athletic career she can be seen wearing these long acrylic nails. 
Many popular forms of jewelry also have roots in Black culture. As stated in Bricks Magazine, the independently fashion publication, "Throughout history the hoop earring has been a powerful symbol for many different non-European cultures." In the Jazz age, Black French Jazz performer and Civil Rights activist Josephine Baker was notorious for wearing hoops. She symbolized the beauty and vibrancy of Black culture in the 1920s. Moving into the '60s, hoops were frequently worn by women of color during the Black Power movement. During the movement many Black women embraced a more African- inspired look, accented with hoop earrings.
Black culture has also had a great influence on sneaker culture. In the 1970s in America, sneakers made the transition from sportswear to a form of cultural expression. Due to the rise of hip-hop in the '80s, the explosion of popularity of the NBA and the "Air Jordan" shoe line, which was released in 1985, created a new market for fashionable footwear for men and women. Air Jordan's were largely worn by children of color, who later developed into sneaker fanatics and collectors, also referred to as "sneakerheads." Today there are sneakerheads from all walks of life, and Air Jordans continue to be some of the most popular brands of sneakers. 
Another item that you may have in your closest that was popularized by Black culture is the bucket hat. It was originally designed in the 1900s for fishermen and farmers to protect them from the rain. Through the years it was adopted by soldiers in war in the '40s and then ladies accessories in the '60s. However, it wasn't until the '80s when Big Bank Hank of SugarHill Gang, a Black rapper, wore it on the TV show "Soap Factory," and LL Cool J wore his red Kangol Bucket Hat during performances and TV appearances. After this, they became a popular fashion statement piece. 
The origin of oversized clothing and baggy pants have more complex roots in Black culture. This style stems from a number of sources, including the notion that Black families were faced with financial hardships, and in efforts to save money, children would receive handed down clothing from older relatives, which led to improper sizing. Many historians have also pointed to the style's roots in counter cultural movements like the Zoot suit riots in California of the 1940s and the Civil Rights movement. In the late '80s, rappers began to wear more large and comfortable clothing to create a more casual environment. Extra-baggy jeans, or "sagging" jeans, were also popularized by hip-hop artists. More than any other fashion choice, sagging pants have attracted attention from authorities and have even been banned in certain cities because of the "image" they portray. Today wearing baggy oversized-clothes is often labeled as "street fashion," but it remains extremely popular among multiple races and creeds.

These are just a few of the fashion trends that have been influenced by Black culture. Some others include logomania, lettuce hem, scripted necklaces and camouflage pants, to name a few. There is a reason why Black culture–often associated with counter-culture–continues to pave the way forward in the world of fashion. Who knows where the world of fashion will lead us next.