Celebrating 5 influential Black figures in today's society
Following in the footsteps of trailblazers, today's Black history makers are changing America's future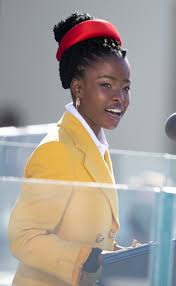 As we wrap up another Black History Month, it is important to recognize the Black leaders in our society that are shaping the history of today–the people who are taking great strides to honor the strength of the Black community and stand on the shoulders of the people that came before them. Here are five influential Black figures that are actively changing American history.
Amanda Gorman, 22, U.S history's youngest inaugural poet
Growing up in Los Angeles and using writing as a way to cope with a speech impediment, Amanda Gorman became the youngest inaugural poet and performed at the inauguration of President Joe Biden on January 20, 2021.
The award-winning writer, who graduated from Harvard University cum laude, specifically focuses on gender and race issues was invited to the ceremony by First Lady Jill Biden. She recited her poem "The Mountain We Climb" which calls for Americans to "Rebuild, reconcile, and recover" from racial inequalities, particularly evident in the unprecedented rise of racial injustice across the country in 2020.
Gorman drew inspiration from great American leaders during other times of division in America including Rev. Martin Luther King Jr. and Abraham Lincoln when finishing her poem shortly after the insurrection that occurred on January 6. 
"Here's to the women who have climbed my hills before," Gorman tweeted.
Dr. Kizzmekia S. Corbett, 35, lead scientist on Moderna Covid-19 team  
The 35-year-old viral immunologist is the lead scientist in the development of the Moderna vaccine that is 94.1% effective at preventing confirmed COVID-19 illness in evidence from clinical trials. 
Two weeks after former president Donald Trump visited the National Institutes of Health, Corbett's team began clinical trials. Using the knowledge they had gained from the last six years, her team worked in collaboration with Moderna, and a vaccine reached the public 10 months later.
"The vaccine teaches the body how to fend off a virus because it teaches the body how to look for the virus by basically just showing the body the spike protein of the virus," she told CBS. "The body then says 'Oh, we've seen this protein before. Let's go fight against it.' That's how it works."
"It's important for people to see people looking like them, like themselves, who can be involved. If it's about women, or if it's about Blacks because it shows that you've got people who understand what you've gone through," Dr. Freeman Hraboaski, president of the University of Maryland, said
"To be honest, I didn't realize the level of impact that my visibility might have… I do my work because I love my work," Corbett said.
Raphael Warnock, 51, first Black senator from Georgia
Rev. Raphael Warnock defeated incumbent Senator Kelly Loeffler on January 6 in Georgia's widely publicized runoff election. 
Warnock became the youngest senior pastor of Ebenezer Baptist Church in 2005 since the founding of the church in 1886. He stood in the same place of worship where Rev. Martin Luther King Jr. was pastor. 
Astead W. Herndon from the New York Times wrote, "It was also a rare chance for one Senate barrier breaker to pass the torch to another. Ms. Harris was the first Black woman and woman of color to serve as a senator from California. Mr. Warnock will become the first Black senator from Georgia."
"The 82-year-old hands that used to pick somebody else's cotton went to the polls and picked her youngest son to be a United States senator. The improbable journey that led me to this place in this historic moment in America could only happen here," Warnock said in his live-streamed victory speech where he reflected on his mother's past and the history of his election. 
Cynthia Marshall, 61, the NBA's first Black woman CEO
Cynthia Marshall became the first Black woman CEO of the Dallas Mavericks in the National Basketball Association in 2018. 
Marshall was hired by Mark Cuban, owner of the Mavericks, after an investigation uncovered 20 years of sexual harassment issues against the director of player personnel Tony Ronzone. She was brought in to clean up toxic workplace culture, and the Mavericks organization pledged a minimum of five million dollars to support local communities. 
Cynthia Marshall launched Mavs Take Action following the protests that sparked after the murder of George Floyd. "We need an action plan," she said.  
Marshall continues to advocate for many young Black women with the same dreams as her. She has paved the way and urges them to follow her steps to success: dreaming big, having focus, prayer and taking action.
"I don't care where you are, what your zip code is, have big dreams," says Marshall.
Nia DaCosta, 31, first Black woman to direct a Marvel Universal Studios Film
Nia DaCosta was tapped by Disney's Marvel Studios last year to direct the "Captain Marvel" sequel that is due to hit theaters in 2022, thus making her a part of a billion-dollar franchise. 
DaCosta expanded her short film, "Little Woods" into a feature film in 2018 which won the Tribeca Film festivals Nora Ephron award and caught the attention of Academy Award-winner Jordan Peele. 
Peele hired DaCosta to co-write and direct his horror sequel "Candyman", which will be released in August 2021, and called her a "bold new talent." 
"She's refined, elegant, every shot is beautiful. It's a beautiful, beautiful movie," he said.
When she first caught wind of being considered for the job of directing the sequel to "Captain Marvel", she was hesitant to take on such a big film directly after Candyman. When  the job was offered though, she told The Wall Street Journal it was "an immediate yes."
"I'm a huge Marvel fan, have been since I was a kid, and I've always wanted to direct a Marvel movie," she told the Journal. 
As we move into March, it's important to keep in mind that Black history is constantly being made. These five individuals — plus thousands more — are actively changing the course of Black culture, history and life in America.