Wrestling in the midst of madness
One of the most physically-demanding sports demands even more this year
To no one's surprise, this academic year — and the athletic seasons within in —  has taken many twists and turns. Restrictions and extenuating guidelines have been placed on all school-related activities and sports, and wrestling is no exception. In fact, wrestling is arguably getting the most difficult end of it. The shift from the traditional NJSIAA "Winter" season to the NJSIAA "Season 3" season has shortened the time allotted for wrestling and limited the postseason as well. 
With a predicted season shorter than any other, RV Wrestling has no big tournaments to look forward to this year, as of now. The meets will be restricted to two teams with no spectators because the meets are held indoors. 
RV's practices are also restricted. The number of people who can occupy the wrestling room at once is very limited. Practice is split up between the boys Varsity wrestling team and the JV squad, who also practices with the girls wrestling team. The standard COVID-19 forms must be completed by each wrestler as well for each practice.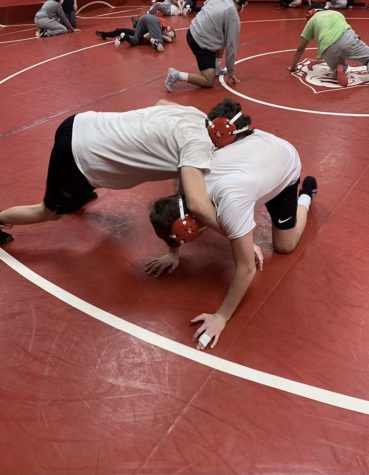 Coach Thomas Callahan, known to many as "TC," is hopeful for a great season despite the difficulties the team faces. His positive attitude and mindset will very likely get the team far this year. 
"'Do not make excuses, make adjustments' is the motto," Coach TC said. "The restrictions create many challenges for everyone. However, the restrictions put in place with help keep everyone safe and help mitigate risk especially in a combat sport like wrestling. Follow the rules and do whatever it takes to finish the season while keeping everyone safe and healthy." 
The COVID-19 pandemic has forced the team to change its systems, protocols, procedures and some of the traditions the wrestling community usually gets to enjoy. The team was unable to train during the off-season or attend any off-season camps, clinics or competitions.
On the bright side, wrestling is still happening. Many of the wrestlers, especially seniors like Joey Notte, have a lot to look forward to and lots of leading by example to do. 
"I feel pretty confident in having a good year [record wise] especially with a lot of the work I put in during the offseason," Notte said. "I'm looking forward to the postseason [playoffs] a lot. I feel like all the work I've done is for the postseason so that's what I'm really excited about." 
Other seniors, like Lorenzo LoDuca, are also hopeful for a great season and ready to take on a big leadership role. 
"Everyone on the team has a great heart and unbelievable willpower. With that being combined with the fact that we all have had to wait what felt like a lifetime to wrestle, I believe that we are determined and motivated to be great and will be highly successful," LoDuca said. "Though it's disappointing that my senior year is not what it should be, I am glad that I am a senior and able to show the team that there is still more to fight for." 
RV is one of the few schools in the area that has a female wrestling team in addition to the boys team. Kaitlyn Bowker, a senior wrestler, has put a lot of effort into her wrestling career and is excited that she is able to participate this year.
"It's definitely going to be different and challenging given the circumstances. All we can really do now is make the best out of what we are given. I am really excited for this season," Bowker said. "I'm really looking forward to getting a match or two in and just to be back on the mat. I really want to end my senior wrestling season on a high note with some wins under my belt. I think RV wrestling, in general, is looking really strong this year."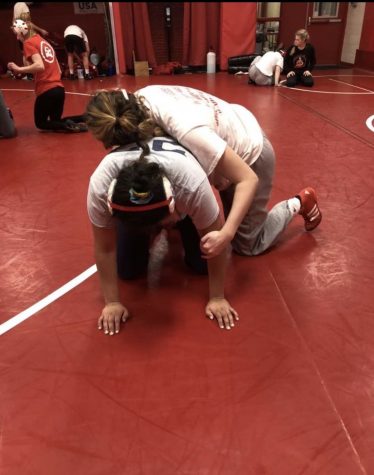 As many have learned over the course of the past year, a positive attitude is just about all you can control. The wrestling team and coaching staff are, despite the circumstances, getting excited and are continuously thankful for the season they can get. They also have a lot of talent, and even though spectators can not watch their matches in person, the RV community is ready to learn about all of their upcoming success, in the midst of the madness. 
"I am excited to have the opportunity to have a season this winter [and] spring and be able to practice and compete. We have a tough group of young men on the team this year. We are bringing back a lot of wrestlers with experience with the addition of some very talented freshman,"  Coach TC said. "We have a great group of resilient kids, they have been patient, understanding and flexible this entire year. I expect big things from this group in both dual meets and individual postseason. My primary goal is to complete the season and keep the team safe and healthy while having some fun and putting on a show on the wrestling mat."