Cole's Corner: At Least I'm Not Duke
Get those brackets ready!…to be underwhelmed.
Whether you genuinely do not care or you make it seem like you care about college basketball for about a month, you know the term March Madness. Ah, such a refreshing phrase, full of fun memories, like when a player's shin bone popped out of his skin, or a number 16-seed upset a number one seed. It's the time of year when college students lose their beer money making stupid bets, English teachers force uninterested kids to make a bracket and people lose their minds trying to make the perfect bracket only to make a horrible one. Like I said; so refreshing.
I'd like to start off by saying that I am a University of North Carolina fan, and yes, it has been a tough year. I could name you the starting five and second-team off the top of my head two years ago, but now, I just do not care. We all know what the snobby UNC fan is going to say in this situation though. At least I am not Duke… enough said.
Although I wish I could spit facts about each team like Jay Bilas, I cannot. I have spent such a short time watching college basketball this year. I just think the hype is not there like it was in past years. It may just be me, but I just feel like March Madness came out of left field. You would think with such a unionizing event missed last year, people would be excited for it to be finally back after a year off. Unfortunately, it is not all there. It may be the fact that where I talked most about it was school, and that is sort of a lost cause. 
Not to mention, it sucks trying to be a college sports fan in the suburbs of South Jersey. Who do we root for? Actually, as I just typed that I realized we can cheer on Drexel and Rutgers (for one game). The teams we do get to cheer on suck! Rutgers may beat Clemson, but not Houston. The usual teams who are good are no longer good, or at least number one seeds, so people just seem uninterested. Big names like UNC, Duke, Kansas, Kentucky, UCLA or Indiana all sort of suck or are meh. Teams like Illinois, Ohio State, Alabama or BYU have improved over the years and have overthrown the crown for big name schools in college basketball. Interest and passion are shifting to different teams, and people, like myself, might just not be as interested with their usual teams, whether they're doing well or not.
I don't even know who to root for. UNC is going to have to fight to beat their first game and even harder when they have to play Baylor, but I am a realist. UNC is not going to win. All I care about is that something like a twelve-seed beats a five-seed and that a seed other than one through four is in the Final Four. That is what March Madness is all about to me. It is the madness that intrigues people, even after a year where people care less. It can be seen as a moment in which people just might stop talking about how crappy the world is and enjoy sports for the competition, and rooting for the underdog if you do not have a team.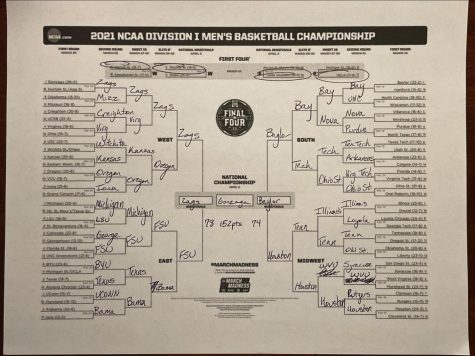 I never really know who to take in a bracket and I think this happens with most. You are picking your bracket and next thing you know, you have Florida State in the Final Four. This will not happen, but when making a bracket, you put yourself in situations like this. I wanted to pick at least one twelve-seed to upset a five-seed, like Georgetown beating Colorado in the East. Another team I knock out early that I know will raise questions is Illinois. The second best team in the league just will not go all the way. I can't even explain my reasoning. It is a gut pick, and I think that any team that is overhyped for the NCAA tournament usually does not take home the trophy. I get my Final Four, shake my head, and put Baylor and Gonzaga in the championship. If this is the championship, no one remotely near here will care. Gonzaga always can win the championship, but they always come up short, which I bet will happen again, but I took the low road and gave them the championship. Thank or blame me later.