Silk Sonic's "Leave The Door Open" is the perfect blend of funk and R&B we need right now
Bruno Mars and Anderson .Paak team up to create unique vibes and "leave the door open" to future songs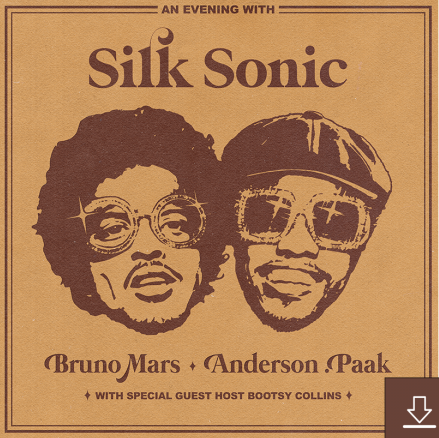 The group Silk Sonic, formed by artists Bruno Mars and Anderson .Paak, is bringing a new era of R&B/Soul to the music scene. The duo recently released their debut single, "Leave the Door Open," and it's leaving fans waiting for more. 
In an interview with Apple Music's Zane Lowe, the two revealed how their collaboration came to be. The duo revealed that they had been working on material since 2017 and how it eventually became a regular thing for them to bounce ideas off one another, which then turned into them getting into a studio together. "That's what it was, it snowballed," Mars said of their origins. "It was like 'Well, wanna come back tomorrow?' We kept coming up with music and it felt like why you fell in love with music in the first place. Jamming with your buddy, there's no plan. Just working out the parts and trying to excite each other."
The Grammy Award winners continued on to express how they were inspired by each other throughout their writing and recording process. "He's one of the baddest drummers I've ever seen, you know," Mars said. "And you're gonna hear that all over the album. That's what really inspired me so much. I had never created music like that, with drums being the focus."
"This wouldn't happen if it didn't make sense and it didn't feel natural and organic," Mars said about their collaboration. "This was a series of events that led us to, 'Man, why don't we just do it?' Starting with the tour, us creating a friendship and a bond and talking to each other and sharing the same love for music, getting into the studio, quarantine. All of these things were the equation to get this album."
Thus, on March 5, the duo finally released, "Leave the Door Open" with the promise of a full debut album, "An evening with Silk Sonic," to be released at a later time during the year. The song is a perfect mix of Soul and R&B and tells a story filled with passion and desire. The retro 70s feel of the music video made listeners nostalgic and it easily started to climb the charts. The song quickly reached the coveted number one spot on Billboard's R&B Chart and the number 1 position on the U.S. iTunes sales chart. 
With the duo's comeback for the new collaboration, their success is just about guaranteed. Their unique voices and styles compliment each other, and their different music styles come together in a mesmerizing combination. It's clear to see that fans adore the two together and have nothing but positivity and are eagerly waiting to see what they will come out with next.