PDA: how much is too much?
While the pandemic has curved PDA in the hallways at RV, affection can come in many (annoying) forms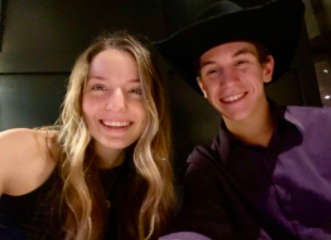 Don't know if you noticed, but PDA's been on the low since the beginning of the pandemic. With masks, gloves and a mandatory six-foot distance, public displays of affection haven't had their time to shine with these circumstances. But whether or not you realize how much PDA was done in public before or after COVID-19, it often makes an individual as a bystander uncomfortable. PDA is when a couple shows any sign of physical touch, from hugs to kisses. 
There are many couples at RV, and many of those couples can be seen holding hands or sharing a quick smooch before class. PDA ranges from couple to couple. Jessica Kerchner and Cael Johnson, both sophomores at RV, met each other last summer. They have been dating for six months now.
"Cael and I both believe that there are many instances where couples can cross the line and begin to push certain boundaries involving PDA," said Jessica Kerchner. "However, a lot of times schools can be too strict with small amounts of PDA. This year, with COVID-19, there are many limitations regarding the amount of PDA occurring within the school. With social distancing, cohort days and smaller classes, it would not be surprising to see a decrease in the amount of PDA throughout the school day. PDA doesn't get out of hand in school but outside, the rules should still be enforced."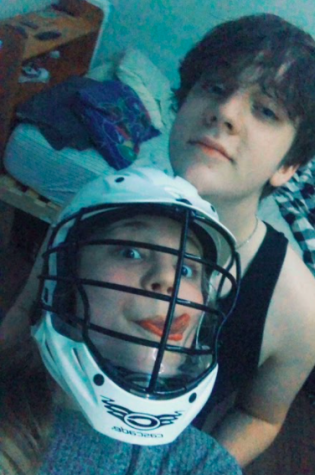 The extent of PDA pivots on the setting. There's a time and place for everything. Most people don't mind a little public hand-holding, hugging or the occasional quick kiss. In any case, a few groups can't withstand seeing or taking an interest in any sort of public affection.
"PDA can mean a lot of different things for everyone. However if couples show PDA, then I find that as rather normal and it doesn't make me uncomfortable," said sophomore Elaine Liu," I think it can make others uncomfortable when people are groping each other or being overly touchy but when in a relationship, you might not even know what you're doing to make others feel such a way."
Couples say when they are enamored, they, for the most part, couldn't care less about anything or anyone else in the world. They approve of PDA anywhere and with anybody watching.
"I would be nervous with any PDA. If I was standing next to a couple and they were showing too much affection, I would simply walk away. Anything other than holding hands and a quick kiss is too much," said sophomore Anika Kasukurti. 
PDA isn't just limited to kisses in the hallways and hand-holding. It can also include posting on social media to sweet talking. While couples may take different approaches to affection, all forms of PDA involve putting their feelings for one another on public display. 
"The aspects of PDA are significant to the diverse work environments that have been established. Which leads us to the question, how much is too much?" said sophomore Jazmin King. "Even within school buildings, there is a certain vitality to PDA which helps students prepare for the work environment they are soon to consolidate in. Students will have to face the facts and see the real world.  To be more specific, RV has laid out a controlled PDA and it is adequate to our school."
Most students here at RV say PDA is too much when it comes to anything else other than holding hands. They think RV has laid out controlled guidelines. But in public surroundings, there is no limit, which causes some people to leave the place just to avoid a couple's PDA. 
Brent Penwell, a junior at Seneca High School and Kiersten Ebersole, a sophomore at RV, have been dating for a little over a year and three months now. They met in mid October of 2019 and started dating in late December of the same year. "Holding hands, hugging and a lean on the shoulder is fine with me and my boyfriend," said Ebersole. "PDA is too much when people are in a working area and a couple is being intolerably annoying. Space and limits are very important, couples need to realize that not everyone wants to see public affection." 
PDA makes mostly everyone uncomfortable, you shouldn't do things in public that you wouldn't do in front of family. Here is how you can stick to some basic PDA rules according to The Spruce: 
Kisses

: There are certain times it's okay to kiss the person you love, such as when you are greeting someone or saying goodbye. However, you shouldn't have a long, drawn-out kiss in front of an audience unless you are acting on a stage. Even then it's questionable and should come with a rating.

Touching

: It's almost always okay to hold hands with someone, unless it's awkward, dangerous or impedes traffic. An arm draped around someone is okay when you are sitting or casually strolling through the park. It is never okay to touch anyone else in a private area in public.

Groping

: Groping is never acceptable in public. Certain gestures may even be illegal in public.

Tastes and nibbles

: A face is not a lollipop, and you are not a vampire, so don't lick or bite the person you love in front of other people.

Electronic affection

: You should never text, post or communicate anything intimately personal in a broadcast message, public forum, or in any social network setting. Not only will your doing this make others uncomfortable, but you may also embarrass the person you love.