Give her a challenge, and "she will clear it": breaking records on the Girl's track team
Wrapping up Women's History Month by celebrating RV Girl's track school record holders
Not only would it be foolish, but simply inconsiderate to end the celebration of National Women's History Month without documenting the groundbreaking history that women of Rancocas Valley's Girl's track team are making. Something that began as a small flame has ignited into a fierce ring of fire, as the Girl's track team collectively sets new personal records and has increased their speed and techniques, even after the cancelation of their 2020 spring season and the postponement of their winter track season.
In spite of the major setbacks the team endured, two women in particular have continued to add flames to the fire that is girls track: junior thrower Ravin Hood and senior captain and pole vaulter Abigail Boggs. 
In the middle of winter track season, Hood threw 38.02 feet, shattering the previous school record of 37.9 feet set by Daniel Steff. Since that historic winter track meet at Toms River Bennett Indoor Athletic Complex, also known as the Bubble to track-letes, Hood has improved at each and every meet, accrediting her success to her training. 
Clearly, Hood's picture will be above the title, "Indoor Shot Put School Record" for a long time, as she threw for 39.5 feet at one of the most recent track meets. Known as the G.O.A.T. of throwing by her teammates, Hood's talents and throwing skills have proven to be boundless.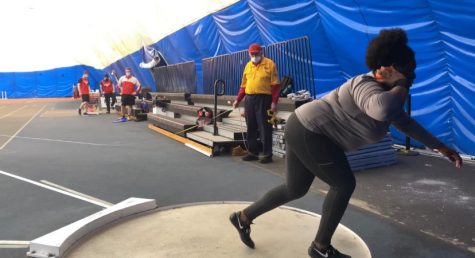 Beginning her track and field career in elementary school, Hood began throwing in the fifth grade on her summer track team at an Eastern Regional High School track meet. She then continued to grow and develop her techniques through Lumberton Middle School's spring track team and has proved to be a young prodigy in the making, whose skills were molded at RV into the thrower she is today. 
Hood is one of two throwers, both of whom are female and make up the entire RV track throwing team. Her success has been a landmark for other younger girl throwers, similar to how Abigail Boggs is one of two pole vaulters on the team as well.
The end of the RV track team's first-ever "polar bear" meet was senior captain Abigail "Abby" Boggs' first time competitive pole vaulting in a meet since last March in 2020. Even though the nerves and adrenaline were building inside her, her talent and confidence in her skills radiated and beamed on the outside. 
After clearing the first few starting heights from 8 feet and 6 inches,  Boggs cleared the height 10 feet 6 inches, her school record she set last December in 2019 during winter track season. Soon after, Boggs cleared 10'7," breaking the school record. She ended with a clearance of 11 feet, setting a new school record for the Girl's team.
"Give Abby a height, and I guarantee you, she will clear it," said one of her teammates at the polar bear meet.
When asked what breaking the school record meant to her, Boggs stated, "It means that even by not having a completed winter season and not a spring track season at all, that all my hard work and training over quarantine paid off and I earned all of my accomplishments." 
Boggs also mentioned that since there aren't RV pole vault coaches or male pole vaulters, she truly earned all of her accomplishments, and that "we did it ourselves with any help and without any boys." As a result, in addition to being an athlete, Boggs is also a coach to the younger prodigy in the making, junior Mia Palone. Palone began pole vaulting in her sophomore year, and she accredits her success to Boggs.
"[Boggs] is pretty much my coach," Palone said. "She gives me advice about how to jump better and I definitely would not be able to PR, let alone clear anything without her. Abby records my jumps for me, makes workouts for us, and ensures that we are always prepared for our meets, just to name a few things out of the many of course!"
Although breaking the school record has become a normal and reoccurring event within Hood and Boggs' track seasons, it symbolizes a unique groundbreaking moment for women (and women of color) in sports history. Women have endured gender inequalities and discrimination in sports for decades, yet their determination and desire for success has overpowered a lack of resources or coaches. Hood and Boggs's achievements at such an early age will serve as an inspiration and will carve the path for younger athletes.