"Bigger, faster and stronger": a season to remember for RV's girl's lacrosse team
After a year on the sidelines, the girls are finally back and ready to play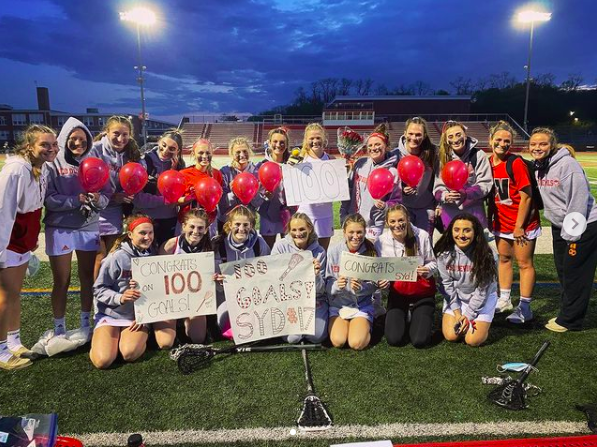 The RV lacrosse team isn't just a team to many of the players, it's a family. And after missing out on their season last year, the players are more than thrilled to be back on the field and playing again. Despite the year of uncertainty, the RV Lacrosse program is finally up and running; this year, the teams have a lot to look forward to. From playing rival teams to building up skills, the RV lacrosse team has been working hard and is now ready for the season.
"We have an awesome group of girls who are working hard, get along really well, love playing lacrosse and have a lot of potential, too," said varsity girls coach Mrs. Shelley. 
Since missing out on the season last year, the team is thrilled to finally be able to play again. While protocols are limiting the number of spectators at games, the players are still looking forward to some big games coming up.
"It's been almost two years since the girls played in a competitive high school game. We are looking forward to our games…against Holy Cross, a league rival, and a South Jersey rival, Shawnee," said Shelley. "I think the girls are looking forward to every game this year."
The lacrosse team is known to have some pretty talented athletes. Many have been playing with each other for years, which allows them to communicate and connect better as a team. Over these years, many seniors were able to work their way up to the top.
"We have a bunch of girls who we are looking to really step up and lead this season, so I will just mention a few of our seniors. We will look to Emily Clothier, a midfielder, to make plays on both the defensive and offensive end of the field this year," said Shelley. "We will look to Mekelsey Montgomery for goals and lots of ground balls this season. And we will be looking for lots of offensive stats from Sydney Sventy, our lefty attacker. Sydney will be playing lacrosse at New Hampshire next year."
All of the senior players will be continuing their lacrosse careers in college next school year. 
One factor that makes RV's lacrosse team stick out is how the team gets along with each other.
"We are all close and the majority of us have known and played together for years," said freshman Ally Hascek. Hascek, along with many other players including senior Sydeny Sventy, values the team bond which leads the team to succeed.
"I am looking forward to all the fun energy and celebrations our team will have together as one. In our first game, every time someone would score or cause a turnover, every single player would be jumping up and down, being so loud and obnoxious," said Sventy. "Our team's connection and bond are what makes the program so amazing which will definitely be kept as for the whole season and many years on."
Not only are the lacrosse players learning what teamwork means, but the players are also working hard at every practice to get to the best of their ability every day. Senior Mekelsey Montgomery will always remember how playing RV lacrosse has gotten her to the player, and the person she is today.
"My time at RV has greatly improved my chances of playing lacrosse at the University of Tampa," she said. "My coaches have helped immensely. They saw my potential as a freshman and gave me opportunities to prove myself on the field. I learned how to play with and against upperclassmen, who were older, bigger, faster and stronger than [me]…I am where I am today because of this opportunity."
Throughout the pandemic, there were plenty of unknowns. After missing a season last year, players were fearful that this year would bring the same.
"I am glad that we are still able to participate in it even with the pandemic," said new player freshman Mylee Lafferty. Like Lafferty, many players are seeing the season as a gift. They are making sure to take every opportunity. 
It's clear that the RV Girls Lacrosse teams mean so much more to players than what is seen from the outside. It has not only taught them valuable life lessons, it also left them with memories that will last a lifetime. Despite the uncertainty of the past year, it is certain that these girls have a bright future ahead of them. 
"I'm looking forward to playing with my teammates again. Not having a season last year made me realize to not take anything for granted," said Montgomery. "I'm also excited about how well we will do. I'm excited to defeat the highly competitive teams on our schedule. I believe we have a great season ahead of us and I am thrilled to be a part of it".