Have the disparities and other difficulties students face been overlooked?
May 12, 2021
Disparities that existed before the pandemic began seem to have been exacerbated by the challenges of lockdown and virtual learning, along with brand new issues being brought to light. Mckinsey & Co. stated "The pandemic has forced the most vulnerable students into the least desirable learning situations with inadequate tools and support systems to navigate them," in their report. The amount of children in housing and food-insecure situations has risen with the pandemic as families struggled without a solid form of income. In terms of schooling, these students were not able to access classes online, and if they could and both parents worked outside of the home or are not native-english speakers, they could not supervise or support their students' learning as fully. Black and Hispanic students are twice as likely to have no access to in-person learning opportunities, and many who lack the option also lack the funds to be able to leave the inadequate school systems in favor homeschooling or private options. Overall, the high school student drop out rate is expected to rise due to access difficulties and as mental health issues among students and young adults have risen by 56% within the past year.
Mya Collins, freshman, virtual
"The struggling BIPOC students who are at a large disadvantage when it comes to learning during a pandemic have just uncovered another layer of a system built to support and maintain white superiority. I feel like it goes back to the foundations and why BIPOC are in these environments in the first place…There are so many flaws in the education system that the statistics doesn't even come as a surprise, and that in itself is an issue."
Janjabill Tahsin, sophomore, virtual 
"As saddening as it may seem, this has always been a pre existing conflict, that's really just been agitated by virtual learning…You can see it in the accelerated compared to honors classes, I'm seeing a lot more people of color in them, they are really getting that diversity in there which is really good, but at the same time, it also begs the question and worries me that when we transition back, will these students feel comfortable and want to be engaged in these classes or will they be treated equally? I do think that everyone is equal, but I feel as if the treatment that everyone receives is unequal, a lot of students of color and lower income students are made to feel dumber than their peers and that's probably also why there aren't as many in these higher classes. But that really does beg the question, what's gonna happen?…If we want to minimize the gaps and diversity blocks in RV, some of the first steps is to take down these roadblocks and reach out into different communities."
"
If we want to minimize the gaps and diversity blocks in RV, some of the first steps is to take down these roadblocks and reach out into different communities."
— Janji Tahsin
Joseph Wilson, senior, virtual
"Well I don't know that they [the school and community] are going to [address the problems], but I have hope that they will. The issue is that, like what's happening now, that they're raising the price of wifi, and making internet access so difficult, and I know many kids don't have any technology to work on, so I really feel like schools should work on providing the bare minimum of wifi and laptops. For me, I have my two sisters, and we're all in class at the same time, and we have to separate ourselves to be in different rooms, but each room has awful wifi! So the problem is that we don't have isolated spaces and learning environments to be in. So I feel like that's an issue as well, it's wifi, availability of places, and a safe learning space away from our houses that we may be able to use."
Mrs. Clymer- Smith, Biology teacher
"I think we are realizing brand new issues and definitely getting a better look at socio-economic impact on learning. We also knew that there was an impact, but the impact is much larger and has a stronger effect than we anticipated. When kids don't have that place to go to, how is it really impacting them? We're definitely seeing the big big difference in student's ability to learn."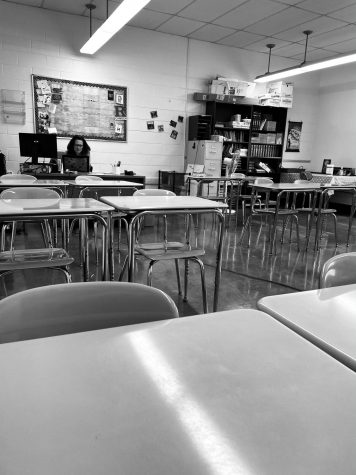 Ms. Perkins, Health, Driver's Ed and Physical Education teacher
"It exposed a lot of different things that needed to be exposed and can be fixed eventually. It's going to take a lot of hard work from all of us, the kids can't fix it all themselves, we (teachers) have to be present too. I know that there are some that aren't, and thats so frustrating to me…
"It really comes down to the socioeconomic things, and of course there are students who have money and aren't turning in their work and failing, but obviously, I think a lot of it also has to do with the guidance or discipline they are getting at home.
"As far as exposing the other issues, this just really allows me to talk more freely about mental and emotional health that is so very important that I think was so overlooked before in health. Either it was thought of as not an issue, or because I don't think anybody believes these things are true until it happens to them…"
Mr. Pliskin, Theater/Fine Arts teacher
"You and I and everyone at RV is in a bubble. We don't see what a public school in Camden who doesn't have laptops looks like… I think they're still online, too. It's really bad, people don't have devices, kids are trying their best to use their phones, their wifi in their houses is really bad… One of the biggest things too with that bubble, we're fortunate because of the laptops…because we have that socioeconomic diversity of a public school…we're socioeconomically diverse. And because of that, I think we should be used as a model for what the rest of the schools should be doing."
"For sure…it exposes students' home life. The smallest things can tell things about a kid. You can see the painted walls behind them…there are students that I didn't know lived in such nice homes, and other kids you can tell that they're in their attic or basement…I realize that oh wait, this is this kid's bedroom, and sometimes I can tell that they shouldn't have to live in that. And some of these kids, it's super typical in such a socioeconomically diverse school, is that when they show up to school, it doesn't accurately reflect their actual economic condition. That is a really nice privilege that I really love about having 2,600 students from all backgrounds come in every day. You can be and present yourself however you want. Being at home has stripped them of that a little bit. I've seen kids on screen and all of a sudden their parent's start yelling, the camera goes off, it makes me think 'what's going on in there?' It exposes their real home life, and I'm not sure how that's really affecting the kids, or if it's a good thing to see between students and educators of a public institution."