Unexpected leaders in uncertain times: reflections on the pandemic from a superintendent
Tough times called for tough leaders, and RV delivered
The COVID-19 pandemic has been a trying time for everyone. Reflecting on the past fourteen months is surreal as a citizen, a father, a husband and all personal roles, especially as the school district's Superintendent. I remember March 8, 2020; a beautiful typical Sunday with all of the commonality that we knew of the pre-pandemic world and not a clue that this life would change in less than a week.
That week, the information hit fast and furious, and school district leaders knew that school closure was imminent, or at least had a good feeling. That week was full of meetings, conference calls and directives from state officials as I learned for the first time the term "social distance," the use of face coverings and simply the importance of washing hands for twenty seconds that we never had to think about in-depth in the past. Ultimately, we were faced with a task that has never been done in the history of modern education: educating students without going to school. How do we do this? 
"
Ultimately, we were faced with a task that has never been done in the history of modern education: educating students without going to school. How do we do this? 
As the guidance on how to do this was sparse from state officials, I turned to my best resource, the Rancocas Valley Administrative Leadership Team, to solve this unprecedented problem in record time. I am thankful for my team, as we knew the task was an all-hands-on-deck effort. However, as we left the high school building through the majestic main entrance that night on March 13, 2020, after sending the message that the school would be virtual for 30 days, we had no idea what would transpire over the next year.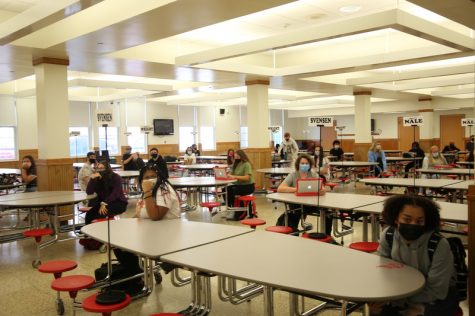 We worked through the weekend to prepare for addressing the RV staff on Monday, March 16, socially distanced and unmasked (remember, face coverings were not recommended in the beginning) in the Performing Arts Center. That morning, I quickly realized the real issue as the Superintendent responsible for the "organization" that we call RVRHS. Above all, managing education during this pandemic will be a great strain for everyone. Adding to the strain, we attempted to balance our personal concerns and professional duties while delivering an educational experience during a pandemic.  
Our jobs in education quickly became a 24 hour/7 day per week job. The overused but accurate word "uncertain" described the constant state we operated during the pandemic. The health concerns associated with COVID-19 forced us to review every step critically to ensure that we followed the guidance we received during this time. We yearned for the latest cutting-edge advice that would allow us to operate Rancocas Valley so that all of our stakeholders were safe and healthy, and that our students continued to receive a quality education. Every day we listened to the Governor's press conference with state officials to learn about COVID-19 details and the new terms that seem so second nature to us now in 2021.  
As we balanced our concern for family and loved ones, the leadership maintained focus throughout, often sacrificing the personal to focus on reinventing the wheel of education in 2020 for Rancocas Valley.  
When the pandemic started to stabilize, upon reflection, I noticed the positive emerging from the negative. I remember writing about a comparison between the current pandemic crisis and the tragedy of 9/11 as we approached graduation 2020. During the time of 9/11, New York City Mayor Rudy Giuliani said, "It is in times of crisis that good leaders emerge." During this pandemic crisis, I saw leaders emerging. I saw many protecting their families, but I would add to this and say that I saw unexpected good leaders emerge in times of crisis. My leadership team of school administrators was expected to emerge for the students at RV … and they did, in a big way. Serving as my right and left hand, I could not say enough about my leadership team during this time, from our principal, to our directors, our business administrator, the assistant principals, and the supervisors. We worked as a team and sacrificed together for the school district, and I cannot thank them enough.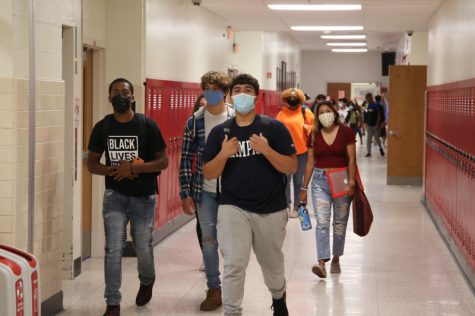 It is often said that a title does not make a leader. Our teaching staff and support staff embodied that their leadership and commitment to our students and community were outstanding. As we look back on education in the pandemic at RV, I strongly feel that our teachers and support staff provided the best education possible for our students. They embraced the motto to go above and beyond by giving every ounce of energy. The leadership team quickly realized that our students benefited greatly from the valiant effort, but it took a personal toll on our staff and could not be sustainable for the 20-21 school year. We continued through the summer, crafting a system that would provide the best education and services possible but conduct the self-care needed for our professionals to maintain their health and strength to persevere.  
Our unexpected leaders rose to the occasion for us. The pandemic stressed the health care system, and healthcare workers are our heroes. We relied on our school nurses in a school district as the pandemic was specifically a health and safety crisis. Ms. Esola and Ms. Platt came through with flying colors to provide that for the RV community and embraced an entirely new role for school nurses. During this time, we worked with Ms. Esola seven days per week as the liaison to the Burlington County Department of Health and our lead contact tracer. This remains a very time-consuming job that Ms. Esola embraced and emerged as one of the best examples of an "unexpected leader" that I have been around as Superintendent. I am thankful for loyal Rancocas Valley employees that will commit and dedicate themselves to our students and families.  
It was essential to RV at the time to ensure that we fed our families. This was a tricky task during a time when we were unsure of how COVID-19 spread. It became part of the administers' day to load food on busses and deliver to our families from last March through the day of this article. The school lunch operation moved forward with a plan from Ms. Giovanelli, our Business Administrator, Mr. Bowker, Mr. Fields, our security team and instructional aides taking on completely different roles from their usual job description to ensure our families received food. Also, in true RV fashion, Mr. Martin supplemented this by maintaining the RV Food Pantry and delivering that food to families. Unexpected leaders emerged during this crisis, and it was a humbling experience as Superintendent to witness.  
A significant component to answering how to have school without actually going to school was technology. We are thankful that the solution was in the works with the support of the Board of Education and Mr. Hatziandreou with our 1:World device initiative from the Vision 2020 Strategic Plan. The school district was fortunate that all teachers had their laptop devices before the pandemic and planned the distribution of MacBook Air devices for August 2020. The 1:World initiative was a blessing in disguise and perfect timing as it was essential to be equitable with technology during this time. Our students and teachers had the same quality device with an infrastructure to operate in a virtual and hybrid format. The education format added strain to the process as now we had almost 2,500 devices to coordinate during a pandemic with some students in school and some students virtual. Once again, leaders emerged from our technology team lead by Mr. Phommathep, Mr. Williams and Mr. Adkins under Mr. Hatziandreou's direction.  
I summarize our time in education during the pandemic as "reinventing the wheel of education." We were tasked with a crisis that forced us to think and act out of the box to meet our students' needs. The theme (and most interesting to watch) was the unexpected emerging leaders during this time. There are too many to list from the past year. Still, we cannot forget the need for sanitizing and disinfecting as Mr. Klein, the maintenance staff and the custodial staff worked tirelessly to provide a level of cleaning needed at this time. During this time, school districts began to use the term "deep clean," referring to the type of cleaning during a pandemic. The once-and-a-while deep clean was not the case for our crew, and I felt it would be disrespectful to use that term as I know our staff does a "deep clean" every day, not just in a pandemic.  
Along with themes that emerged as a leader during the pandemic, I relied on a simple quote during tough times. Mr. Rogers said, "When I was a boy, and I would see scary things in the news, my mother would say to me, 'Look for the helpers. You will always find people who are helping.'"
As I close this reflection on COVID-19 at RV, remember to honor your unexpected leaders, and when times are tough to handle, look for the helpers as well. I saw plenty over the past year, and it helped me. We are on the other side of this thing; I am confident, grateful and humbled that we made it together.