Humans of RV: Mr. Schwenger, RV's rockstar
Mr. Schwenger has rocked with Bon Jovi and Ozzy Osborne's band, and is known for going above and beyond for his students
Paul Schwenger began his teaching career at RV in 1997. Though a history teacher for many years now, he originally taught English. Let's pause for a moment, however, and travel back a few decades to explore his first love. 
Schwenger was introduced to music and instruments at a very young age. His mom, a church singer and pianist, was his earliest influence. He learned by ear at four or five years old playing various instruments, and then along came that one Gibson guitar. The rest, as they say, is history.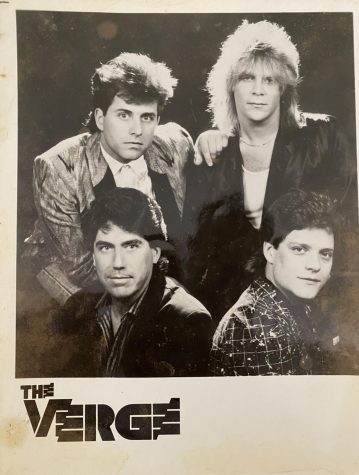 By seven years of age, it was clear this young man had a special musical talent. His mom enrolled him in formal musical classes. Suddenly, the hair began to grow in the style of many rock musicians of the time (and yes, there might have been a perm or two in there). Then came the game-changer for Schwenger: his eighth grade English teacher, Mr. Thomas. Another long-haired educator, Thomas inspired Schwenger both as a musician and as a teacher. He taught Schwenger there was more to music than Kiss and other pop rock bands of the time. He opened up his world to jazz, Miles Davis and bands like Chicago. Schwenger also loved Thomas as his teacher and said, "He is why I teach; he was my role model."
Some years went by, and the hair grew more. In the blink of an eye, Schwenger was playing in multiple bands. He recalls his first, "Prophet," a tribute name to his religious mother. The bands and gigs began to accelerate in the early '80s. "Especially with the launch of MTV, things exploded for us musicians," Schwenger said.
Schwenger would be in bands named The Score and The Verge. Playing at numerous venues, Schwenger stated that he opened up for The Hooters and many other Philadelphia bands of the time. With time, Schwenger would find himself being recruited to play in bands left and right because of his guitar and bass talents. Additionally, he would play at venues and"hung out" with Cinderella, Britny Fox, Zakk Wylde (lead guitarist for Ozzy Osborne) and even Bon Jovi.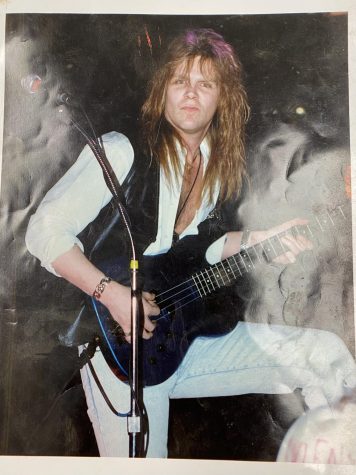 Looking back on this tremendous run through the '80s and '90s, Schwenger does not have many regrets. There was one, however. "Looking back, I'm not sure the breakup of The Verge was wise," he said. "We were probably on the way to something big." The band had success in the '80s, being played on Philadelphia's 93.3 WMMR in addition to many concerts. 
Fast forwarding back to the future, Schwenger explained that he always wanted to teach, especially because of Mr. Thomas. He knew he had to go to college and finish coursework, but it was the successful music run that delayed his second love: working with children.
Schwenger was always drawn to working with kids in smaller groups. During his high school years, we would grab a guitar and start playing in small classrooms. He felt a connection with the students. There was no turning back for him. He was poised to get his college diploma and teaching certificate. He did just that, and applied to a regional high school in Mt. Holly.
Never having seen RV before, Schwenger pulled up for his interview and met Mr. Mackara (yes, one of RV's most familiar faces). Mackara, a long-time dean of students, chaired the Special Education Department for years. Upon seeing Mackara's long hair, Schwenger said to himself, "Oh I got this!"
Mackara had just hired multiple teachers (several who were coaches), but now he needed someone who was artistic. Schwenger was the perfect fit.
As he closes up his 24th year of teaching at RV, Schwenger says he is grateful. He has had much support from many educators over the years. One of his teaching colleagues, English teacher Mrs. Kim Coulter, spoke highly of Schwenger.
"What stands out to me the most is how pure Paul's heart is," she said. "He wears his heart on his sleeve and gives everything he has to teaching his students. He takes the time to build a rapport with his classes and provides them with an environment that they feel comfortable learning in.  He has a different approach to the traditional classroom and often uses music to help make lessons stick for the students. He is able to reach students in a way that others have not been able to and is a positive role model for our students. Paul is a selfless individual and truly loves what he does."
Schwenger says it's the kids that keep him going and he really loves teaching in the small setting, where he can make a bigger impact on his students and their learning of the content and life.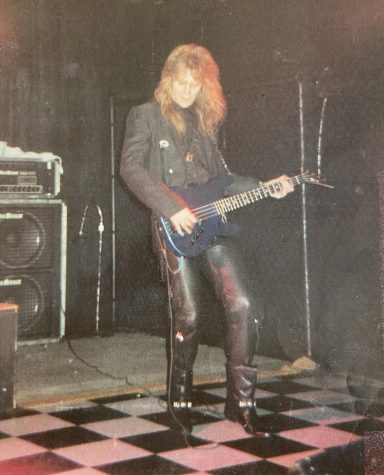 "Mr. Schwenger is really good at listening to our different views and opinions," said junior Demetrius Frangos. "He is understanding and unbiased. He is also very funny and uses old-school humor!" 
Schwenger enjoys teaching US History for sure. "I love learning about World War I and II with Mr. Schwenger," said junior Justin Cruz. "He helps us understand why and how things happened. He helps me a lot and I appreciate him."
Junior Isaiah Page said, "Mr. Schwenger is an awesome teacher. He makes class fun and enjoyable. I really like when we learned about the Holocaust and the Great Depression."
As anyone at RV can see, Schwenger has always had two major passions: music and working with children. In addition to his rock stardom from the '70s, '80s and '90s, and his teaching career thus far, Schwenger is the adviser of RV's Guitar Club. He has also played and sung at numerous events such as RV's coffee houses, Devils Dash, Tips for Troops and multiple end-of-year staff parties. He's a staple here at RV, a friendly face in the hallway, a solid colleague and teacher, and above all, a total rock star.
.