Despite a showing from fans, football continues to struggle offensively
RV's football team honored their seniors before a tough home loss against St. Joseph.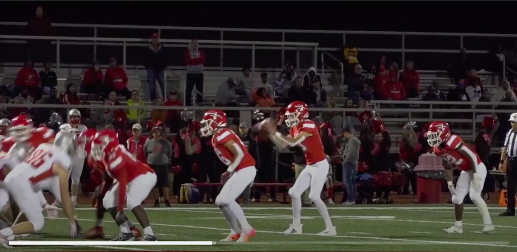 The Red Devils football team was suffocated in a blowout to the St. Joseph Wildcats on Friday night, an especially devastating loss on the team's annual Senior night to honor graduating players. 
The Wildcats dominated early, ending the first quarter with two touchdowns. St. Josephs scored again early in the second quarter, but the kick failed. RV was unable to get any points on the board, and the halftime score was 0-20. 
Despite setbacks in the first half of the game, the Devils ran out the locker room with a positive attitude. St. Joseph scored two more touchdowns, but also had two more failed kicks. However, with three minutes left in the third quarter, senior wide receiver Colin Davis received a pass from quarterback Payton May and scored. Senior kicker Joey Bryson made the kick and added another point to the scoreboard, making the score 7-32. 
"I was able to score because of how well the offense came together and continued to make plays," said Davis.
RV's offense continued to struggle throughout the game. St. Joseph's was able to dominate defensively, with three sacks and one interception, totaling over 30 yards that should have been for the Devils. The Wildcats offensive was just as dangerous, with a mix of rushing and receiving touchdowns that made the team seem unstoppable.
Even though RV was still losing, the student section was loud throughout the entire game. They danced, screamed, held up their posters, drummed and threw neon powder dust to contribute to the neon color theme. 
"One thing about the RV students [over there] is that they're going to encourage the players, even for the little accomplishments," said a mother of one of the students. "This was just a bad game for RV tonight and [the students] acted like they won." 
The Wildcats had three more touchdowns with two more completed kicks, ending the game with a score of 52-7. 
The players know that they can always fall back on the support of RV's fans. "It was nice to look into the stands and see people I don't even know cheer for us, even during a losing game," said senior running back Joshua Lugo. "I didn't want to lose on senior night, but the fan pit made the loss more bearable."
Senior Night is a fan and team favorite because, win or lose, the seniors hold the spotlight. Seniors Herb Quarterman, Joey Bryson, Rashan Addison, Jalen Prilo, Payton May, Dean Watson, Joshua Lugo, Damarco Dennis, David Murray, Colin Davis, Jordan Skeen, Masai Byrd, Gregory Allen, Owen Southwick, Ryan Grimshaw, Joshua Oludoyi, Leroy Handberry, Shadrach Ogunsola, Brandon Daniel, Bryan Villar, Miles Day, Tyrell Bailey, Lenzy Gunter and Salvatore Deleon were recognized for their ongoing commitment and hard work that they display every time they set foot on the field. They walked onto the field alongside friends and family and were given flowers, posters and candy. 
In addition to the players, varsity managers Sofia Coba-Horvath, Ayana Spruiel, Aaliyah Young, Alyssa Claudio and Tiffany Marshall walked out. This is the first time RV has allowed managers to take the field with the players. As every event now carries more importance, the coaches wanted to ensure that every member of the team feels a sense of acknowledgement. 
"I'm excited to walk out. I've been managing this team since my freshman year and I couldn't be more proud of how far they've come," said Young just before the game. "I'm confident in the boys, but you can never foresee the outcome of a game."
RV's boys have participated in some team bonding experiences to build that chemistry that's needed on the field. "I learn so much from watching along the sidelines," said senior wide receiver Rashan Addison, who is currently nursing an injury. "There are some things that we still need to work on, but I can see how we're starting to play together as a team. We need to continue doing just that, among other things, and prepare for the next game." 
Davis agreed. "I look forward to seeing how we put it all together for a 48 minute game against Lenape on Friday," he said.