U.S.-Mexico border humanitarian crisis
Migrant encounters at the Southern border reach 21-year high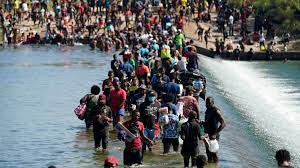 Distress and torment is building among asylum-seeking migrants at the U.S.-Mexico border as families long-await their chance to enter the U.S. following desperate measures to escape conditions in their home countries.
Migrants make a treacherous journey to the U.S. after false hope that they will be "warmly welcomed," as told by human smugglers who make a profit transporting migrants north. A problematic factor influencing the increasing flux of migrants would be the Mexican drug cartel. These human smugglers, often referred to as "coyotes," are more often than not working for a cartel. With reliable transportation as a necessity to make the journey to the U.S. border, cartels make a large sum of profit off of desperate migrants, while simultaneously bolstering their regional power.
"'Criminal organizations control the border,' so they control who and what crosses the border, said Gary Hale, drug policy fellow at the U.S. Mexico Center at Rice University's Baker Institute in Houston. 'And that becomes a lucrative moneymaker, a revenue generator for these cartels.'" 
The journey to the border is treacherous in itself, let alone the conditions upon arrival. Women and young girls in particular face a variety of dangers, including rape and kidnapping for ransom.
NBC News recently reported on the story of David Sanabria and his daughter, Ximena, who were migrating from Honduras after experiencing political turmoil and privation as a result of Hurricane Eta and Iota. The smuggler handling David and his daughter was expected to drop them in Texas where David would then turn himself in to U.S. immigration authorities and seek asylum. Instead, once in the Mexican state of Tamaulipus, the two were handed over to an armed group where they were held in a warehouse with other kidnapped migrants. Their cell phones were stolen and their relatives were contacted that they were to pay for their relatives' right to pass through their territory. If the demands were not met, the victims would be murdered. 
"'I want to tell migrants to be very careful, because those roads are made of thorns, they are roads of death, of evil shadows, because Mexico is not a safe country for us to cross,'" David told NBC News  in September.
American officials maintain that the border is no longer open to new migrants, but that has not stopped thousands of migrants from traveling to the U.S. border, a majority of them from traveling from Central America, according to the New York Times. Life at the border consists of rampant disease, public excrement, insufferable heat and intensifying frustration.
For weeks, approximately 14,000 Haitians gathered under an international bridge in Del Rio, a small Texas border town. In reference to this Del Rio area, Texas representative Tony Gonzales says '"There's no doubt there's COVID here, there's measles, tuberculosis, all kinds of diseases," he said. "You've got kids running around in nothing but diapers. A handful of port-a-potties — my God, the stench is terrible. This is not good for the migrants. It is not good for the residents. It's not good for wherever our government is sending them in the interior of the country.'"
Disaster struck Del Rio residents after the bridge was closed on September 17 as a response to the influx of migrants with local businesses losing large amounts of profit. The Department of Homeland Security (DHS)  insisted that the Haitians would be deported, but as of September 29 only 1,000 of the approximated 14,000 have been relocated.
On September 23 the DHS issued a new immigration enforcement with guidelines highlighting mitigating factors in which arrest and deportation of an immigrant may be deferred. Examples of these factors include the elderly, children, victims of crime or those who have been in the U.S. for a lengthy amount of time, according to ABC News.
Such factors have led to deportations becoming less common "and apprehensions more common," says Pew Research Center, "in the first months of President Joe Biden's administration. In July, 47% of migrant encounters resulted in expulsion, down from 83% in January, when Biden took office. During the same period, the share of migrant encounters that resulted in apprehension rose from 17% to 53%."
Unaccompanied minors make up a large population of those deferred by the DHS guidelines who are then sent to immigration facilities. The Biden Administration faces a tough choice deciding what to do with the unaccompanied minors, many of which have not seen their parents in months. Biden has kept an order in place stating that minors would not be turned away by the administration upon being caught crossing the border by themselves, intensifying the issue.
According to U.S. News, "Border agents made 9,000 encounters with minors traveling without adults at the border in February, a huge jump from the month prior and the highest monthly total since 2019, according to data from the Department of Homeland Security. Some officials are concerned that numbers in the coming months could break decades-long records."
The migrant humanitarian crisis is continuing to escalate with officials struggling to enforce a solution that is both moral and in the best interest of American citizens. The issue is expected to intensify even more when COVID-19 restrictions and regulations are lifted. 
According to the Washington Post, former President Trump capped the number of refugees to be let into the United States to 15,000 in October of 2020, a number that Biden has raised to 125,000 for the fiscal year that began October 1 in efforts to abate the border's crisis and follow through with his promise of a more humane departure from the ultranationalism of his predecessor. This emergent issue will not subside anytime in the near future and will require immediate attention from the government to ensure a humane protocol for the process of gaining American citizenship.