Ahmaud Arbery Trial gains national traction, causing setbacks in legal proceedings
With all eyes on the trial, the search for jurors becomes problematic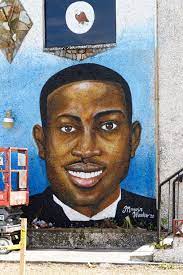 The jury selection for the murder of Ahmaud Arbery began on October 18. The defendants, Gregory McMichael, 65, his son Travis McMichael, 35, and their neighbor William Bryan, 52, have been charged with murder, aggravated assault, and false imprisonment, as reported by CNN.
According to the New York Times, the incident happened on February 23, 2020 when Ahmaud Arbery, who was 23 years old, was jogging in his neighborhood of Brunswick, Georgia. Arbery was then approached by Gregory McMichael who thought that Arbery looked like a suspect that had been involved in recent burglaries in the neighborhood. McMichael then called his son and got into a pickup truck with a handgun and a shotgun to try and cut Arbery off. Travis got out of the truck with the shotgun and then the two men were reported to have gotten into an altercation with the shotgun between them. The gun then went off and Arbery was shot and a few seconds later, another shot rang out. 
This case received national attention approximately two months after Arbery's death and no arrests were made. On May 5, 2020 a video surfaced of the shooting, promoting people to compare this incident to what happened in Minneapolis, Minnesota with George Floyd. A few days later the McMichaels were arrested and on May 21, William Bryan was arrested.  
The jury selection for this trial began on October 18 and it is taking longer than usual due to the case's high profile status. 
"This is a case that has garnered significant attention in this community as well as around the country, and I have no doubt that the 1,000 or so individuals that were summoned when they received that summon, reacted in some way to that," Timothy R. Walmsey, the judge overseeing the case, said, according to ABC News.
With the video of the fatal shooting being so well known, both groups of lawyers are considering the possibility of including jurors who have seen the video. 
"I mean, everyone's seen this video, I believe the judge will eventually find 12 jurors, but the work is to figure out if a person is being forthright when they say they can set aside what they saw," says Vanderbilt University law professor Chris Slobogin in a New York Post article.
Both the prosecutors and defense have thought about opening the jury pools up to people who have seen the video but are yet to form an opinion on it. Some jurors are reluctant to be a part of this case because of the widespread media attention this case has garnered.
"I don't feel comfortable. I don't like crowds and people and pressure," one potential juror said, according to CNN. Others fear they will be pressured to come up with a certain verdict because of all the protests. 
As the trial proceeds, it becomes more apparent that the verdict will not be given in the near future. Just like the arrest of the three men involved, the trial has hit a delay due to the many legal setbacks that may continue to affect it throughout its duration.