Dig pink
RV Girl's Volleyball raises awareness (and dollars) for Breast Cancer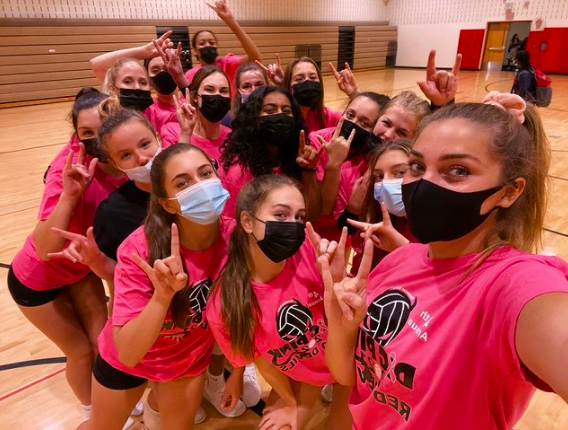 On October 20, RV's Girl's Volleyball played against Camden Catholic in its fourth annual Dig Pink game as part of a larger campaign to support Breast Cancer Awareness.
"Dig Pink is an organization that runs a fundraiser for breast cancer awareness," said head coach TJ Colling. "We have had numerous [families] affected by cancer in our program so this is our fourth year of running it and every year it continues to grow. The first year we were able to raise $1500 and two years ago we raised a little over $2,500. Anything we can do to give back as far as scholarships and the community, we try to do." 
The first set, both teams came out strong. RV led in the beginning, however, they fell short towards the end. Sophomore Olivia Colling brought intensity to the court this set, getting three aces. The girls nearly made a comeback at the end, but fell short two points leaving the final score Camden Catholic 25 and RV 23. 
In the second set, the ladies in pink energetically emerged onto the court, eager to increase their score and give their all on the court. Senior captain Amy Kupa was a star player in the game, leading the team to victory and securing them the final point to win the set 25-22. Kupa scored five points, followed closely by  junior Abbie Bachman, who scored three points.
Unfortunately, in the third set, Camden Catholic came out on top winning the set 25-20 and the match 2-1. 
"Although we lost, we played hard against a great team and gave the audience a great game to watch," said Kupa. "The most important part for us was raising enough money for breast cancer, especially because we were unable to last year due to [COVID-19]. I am extremely proud of our team for reaching our fundraising goal and making my last dig pink game as memorable as possible."
Honorable mentions and highlights include Kupa's lead with seven kills and Bachman's five kills. Tied for leading in blocks were senior Paige Bice and junior Camryn Champion, both getting one. Finally, sophomore Colling led with 12 assists and tied with Kupa for three aces.
Although the girls lost, surpassing their fundraising goal and pulling in  $2,612 was a win in and of itself. While October is coming to an end, spreading awareness and contributing to further breast cancer research centers is important year round. For more information regarding dig pink, check out the team's website.