Inside the life of an RV Thespian
A walk in the shoes of two of RV's incredibly talented performers
"Two minutes 'til places!"
From just those few words, a burst of adrenaline flows through the hallways behind the stage, whipping through the dressing rooms and out into the wings. Makeup and hairspray seep from the doorways as the performers scurry to prepare for their big night ahead. Glittering, colorful costumes hang on racks amongst the chaos, blowing with the wind of a fast passer-by. Props are laid backstage as crew members prepare and set the stage with great care for a smooth performance. The orchestra gears up for a long two hours, their notes of preparation pricking the silence onstage. The audience begins to settle down, filing into their seats and settling in for the performance to come. Tension is thick and intertwined with feelings of excitement and fear that hang over the area. The lights dim; the stage is set. The moment has arrived. It's showtime. 
RV is no stranger to the world of theater, with dozens of talented performers who pour their heart and soul into the shows they perform every fall and spring. Following Red Devil Dramatics' latest success "Pippin," the Holly Spirit set out to delve deeper into the world of these talented young people and discover what about the whirlwind of public performance is so appealing.
"I've loved performing since I was young," said senior Chloe Edwards, who starred in the Red cast of "Pippin" as Leading Player, and is also the Vice President of RV's Thespian Society. "I did my first show when I was 10 years old. It just seemed natural to continue doing what I loved in high school. The feeling of being on stage to me is euphoric. "
Beginning his performing career around the same time, junior James Humphreys shared a similar notion for wanting to carry the experience of theater to high school with him.
"I got interested in theater back in middle school, at [Lumberton]," said Humphreys, who performed alongside Chloe in the ensemble of "Pippin," and is also RV Thespian Society's Junior Officer. "I was in seventh grade and had known a couple of people who had done the show the year before, and I was like, 'You know what, this? This would be cool.' And then I just joined and I fell in love with it immediately. I just wanted to carry that over to high school."
As State Thespian Officers, both Humphreys  and Edwards share their adoration for the world of theater, highlighting and expressing their gratitude for its strong sense of unity.
"Definitely the camaraderie that comes with it," said Humphreys. "Being on stage, you get to meet a lot of new people and develop really nice stage chemistry. I know I've met some of my best friends in theater-like Kevin, Aidan, Ryan, all those people. So yeah, definitely the camaraderie."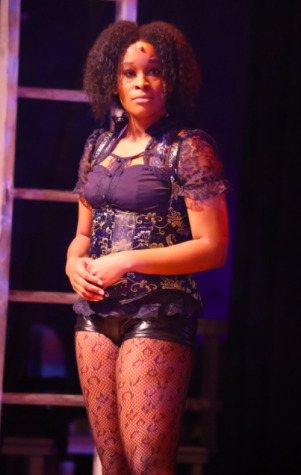 "The community that our Thespian Society has is really tight," said Edwards. "I already love performing so much and being able to do it with people I'm so close with just makes it a more enjoyable experience. It's nice to be around other students who care a lot about the work they create."
In the course of RV's history, the stage has seen a wide variety of theatrical performances. From "Legally Blonde" to "Chicago," to "Beauty and the Beast," to "The Addam's Family," Red Devil Dramatics has seemingly covered them all. 
"I've been in all the musicals at RV since my freshman year," said Edwards of her involvement in RV's productions. "I've been in 'Chicago,' 'Addam's Family,' 'The 25th Annual Putnam County Spelling Bee' and most recently, 'Pippin.' I really have enjoyed my entire experience in the programs. It's really great to work with people who enjoy the work that goes into a show."
Humphreys, just a year shy of Edwards, has also had quite the experience with Red Devil Dramatics productions, detailing his experience with pre and post-COVID shows.
"I've only had one 'normal' RV production, 'The Outsiders,' which was probably my favorite show I've ever done just because of the way the casting system was where we had one [cast] with all girls and then one with guys and girls," said Humphreys. "It was really interesting to see that dynamic and how Kevin and Aidan as Ponyboy and Johnny were different from Glory and Brenda's version of them… The Commedia dell'arte show was just a whole thing in itself. It made zero sense, but I still loved it just because I got to be with some really interesting people. Like [RV alum] Hamilton Scudder only did one show and that was it, and that was the only time that I've ever been able to experience the stage with him. And then 'The 25th Annual Putnam County Spelling Bee;' again a really weird show, but I think that's where I met most of my friends now, there in that show. And then here we are, 'Pippin.'"
Both Humphreys and Edwards have years of valued experience performing in a variety of settings, both affiliated with RV productions and otherwise. So, after all this time, do they still experience stage fright?
"I have the worst stage fright," said Edwards. "If you ask the cast of 'Pippin,' they'll tell you about how nervous I get before shows. And what's funny is that everyone in the cast is nervous. We all try to hype each other up and remind ourselves that we have an amazing show to perform. We're only nervous because we want to be the best we possibly can."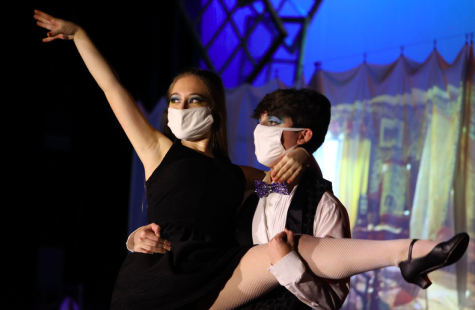 "I don't really get 'stage fright," noted Humphreys, "but I get very jittery before performances. This year, though, it didn't really happen. I think I was a little more comfortable with myself and what I was doing. I didn't feel like there were things that I was still trying to learn right before the performance. But really I just listen to music; just a very chill music playlist before a show just gets me right in the zone."
In any activity, whether it be the performing arts, athletics, clubs, or any other ventures students may devote their time to, it takes skill to balance one's education, activities, and social life. Maintaining grades, getting involved, and spending time in said activity is no easy feat.
When asked what the hardest part of being a student thespian was, Humphreys highlighted the level of commitment. "You have to drop a lot of things. I do Model UN, I do FBLA, I do Key Club, I do Boy Scouts, but all those go out the window the second that I start a show. Because it's three to six every day. And then as you get closer, it's three to seven, three to eight, three to nine, then three to ten. And then, when it's all over, then you get to go back to doing what you want to do."
"It's so hard to balance it all," said Edwards. "A lot of people don't realize the amount of time and energy we put into our productions. There's a lot of sacrificing involved. I always notice a drop in my grades during show season. To keep everything in balance, I constantly readjust my priorities. One day I'll hyper-focus on my math work, the next day it'll be English work, and the next day I'll give myself a break from all of my work."
"I think people underestimate how much time goes into being a thespian," said Edwards. "Rehearsals go on for multiple hours every day, then I have to go home and memorize lines and learn songs. And then the next morning, I'm in Mr. Pliskin's room asking him what my next task for the chapter is. Despite how hard it is, it is so fulfilling. There's nothing better than being able to put your all into something and watching it play out perfectly."
No matter how hard it becomes, both Humphreys and Edwards expressed their gratitude for those who motivate and support them from the long weeks of rehearsals through opening night.
"My parents have always encouraged me to do [theater]," said Humphreys. "I mean, it's not a career for me, but they've always encouraged me to go out and do it."
"Mr. Pliskin is definitely my biggest inspiration even though I'd never tell him that," admitted Edwards. "It's really cool to have a mentor that was able to watch me grow as the performer and person I was freshman year to me now. He always pushes me to work harder and dig deeper into my characters. I can whole-heartedly say that I would not be the performer I am today without him."
Throughout the course of the past couple of years, RV has been tried and tested with several obstacles. Yet, through the pandemic and its constant change in restrictions, construction, and so much more, Red Devil Dramatics has continued to find ways to bring the wonders of the world of theater to the RV community. These student thespians put their heart and soul into everything they bring to the stage, putting forth success after success. And they do it all, not for the notoriety, but for the love they share for the world of performance.
"Everybody that has any interest in music should be going out for a show at one point," said Humphreys. "I don't care what part you get. I don't care if you're the lead or you're tree number four; doing theater is the best experience you're ever going to get."