Humans of RV: Mildred Dow
One of RV's most visible security guards chats with the Holly Spirit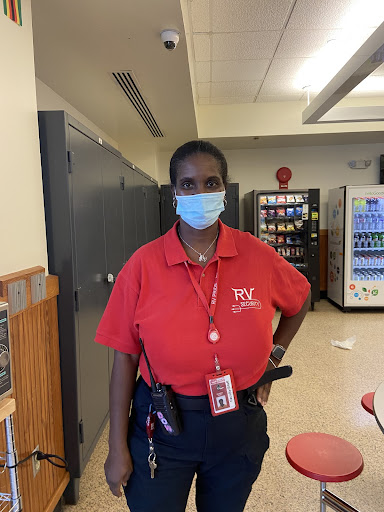 The Humans of RV project is a weekly column based on Brandon Stanton's seminal "Humans of New York" project, which seeks to "catalog the city's inhabitants" through photography and brief interviews. RV seeks to expand on this project with our own "cataloging" of RV students and an examination into all the unique perspectives here at school. 
Note: this transcript has been edited and condensed for publication purposes.
I am originally from South Carolina but grew up in New Jersey and graduated from JFK high school in Willingboro. In terms of my prior occupation, I worked in corrections, which is a portion of the criminal justice system charged with carrying out the sentences, in my case I worked with juveniles at detention centers in Freehold Youth Detention Center. I worked at the detention center for a total of sixteen and a half years, fifteen and a half for Monmouth county but unfortunately,  the facility closed and merged with another facility and everyone lost their jobs.
I started at Rancocas Valley in 2014 and ended up here because I was unemployed at the time. A gentleman I knew said they needed a female officer and he thought I would be a great fit. Subsequently, I contacted the supervisor at the time, Art Jackson, who I interviewed with and got the job the same day I interviewed. I have found a passion in what I do because I love students and the younger generation. More so, I enjoy talking, learning and communicating with the student body. 
A typical day for me consists of the following: I am the first one in, so I come in at 6:30 a.m. I am at the front desk and I turn on the computer, with four screens up, two sets of cameras, Genesis and T-Pass–which is what is used to sign in anybody that comes indoors. I sign them all in all in first block, then second block, when I'm at the sliding doors, third block, I do lunch out and fourth block, I am back at the front desk. Fifth block is my free block, as I am free to roam and check doors, bathrooms and more. Shifts are generally eight hours, and I don't consider it long at all because in corrections you can go to work for eight hours and wind up being there for sixteen, so eight hours is a plus.
My role has been the same since 2014, as a security officer, and at one point I was presented the option to become a supervisor but I did not want that role. As a supervisor, you have to stay late, fill in when needed, and I love what I do but family comes first. As a mother, I need to be there for my son especially in the means of transportation. In fact, my son will be attending RV in two years, as he is at Holbein right now. 
COVID-19 affected my life because I picked my son up one day from school and he had his computer [and] computer bag, and that particular day that is when I knew that he wasn't going back to school. Then that same day RV was also closed, and it was truly this domino effect. But, I was still employed and collecting a paycheck so I was grateful for RV from that. 
In terms of the adversary the school has faced with the bathrooms and other facilities, I do not look at it as a stressor, because again, I love what I do. I like working with the young people and a majority of the student body are great, and most of the students don't mind the bathrooms because they understand why they are being locked. I believe that if everyone can get on the same page and not go in the bathrooms and do silly things then the bathrooms would be open, but what some of the students may not understand is that they make take it as a joke and think it's funny but you are in fact, costing RV and tax-payers money because they have to replace everything that is damaged. There is nothing we could do about it, since this is coming from the administration but they are putting out money, replacing things and fixing things and pulling people from their jobs like the maintenance guys because the soap dispenser is broken and a toilet paper piece is on the ground, it pulls them from their duties. 
This weekend, I am dancing with the teachers and my partner is Mr. Micheal Pliskin, and originally, I said no. Then students asked if I was going do it, and again I rejected the idea due to health reasons, but Mr. Pliskin [said] it was going to be enjoyable, easy and nothing extreme, so I willingly hopped on board. In light of events this first semester, I truly believe that this will be an event to get the student body going.
Lastly, I would like to add that I love RV, my job, the students and the fact that my job is only two minutes away from home, because before, when I worked in corrections, it was an hour of commuting, and that was on a good day – not without traffic.