The Oxford High School shooting: red flags and lessons learned
Details on the Oxford High School Shooting in Michigan and the charges being brought against the 15-year-old suspect
A school shooting took place at Oxford High School in Michigan last week, which took the lives of four students.
The accused shooter, Ethan Crumbley, is being charged as an adult with charges of first-degree murder and terrorism. The school shooting, which resulted in the deaths of Madisyn Baldwin, 17; Tate Myre, 16; Hana St. Juliana, 14; and Justin Shilling, 17, was the deadliest one since the Sante Fe High School shooting in May of 2018.
"A preliminary review of the defendant's social media accounts, his cellphone, as well as other documented evidence recovered on scene showed that this defendant planned this shooting, he deliberately brought the handgun that day with the intent to murder as many students as he could," Prosecutor Marc Keast stated during Crumbley's arraignment on the day following the shooting.
There were alarming red flags that appeared days before the shooting as well as on the day it occurred. Crumbley's father, James Crumbley, was recorded buying the firearm that authorities believed was used in the shooting with his son on November 26 in Oxford. 
Within hours of the purchase, the apparent shooter posted a picture of a handgun on his Instagram account that was captioned, "Just got my new beauty today. SIG SAUER 9mm." The gun in the image is allegedly the one used in the shooting, according to multiple news outlets. The U.S Sun reports an image in which Crumbley captioned his Instagram biography with, "Now I am become death," as well as the disturbing phrase, "See you tomorrow, Oxford."
Red flags continued to alarm teachers in the building, right up until the morning of the shooting. According to Karen McDonald, the Oakland County lead prosecutor, a teacher noticed Crumbley on his phone scouring the internet for ammunition while in school after the long Thanksgiving weekend. McDonald added that on the morning of the shooting, another teacher found "concerning drawings and written statements" on the accused shooter's desk, including depictions of a person being shot and bleeding out. Crumbley was then removed from class and taken to a guidance counselor's office, where he and his parents met with school administrators to discuss his behavior. 
"At no time did counselors believe the student might harm others based on his behavior, responses and demeanor, which appeared calm," said Tim Throne, head of the Oxford Community Schools district. Moreover, Throne wrote that the meeting ended with the counselors telling Crumbley's parents that the school would contact Child Protective Services if they did not find counseling for him within 48 hours. When the counselors asked Crumbley's parents to take their child home, they refused, wanting him to stay in school. Throne explains that the counselors then allowed Crumbley to return to class because he had a clean disciplinary record and they did not want to send him home if his parents wanted him to remain in school. 
"While we understand this decision has caused anger, confusion and prompted understandable questioning, the counselors made a judgment based on their professional training and clinical experience and did not have all the facts we now know," stated Throne. 
According to Prosecutor McDonald, during the entire meeting that morning, Crumbley had the gun in his backpack, which was not searched.
At his arraignment the day after the shooting, Crumbley pleaded not guilty with his lawyer. There were a couple of videos on Crumbley's phone that he took the night before the shooting in which he talked about killing students at his school, reported Lt. Tim Willis of the Oakland County Sheriff's Office. Authorities allege that the shooting was premeditated, which adds onto the charges facing Crumbley. Crumbley's parents are also facing charges after a short-lived police manhunt in which they hid out to avoid a scheduled arraignment. They were discovered and were charged with several involuntary manslaughter charges in court the next day, to which they pleaded not guilty. 
"When the prosecution is stating that this child had free access to a gun, that is just absolutely not true," said Shannon Smith, one of the parent's attorneys. "…there is far more going on than what this court has been made aware of."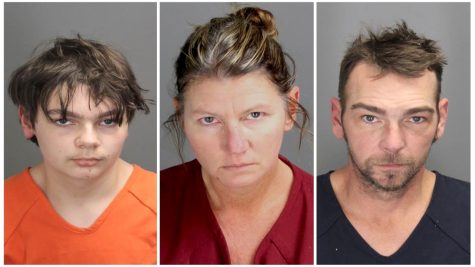 A CNN article outlines the prosecution's intentions: "McDonald said the shooting last Tuesday could have been prevented and that the suspect's parents are being criminally prosecuted because 'we have to start addressing how somebody like (Ethan Crumbley) can so easily get their hands on a weapon and we have to hold the people responsible who allowed that to happen.'"
McDonald adds that the prosecution has not ruled out charging any school staff members.
"You have to show that the administration or faculty members were grossly negligent, meaning they had a reckless disregard for whether an injury was likely to take place," said attorney A. Vince Colella. 
According to Carolyn Stone of the University of North Florida, an expert in ethical and legal issues for school counselors, when a counselor is faced with the information that they had on Crumbley that morning, the right thing to do is to call the parents and share the discovery. "When we share, the parents then exercise custody and control over the child and get them help. Our job is to make sure parents know their child is in trouble," stated Stone. 
If faced with a similar situation as the guidance counselors at Oxford, Douglas Shunk, a counselor at Rancocas Valley, said that, "You need to have a lot of chefs in the kitchen when it comes down to a student like this… typically in a situation like this we want to make sure that multiple people are made aware… of course, that requires us to reach out to either outside organizations, agencies. We need to inform the parents and make sure that they're aware. Depending on the severity of the threat, of course the police need to be involved." 
"If it was this exact situation, yes, administrators, probably police and parents will be made aware, and (we would) then make sure that that student is receiving that help for their mental health," he said.
When asked if he felt confident in RV's policy preventing a school shooting such as Oxford's, senior Daniel Ashton said, "No, I am not. After the shooting at Oxford, it's clear that it is difficult to change someone's mindset once they have an idea of what they want. I think we need to take a step back and fix all of the things that led him to that point."
As the case develops in court, and as more information surfaces from investigations of both the school and the Crumbleys, those that are affected by the Oxford High School shooting remain traumatized. Whether the shooting will have an effect on firearm legislation in Michigan or on school policy is yet to be determined, but what is known is that the suspected shooter and those that were involved alongside him are being prosecuted.