Can't miss holiday adventures in New Jersey
Fun and inexpensive ways to get into the holiday spirit right here at home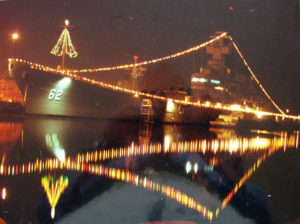 The holidays are right around the corner and they will be here before you know it. Throughout New Jersey, there are so many activities and events that take place each year that will put you in the holiday spirit.
These activities can start new traditions to do with your family and friends. A few of them are right around the corner from Rancocas Valley Regional High School while others are around a 45 minute drive. Make sure to bundle up, get your hot chocolate and sing your favorite holiday songs on the way there because all of these events will make you feel like you're in a winter wonderland.
Located in Medford, Johnson's Corner Farm offers a holiday hayride with the farm all decorated for the holidays. Musical holiday hayrides run throughout the week and their fire and lights also known as the Discovery Barnyard and animal farm are also open till 8 p.m. during the week and 9 p.m. during the weekend. The market follows the same hours as the Discover Barnyard and is filled with freshly baked goods and the delicious apple cider donuts. Santa is free and no reservations need to be made to visit him.
The hayrides as well as the fire and lights will run from November 26-December 23. On weekdays, tickets cost $7.95 for the hayride and an additional $7.95 for the fire and lights online. The walkup price is $8.95 for each ticket. However combo tickets can be purchased for both activities for $13.95 online and $15.95 as a walkup. Hayrides run from 4:45-7:30 p.m. On weekends tickets are $8.95 a person online for the hayride and an additional $8.95 for the fire and lights. The walkup price is $9.95 for each ticket. However combo tickets can be purchased for both activities for $15.95 online and $17.95 as a walkup. Children and adult tickets are the same price however children under the age of 12 months are free. S'more kits are available to purchase at the Discovery Barnyard. The Christmas cafe is open on weekends for hot chocolate, hot cider, hot dogs, and chili. 
This year, Smithville Mansion in Eastampton is offering Victorian Christmas tours. Each year clubs and organizations decorate rooms of the mansion, and the theme this year is a "Victorian Storybook Christmas" which features rooms decorated as storybooks such as Snow White, Jane Austin novels, and the Nutcracker. Daytime tours are offered Thursday through Sunday at 12 p.m., 1 p.m., and 2 p.m. all December long. The tours cost $6.00 a person. They are also offering candlelight tours at night however are booking up very quickly. The tours run on December 23 and 30 at 7:00 p.m. and 7:30 p.m. The candlelight tours cost $8.00 a person and can be purchased through the website. The whole mansion is covered in lights and looks very pretty at night. 
I bought tickets for the candle light tour on December 3 and I enjoyed learning some of the history of the mansion as well as seeing all of the rooms decorated in different themes for Christmas. After the tour complementary punch and cookies are served and there is a gift shop in the mansion to purchase unique items and gifts.
From November 13- January 2, Six Flags is covered in Christmas decorations and lights. Despite the cold, numerous rides are still open, such as many roller coasters and thrill rides. The park also has many attractions; including a Christmas show, characters like Jack Frost, and holiday fire pits. 
The park tickets range from $24.99-$29.99 depending on the date. Six Flags also offers a Magical drive through experience, it is $9.99- $14.99 per person in the vehicle to drive through the light show and kids under two are free. At the end of the drive through light show, there is a Merry Market where kids can see Santa as well as fire pits and shops. This is a fun holiday activity to do with family and friends. 
Through Saturday December 11- Sunday December 26; Battleship New Jersey will be offering a train display available for guests. With purchase of a tour of the Battleship, the train display is free to see. Tours will run everyday in December except for Christmas day.
Battleship New Jersey offers a variety of tours, however to get a full tour of the battleship, on saturday and sundays at 12 p.m. a guided fire power tour is offered and on weekdays it is self guided fire power tour.  For the guided tours it is $35.00 for an adult and $30.00 for a child. For the self guided tour, tickets are $25.00 an adult, seniors (62+) and children (5-11) are $20.00. Children five and under and veterans as well as active military are free. 
Swedesboro offers a drive through light show. For $23.00 a vehicle, you are able to sit in the comfort of your car and see all of the amazing light displays. If you plan to visit more than once this season, it is only $35.00 to purchase the season pass. 
The light show runs from November 19 and ends on December 30. As you drive your car around the light show, make sure you set your radio to the station set up with the light show. The light show is about 20 minutes long and is very amusing and will bring joy to everyone in the family. 
These are just a few of the many holiday activities that are offered in New Jersey. Any of these ventures will put you in the good spirits and ready for the holidays.