RV's wrestlers look forward to a successful season
While the pandemic still looms, RV's wrestling team eyes Districts in the coming months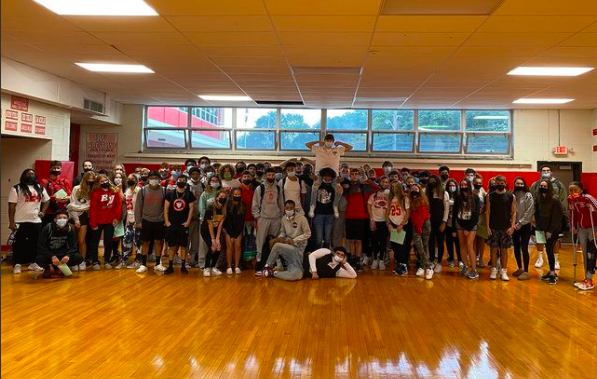 With the 2021-2022 wrestling season underway, the Rancocas Valley Red Devils have been preparing for this for months. The past two seasons were anything but normal, with the difficulties and abnormalities that disrupted practices and matches. Ending their previous season with an 8-2 record, the team luckily has a heavy returning senior class for this year. Those seniors have stuck with the program through the ups and downs and plan to lead their team. 
The Lady Red Devil Wrestlers have goals of their own too, as they expect more matches due to many more schools making the addition of a girls' wrestling team to the sport.
Senior Conner Bauman, one of the senior leaders on the team, looks forward to the opportunity to compete on a larger scale again.
"I plan to help and lead my team to Districts, to win it all and be named champions — with a few solo district champions in the mix," he said.
Another senior Leader, Josh Oludoyi, noted that the chances of making Districts are higher than ever this season; with a strong graduating class that has had more practice time than in past seasons, the odds are in their favor moving into competition season. Josh is noted for being a strong leader, and expresses those qualities within the wrestling community as well as outside.
Switching over to the Lady Red Devil Wrestlers, senior Mariana Payne is hoping for a strong final season. 
"Winning and working hard, not having a season…last year, I worked out more this offseason and I am ready for my last year at RV,"she said Payne noted that the motto for the girls wrestling team is "Unity and Teamwork": sticking together throughout the season and working together to better each other, to establish a positive culture for girls wrestling. 
Coaches Thomas Callahan and Joshua Gannone expect to continue to have the winning seasons as they did in the past. With both coaches having such impressive records, they have plans of going down as one of the best coaching cores in RV history. Their preparation each season has gained respect from other schools in the Burlington County area. 
With their first match approaching the wrestlers are increasing the intensity at practices and working extremely hard.