A Season to look forward to: basketball begins at RV
A preview of the boys and girls varsity basketball season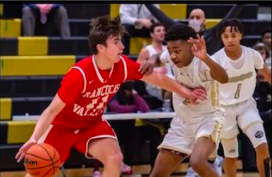 It is official: after a long year away, basketball at RV is making a major comeback. 
Last season was full of unknowns, but this season basketball can have a normal feeling again. 
Both teams have spent weeks training and preparing for the start of the season. Over the past few weeks, there have been scrimmages the teams partook in. Now coming up is the official start of  the season. Not only are the players eager to showcase their skills around NJ, but also the returning support from the RV family. 
No longer will the teams have to play in an empty stadium, as this year the student section can be packed with high energy students eager to cheer on RV. The roar of support is expected to uplift and give confidence to this season's players. 
Although the season is getting closer to 'normal,' the boys Varsity team still has some adjusting to do.
"We are hoping to be competitive with our difficult schedule and finish above .500," said Boys Varsity Coach James Flanagan. "We were dealt a serious blow with the loss of two projected starters who suffered season ending ACL injuries during the football season. Our senior captain and returning best player, Rashan Addison, was unfortunately one of the players we lost." 
Aside from the adjusting, one factor basketball players can always look forward to is a memorable season. Working as a team and spending time together allows the team to connect and work better on the court. Returning varsity sophomore Miyah Dawson exclaimed her excitement for another thrilling season with the team and has a lot to look forward to.
"Winning games and spending time with my teammates [is what I'm looking forward to]," she said.
Returning varsity sophomore Olivia Ruminski agrees: "I am excited [to work] as a team to win games," she said.
Not only the players have high hopes, but Coach Antonio Corrado, the girls Varsity coach, believes that the team's talent will lead them to a successful season.
"​​We have a nice mix of veteran players as well as young players," he said. "I think if we all buy into playing together as a team we will be very tough to beat. We have some very good shooters this year that should keep us in most games."
In addition, Ruminski has high goals as well: "One of my goals this season is to play with confidence and use my voice on the court," she said.
After a successful season last year, both teams have a lot to live up to. Many players are preparing for the season by setting personal goals for themselves. Dawson is looking to strengthen her skills as a player. "[My goal is to] score at least 15 points a game and play the best defense anyone has seen," Dawson said. 
Girls coach Bridget Marquess also has positive thoughts and goals for the team as well.
"We have a great group and, so far, they have been working really hard to learn how to work together as a team. I am confident that we will continue to develop and grow–individually and as a team–and will have a successful, winning season," she said. 
Looking to support the teams? Game schedules for this basketball season can be found on the RV website or RVTV.  Cause there is one thing that is certain: the games won't be one to miss.