RV's fifth Dancing With The Teachers event
Five of the competitors from this year's Dancing With The Teachers event share their experience with the competition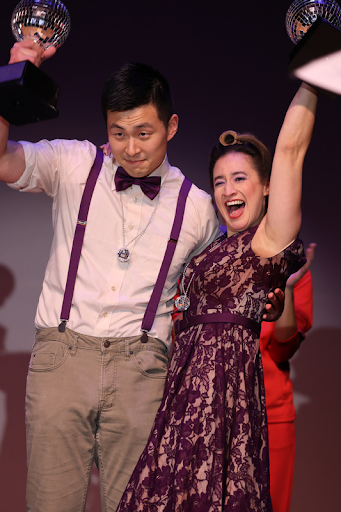 Saturday, December 11 marked the fifth annual Dancing with the Teachers event at RV. Unlike other high schools, RV fosters a unique culture where events of all kinds take place on the center stage of our Performing Arts Center. In this year's Dancing with the Teachers, nine pairs of teachers performed on stage bringing RV a myriad of styles of dancing ranging from Lady Gaga pop to 70s disco, Tik-Tok dancing and even the iconic "Mean Girls." Unlike any other dance show during our school's dance team season, Dancing with the Teachers presents dancers as coaches and teachers as dancers. 
This year, 2021's Dancing with the Teachers was a refreshing, exciting performance cultivated with the best that RV has to offer. The Holly Spirit wanted to know the inside scoop of what it was like to perform on stage as a teacher and all that went with Dancing with the Teachers. Three pairs of teachers (including the winning pair) shared their experiences: Mr. Wang and Mrs. Vizzacco, Mr. Haussman and Mrs. Saiia, and Mrs. Pliskin (who danced with Madame Michael). 
Why did you dance with the teachers? 
Mr. Wang: "I wanted to put my effort into something I haven't done before, that's fun and difficult. It was exactly what I wanted."
Mrs. Vizzacco:"I did DWTT since I love to be on stage and enjoy having the students see me do something other than math problems.  It's a fun time!"
Mr. Haussman: "Emily Pfeiffer, who's been asking me since her freshman year, wasn't going to let me down if I didn't do this. There was no way of getting out of this, so I tried my darndest to get out of it but for her, I would do anything, so we did it." 
Mrs. Saiia: "I decided to do Dancing with the Teachers because I wanted to release my inner Dancing Queen. A big thank you to our awesome coaches Emily and Kendall for doing just that!"
Mrs. Pliskin: "I did Dancing with the Teachers because I had done it 3 years ago with Mme Michael. I wasn't going to do it this year, but I heard she was looking for a new partner, and I said, 'no way is she doing it without me.'"
How did you pick your partner? 
Mr. Wang: "Mrs. Vizzacco and I were already friends outside of the school! I knew she had danced with DWTT many times already, and was experienced and knew how to perform. I figured it would be really fun to dance with someone who's really passionate about working hard and knows what she's doing, as well as being a friend in the math department and outside of it!" 
Mrs. Vizzacco: "Actually, Mr. Wang picked me.  How could I say no to such an awesome co-worker?"
Mr. Haussman: "I left it up to Emily Pfeiffer and she picked a perfect partner for me because without Mrs. Saiia I never would have done it or been able to do what we did." 
Mrs. Saiia: "When considering my options for partners– I needed someone that was competitive and balanced out my weaknesses to really make us a strong couple. Knowing I didn't have the height factor on my side… I was shocked when I found out that Mr. Haussman was still in search of a partner. He recently told me that his football teammates in high school frequently referred to him as 'Twinkle Toes' because of his flexibility and agile footwork. The Mama Mia goddesses worked their magic and coupled together the most seemingly unlikely pair to create quite the dynamic duo. Let's boogie!" 
Mrs. Pliskin: "Madame Michael and I used to coach cheerleading together. We both knew we liked to dance and were competitive, so we thought we would be a good partnership."
What's your least and favorite part? 
Mr. Wang: "There was a point where Mrs. Vizzacco got an ankle injury from a move we practiced and then needed crutches followed by a boot for a few days. Mrs. Vizzacco's injury would definitely be the biggest thing that went wrong. But the thing that impressed me the most for all our practices was how tenacious Mrs. Vizzacco was, keeping up with the practices and keeping the routine exactly the same, even with her ankle hurting. All in all, I think we came out of that whole situation stronger than before. Besides Mrs. Vizzacco's ankle." 
Mrs. Vizzacco: "The least favorite part is the dread that I'll let my dance team coaches down if I mess up.  My favorite part is being able to work with students outside of the math classroom.  We can connect with something that I wouldn't normally have an opportunity in the classroom.  They get to see their math teacher in a totally different environment."
Mr. Haussman: "Dancing was my least favorite part." 
Mrs. Saiia: "My least favorite part has been the looming possibility of letting our awesome coaches down who have worked so hard on our routine and committed themselves tirelessly to this event. My favorite part has been plotting ways to take down our competition." 
Mrs. Pliskin: "My least favorite part is the nerves I get leading up to the performance. The best part is when I am out there on the night of and feel confident because I know how much we practiced." 
Did anything go wrong so far? 
Mr. Wang: "My least favorite part was being worried I would accidentally drop her again! After the injury, I had anxiety about doing that again until after we performed at DWTT. My favorite part was getting to learn cool new moves taught by Ava Pointkouski and Jazmine Kneringer. It was really fun from feeling like I have two left feet to getting really comfortable and confident with the routine!" 
Mrs. Vizzacco: "Yes, I severely sprained my ankle while practicing the week before the competition.  But, it's fine!  I'm ok!  The show must go on!"
Mr. Haussman: "Yes, they asked me to do it [Dancing with the Teachers]." 
Mrs. Saiia: "In the middle of our last dance practice, I pulled a risky maneuver that left my shoe flying through the air. I gasped as it just barely missed Mr. Haussman's face. Being the professional that he is, he continued right on with the routine, never missing a beat."
Mrs. Pliskin: "The only thing that went wrong was that our velour jumpsuits from H&M never came!! The night before the performance we were at H&M, Forever 21, and Target scrambling to find something to wear. Fun fact, our pink sweaters were from the Target Kids Section." 
Would you do it again in the future? 
Mr. Wang: "I think if I can handle all the practicing and still be the math teacher I want to be, then absolutely."
Mrs. Vizzacco: "This is actually my fifth DWTT.  I have been a competitor since the first triennial event in 2009.  I enjoy it.  So, we'll see."
Mr. Haussman: "No, not because it was a bad experience, but because I am not a good dancer." 
Mrs. Saiia: "You know, I have never thought of myself as much of a dancer and I suffer from extreme stage fright. But, with the right partner and team of coaches, I am sure I could be persuaded."
Mrs. Pliskin: "I would definitely do it again." 
Dancing with the Teachers was an entertaining experience, showcasing RV's unique style and making it a night no one wanted to miss. The future competitors on Dancing with the Teachers will surely have to work hard in order to compete with the talented 2021's performances and teachers. Congratulations to the winners, Mr. Wang and Mrs. Vizzacco!