Despite inconvenience, new bathroom policy is working
New rules requiring certain bathrooms only opened during times have not been received well amongst RV students
The recently-mandated new bathroom policy at Rancocas Valley, which requires students to turnstile into the bathrooms and has only about two-three bathrooms open during each block in an effort to curb vandalism and illicit behaviors during school hours, is deeply unpopular with many students — but it's also working.
The new policy states that there is always a teacher to monitor each bathroom. The selection of unlocked bathrooms vary from block to block, which has arguably made wait times to use the lavatory much longer than necessary.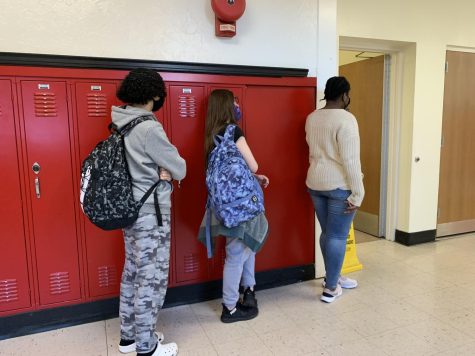 Some students have told stories of waiting 10 minutes and longer to go to the bathroom. The policy was put in place to prevent students from participating in the infamous Tik-Tok "devious lick challenge," vaping or smoking in the bathroom, and taking too long in the bathroom, among other things including violence and destruction. The new bathroom policy, often accredited to assistant principal Anthony Bowker,  has been a hot topic among the student body ever since it has been instituted. Students have been critical of the new policy for a variety of reasons. 
"I think that it is preventing a lot of people from getting access to the bathroom that they need because [the school administration] are afraid of vandalization," junior Emily Cardonick said. "I think that instead of having people sit outside of the bathrooms they just enforce stronger penalties against people who mess up the bathrooms."
Mr. Raj Mackara, one of the deans of discipline, discussed the necessity of the new policy in response to the spike in vandalism at RV.
"We are one of the few schools with no [permanent] bathroom monitors," said Mr. Mackara. "We have been able to monitor [bathrooms] on our own until this year."
Mr. Mackara pointed to Shawnee High School, part of Lenape regional district, which has long had permanent bathroom monitors. Bathrooms at Shawnee are always closed and locked between classes, when many students at RV use the restroom, and are not opened again until after the bell rings and a monitor, usually a teacher, arrives.
Mr. Mackara calls the damage in the bathrooms this year "unprecedented," and noted how the discipline and maintenance team were seeing new forms of vandalism, including the removal of sinks and the irreversible destruction of property, with damages reaching into the thousands.
More recent social media challenges, such as the "slap fight challenge," were also making bathrooms dangerous spaces. Mr. Mackara points to the students themselves as being helpful participants in ending this kind of behavior.
"The students were growing tired of it, so they were showing us the videos of kids fighting in the bathrooms," he said.
When asked about the school bathroom policy, sophomore Lauren Fadairo said, "I think it is not helping anyone because we are spending a lot of time outside of the classroom having to wait in line to use the bathroom. It is not very good for some students to wait in line for a long time because some people might have bladder issues."
Freshman Zhi Hanlin said that "[the bathroom policy] is such an inconvenience to just [about] like everyone." 
Freshman Morgan Silverberg added another perspective: "If, let's say, a girl gets her period, she has to wait in line for five minutes just to change [a tampon/pad]."  
"They keep promoting us to drink more water so we don't get dehydrated during the day but we can't relieve ourselves after we keep drinking more water," responded Senior Gianna Rayez.
Many other students say they have been avoiding using the bathroom because the new policy makes going there a chore.
Despite the negative perception from students, the new policy is working in deterring vandalism and violence in the bathrooms. Since the policy has been instituted, Mr. Mackara said there have been "almost no issues, excerpt for a couple minor incidents of graffiti."
"Our job here is to preserve order and property for the school," said Mr. Mackara. "We are going to do that."