RAWN: the ultimate pep rally
Why are pep rallies like RAWN so important for high school culture?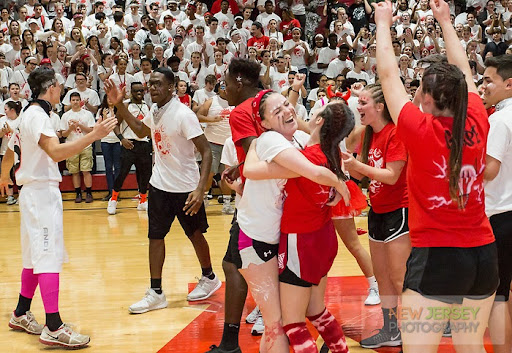 A pep rally is often a school event consisting of the student body and staff to encourage school spirit. These events include dancing, music, games and other forms of entertainment. Additionally, many pep rallies have goals other than school spirit. Many embrace the competitive edge of beating the opposing team.
For instance, here at RV, Red and White Night, or RAWN for short, is our version of a pep rally, and the two teams compete for the championship title of RAWN. 
Students are divided into two teams either Red or White, based on their last names. The last names A through K are on the Red Team, and L through Z are on White. The concept of RAWN may seem contradictory because it divides the school into two, but the goal is actually a larger celebration of working with other students as a team. When people agree to commit to an event such as a pep rally they help build a sense of camaraderie like no other. 
"RAWN is such an important event because it pulls together the whole school with people of all different interests and backgrounds for one crazy fun night," said senior Maya Martin, a 2019 White Team captain when asked about RAWN's impact at RV. "It's the night that brings RV together as a united family. Although the two sides, red and white, are against each other, at the end of the day the event is just about coming together as a school to win games and have fun. You may not know someone, but if you're in an event with them, you just start cheering them on like crazy…you make so many new friends [with] people you've never met."
Ryan Hans, a 2019 Red Team Captain, feels the same way. "RAWN is a great experience especially when you are trying to get involved and meet new people at school," he said. "There is something for everyone and allows you to get out of your comfort zone and do something that you've never done before."
Despite a two-year hiatus, the RAWN-relaunch team is already active in getting the school — particularly the underclassmen — prepared for the month-long event, which culminates in a massive pep rally in the gym. Be sure to keep on eye on the Stud Life page of the Holly Spirit, as RAWN coverage continues through March.