RV Alumni founds New Jersey's first veterinary school
RV alumni Dr. Matthew Edson appointed as first dean at Rowan University's School of Veterinary Medicine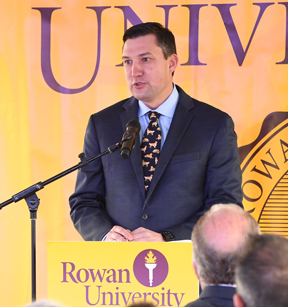 Rancocas Valley Alumni Dr. Matthew Edson was named founding dean of Rowan University's School of Veterinary Medicine, the first veterinary school in New Jersey and one of only five on the East Coast.
The school is set to open for the fall of 2025 with an inaugural class of 60 students. Rowan Today reports that the New Jersey Legislature has approved $75 million in funding to construct the school's academic and clinical facility.
Dr. Edson grew up in Eastampton and is still a resident. Following his education at Eastampton Middle School and RV, he attended Rutgers New Brunswick and graduated with an animal science and biology degree. He briefly received a paramedic degree through Virtua Health before deciding to return to veterinary medicine and graduating with his Doctor of Veterinary Medicine degree at Kansas State University.
In an interview with the Holly Spirit, Dr. Edson shared one of the school's advantages: "We haven't had an instate option…so giving students in New Jersey an option to have an instate school with more affordable tuition is a big deal for us."
The school will offer a veterinary technician program at the Rowan College of South Jersey and its veterinarian program at Rowan's main campus in Glassboro with a brand new facility.
Despite a national rise in veterinary program applicants, "[the school has been] working on this here at Rowan for three years already before we even announced we would have a program," he said. "It's a long and arduous process and it can be expensive to start these facilities … but the demand right now for veterinarians is very high and more on people's minds than it was a few years ago. We started working on this long before the demand was this high just knowing we needed an in-state option for New Jersey folks."
Rowan's veterinary school will have what may seem as "non traditional" priorities as Dr. Edson explains that the school is "less concerned about ranking as [it is] the production of good graduates who are prepared to do this job right. I want this school to be known for diverse graduates who come out ready to do their job on day one – doesn't mean they have to be perfect, but they need to be prepared enough that they feel comfortable practicing as a veterinarian when they leave. That might not be the typical goal – we will have research programs and want to be nationally ranked and renowned for this and that, but to me it's most important that the students are getting what they pay for in a veterinary education and feeling prepared to do their job at graduation."
"
It's most important that the students are getting what they pay for in a veterinary education and feeling prepared to do their job at graduation"
— Dr. Edson
Dr. Edson appreciated his time at RV and its impactful beginning of his prospering career. "
There were a lot of people there who did a very good job helping me to be motivated and supporting my interests at the time," he said. "I would say I had a great educational experience at RV, it got me to where I wanted to be, I got a doctoral degree and probably never thought I could have done that when I was a high school student. I think there's a lot of great people there, it's a really great program – any program is what you make of it. But I couldn't be happier with the education I got at RV. I got where I wanted to be and I couldn't have done it without high school."