One of two: behind the scenes with Coach Warren
RV Girl's Track Coach Eric Warren discusses his coaching career as one of two Black head coaches at RV.
Burlington native Eric Warren and Head Coach of Girls' Track & Field is one of two Black head coaches at Rancocas Valley. In addition to having a very notable and successful career, he continues to coach and produce some of the best athletes and coaches the winningest sport in the entire school.
As a former collegiate track runner, his passion for the sport and his athletes is clear. When asked about what he admires the most, he noted the significance of the "individual-team" aspect of track and field, which is what he fell in love with, unique to any other sport.
Coach Warren oversees all sprinting events for both boys' and girls' indoor and outdoor track teams. In only his 10 years of coaching, beginning as the boys' assistant coach in 2013 and transitioning to the girls' Head Coach in 2018, Coach Warren has trained some of the most talented athletes that have come through RV, including athletes such as current Eagles linebacker Shaun Bradley, Sterling Pierce, Sheriyah Nutt and the new 55 meter-hurdle school record holder, senior Anabella Chin.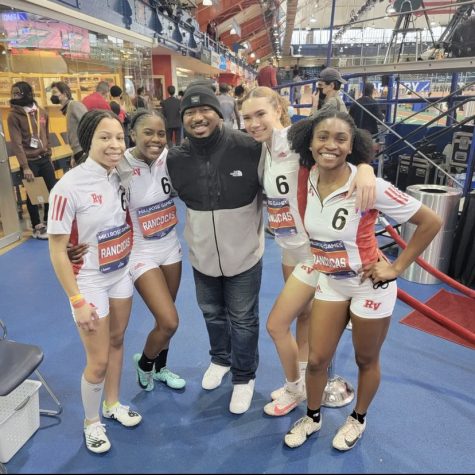 However, his success was not established overnight but was composed of various trials and errors over the years.
"I take experiences from knowing what it feels like to be an athlete and use it to help me determine what is best for my athletes," he said.
In addition to studying his athletes on the track, Coach Warren also frequently attends coaching conventions and conducts independent research to "help benefit whomever I am coaching."
I think the motivation within [RV's] athletes comes from having that name across their chest," he states.
Coach Warren believes that RV, in the track world, is "the team others fear or want to beat." RV track has a long history of success, and many alumni point to the close-knit atmosphere that Warren has helped to foster as part of its success.
"My athletes don't want to be the team that fails or doesn't win their event," he said.
As the head coach, he utilizes that mindset as encouragement and motivation for his athletes to train their hardest in every practice, and in turn, be rewarded in every meet.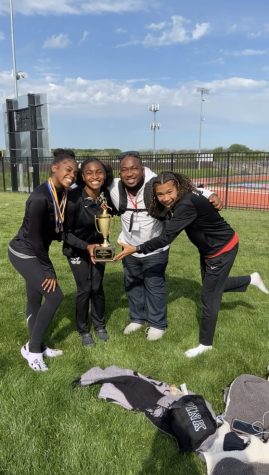 Coaching at a school in which approximately a quarter of their students are Black, Warren, alongside Head Cheer Coach, Ms. Shardae Swoope is one of two Black coaches. "[Ms. Swoope] does a phenomenal job with her group and she should be recognized, not just for her race, but for being a good coach as well," he noted.
As the minority amongst most of RV's coaching administration, he continues to bring light to the imbalance of diversity by encouraging other Black coaches and staff to come to the school and be a part of what Rancocas Valley has to offer.
"I see the numbers," he said. "I notice that there are not many of us [Black individuals] whether it's teaching, being a part of the administration, or coaching. There are maybe five Black coaches at RV, and most coach alongside me."
As a Black Head Coach, Coach Warren said that receives an adequate amount of what he describes as "'outside noise.'" On the one hand, while stakeholder pointed out that he wasn't given enough credit as an assistant coach, that criticism changed once he became a head coach, and now he is at time encouraged to look for other opportunities where he might be better appreciated.
Despite the frequent whispers and outside input about his coaching position, Coach Warren said, "RV is a great place to coach and I wouldn't want to be anywhere else. The resources, facilities, our AD, and the administration is a bonus because we have some of the brightest and talented kids around."
Coach Warren also points to discrepancies between RV's track program and other schools' programs.
"The biggest difference I see is the amount of love these kids get compared to some other schools," he said. He holds social media partly responsible and claims that he frequently watches other teams "get police escorts or mini parades for winning championships, administrators present when teams win titles, and fan clubs showing the same love for all programs."
Because his athletes make up one of the most consistently successful teams at RV, he hopes that the recognition of their victorious seasons and titles will be further appreciated.
"Things have gotten better and Mr. Martin's 5 AM tweets are definitely proof," he stated.
As diversity initiatives continue to take shape at RV, Coach Warren says he feels the pressure to support students from all backgrounds.
"I take it as a task for me to accomplish within my own sport, providing opportunities for other individuals like myself to coach here as well," he said. "Minority coaches have to wear many different hats such as being a father/mother figure, big brother/sister, disciplinarian, role model, therapist or a motivator. If we Black coaches can impact a few of the kids' lives, maybe somewhere down the line they impact a few kids' lives and the cycle keeps on going."
"
I sing the praises of RV to everybody because I want as many minorities to come here as possible, and if I have to be the person to do it, and help open a door for Black people, I am fine with it.
— Coach Warren
Coach Eric Warren hopes that in the future RV will hire more educators, administrators, counselors and coaches of color.
"I sing the praises of RV to everybody because I want as many minorities to come here as possible" he said. "and if I have to be the person to do it, and help open a door for Black people, I am fine with it. It has to start somewhere."