The FBLA State Leadership Conference: how does it work?
RV's FBLA chapter is preparing for the State Leadership Conference and the Holly Spirit reached out to the leadership team to learn more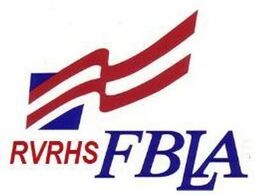 RV's extracurricular activities are on the rise as the school year progresses and with that, RV's Future Business Leaders of America (FBLA) is gearing up for its annual State Leadership Conference.
The Holly Spirit checked in with the advisor of FBLA, Ms. Carolee Gray, RV FBLA President, senior Amy Kupa and Vice President, senior Paige Petty, to see what's happening. 
FBLA is a student business association that has about 250,000 students in the U.S. that participate. RV FBLA was established in 2007 and doesn't just cater to future businessmen and women.
Mrs. Gray, who teaches intro to business, has been advising the club since its inception at RV.
"The opportunity to be the FBLA advisor came to me in 2007 when a student, who transferred in from another district, asked me if I would start an FBLA chapter," she said.
Students who participate in FBLA are able to compete at different levels in different competitive events, regionally, statewide and nationally. Students also have a lot of leadership opportunities through the chapter. Each student are is in a different committee and presents workshops to other students.
"I have been involved in FBLA for four years and have been on the RV FBLA officer team for three years," said president, Amy Kupa. "My freshman year, I was able to go in-person to the SLC [State Leadership Conference] and had great memories. I got to meet a lot of new people and learned a lot of business skills."
The SLC is where all FBLA students in New Jersey attend multiple workshops led by professionals both within and beyond NJ. Many students see the SLC as a great networking opportunity. Students attending complete an assessment prior to the conference, then many present at the actual event.
"Some of our members attend the SLC and already completed their objective test in advance in their competitive event, some are doing presentations in part of their competitive event in person [in-front of the panel of judges] and others are going for the experience as workshop attendees," said Mrs. Gray.
Anyone who qualifies at States will be eligible to compete at the national level, which this year will be in Chicago, at the beginning of June. Everybody across the country that has qualified in their respective competitive event will be there if they are willing to pay. 
The SLC is hosted in Atlantic City every March. Members will be able to compete in their respective competitive event (in-person) ,or if they already took their objective test, this is where they will go to find out if they qualify for Nationals.
"This year we had 40 members that qualified for SLC, and about 20 of them wanted to attend based on personal choices," said Mrs. Gray. "We are hoping that the students who are going this year, being we have not been able to go since 2019, will have a wonderful experience that they are able to share with our other 84 FBLA members and hopefully inspire them next year."  
"I placed for States after my regional test freshman year so I decided to go to SLC to immerse myself in all NJ FBLA had to offer," said vice president senior Paige Petty. "I made many friends [within and outside the RV chapter], learned business basics ranging from proper communication techniques to how to dress for an interview and enjoyed the whole experience and celebration."
Due to the pandemic, the conference did not take place in 2020, and in 2021, it was held virtually with online ceremonies and workshops. Many participants are especially looking forward to this year.
 "Although it is not a conventional 'school trip' consisting of days of fun and sightseeing, the conference is a small get-away so you are in a new environment and learning a lot of things about business, FBLA, other people, and life skills in general," said Petty. "I highly recommend to anyone interested to go to SLC and take as many opportunities as possible, especially through FBLA."