Misinformation on Russia-Ukraine conflict creates challenges in getting narrative right
Russian and American political propaganda have flooded social media
March 4, 2022
As the Russia-Ukraine conflict escalates, social media posts consisting of propaganda and misinformation are becoming commonplace.
When seeking information on the Russia and Ukraine War, be cautious of what media you are using. With the flow of information from source to source on a topic, reality can be botched and some media outlets end up producing false facts.  Media propaganda has long been utilized as a control tactic by the Russian government, otherwise known as the Kremlin, which furthermore facilitates what media can reach Russian citizens.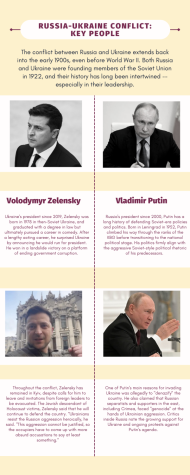 Russian troops, under direction of President Vladimir Putin, invaded Ukraine approximately two weeks ago, and since then the Russian government has increased the volume of national propaganda about the conflict. Russia has continuously spread the narrative that the majority of Ukraine and its citizens are aggressive and seek to undermine the Russian government. 
"[The] goal is to protect people who have been abused by the genocide of the Kyiv regime for eight years," Putin stated in his speech last week explaining Russia's military offense on Ukraine.  "And to this end, we will strive for the demilitarization and denazification of Ukraine, as well as bringing to justice those who committed numerous bloody crimes against civilians, including citizens of the Russian Federation."
This was Putin's attempt at justifying his actions, as he believes Ukraine is rightfully Russian territory and that Ukraine's government is illegitimate and anti-Russian. The Russian President went on to say that his military will not "impose anything on anyone by force," despite footage of rocket strikes and 40-mile long stretches of tanks outside Ukraine's capital being present. Missile strikes continue into each day, and despite Putin's claims that Ukriane is the aggressor, Russian bombs have flattened Ukrainian buildings, including a government building in central Kharkiv. 
There is no question that Putin and the Kremlin are manipulating the media in an attempt to maintain support from the Russian population. Russia's government is trying to limit such aforementioned footage from getting to citizens of Russia. The Kremlin has told all independent Russian media outlets to only receive their informational reports on Ukraine from the Russian government itself, and to not use words such as "invasion, attack [or] war." If these media outlets release any unwanted information on the war, the Kremlin has threatened to shut them down. 
Furthermore, the Kremlin has limited Russian citizen's access to social media applications such as Meta (and Facebook), Instagram and TikTok. 
Ukraine's government had advised social media companies to shut down completely in Russia, but like other companies, Meta disagrees.
"In the long run, the thing that really undermines propaganda is counter speech," stated Nick Clegg, president of global affairs at Meta. 
Popular social media outlets such as YouTube and Facebook are blocking two of Russia's largest outlets, RT and Sputnik News, across Europe in order to decrease the spread of propaganda about the Russian invasion. According to The Washington Post, Ukrainian cybersecurity experts have launched online hacking apps and are crashing Russian outlets that spread any dangerous disinformation. 
Ukrainian activist and analyst Liuba Tsbulska, who has been tracking Russian disinformation for nearly a decade, told The Washington Post, "We have two types of warriors. First, military warriors, those who defend us physically. And we have information warriors, those who fight against Russian disinformation, Russian special forces psychological information operations and so on."
Second guess vivid videos being released with explosions and militias as they may not be from the current conflict in Ukraine. A video of a soldier parachuting through the sky has gained viral attention on the social media app TikTok, but even this footage is at least five years old. 
As war rages in Ukraine, Russia continuously pushes out misinformation about the war and Ukraine. It is important to research extensively when trying to find factual information on this war and about any news topic in general.