Lady Devils Senior Night
A tough ending to the lady devil's pre-playoff season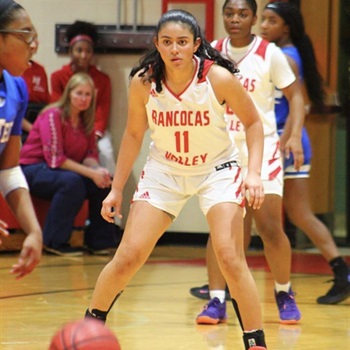 The Rancocas Valley Girls basketball team closed out their 2021-2022 season on their senior night by hosting the Delran Bears on February 25. Leading the Red Devils were the four seniors: Naveah Byrdsong, Brianna Ottey, Rayven Henley and the team's 1,000 point scorer, Adrianna Agosto.
Despite the defeat, the seniors played their hardest, and the underclassman will end this season with a strong taste of expectations for next season. 
The Lady Red Devils were coming into the game 11-15, after winning a tight game against Westampton Tech. On the other side, the Delran girls were coming off a tough loss to Haddon Heights.
Both teams were playing hard, but due to early mistakes the Bears jumped out to an early 21-7 lead in the first quarter. Revisions were made and the lead was cut down. The Red Devils were in a battle with the Delran girls as they showed signs of life toward the end of the first half. Going into halftime, 32-17, both teams had adjusted their game plans in order to pull away and take the win.
Unlike the other quarters, the Red Devils kept the Lady Dears from scoring as many points as they did in the first half. As RV settled in and played defense, the made baskets were less and they began to score on the offensive end. As the Lady Red Devils outscored the Lady Bears 21-18 in the second half, the girls closed the gap, down to twelve. With the final score being 50-38, leading the team was Adrianna Agosto with 13 points, and Rayven Henley with 8 points. 
"I am glad we finished strong and did not give up," said Henley after the game. "I love my team and the support we got for the seniors last home game."
She later adds on how the team will prepare for the playoffs expectations and how they begin to prepare to make a run. The Lady Red Devils will take on Marlboro in the first round.