Dove Cameron's "Boyfriend" celebrates the singer's journey
The Disney star's latest single follows her announcement in 2020 affirming her sexual identity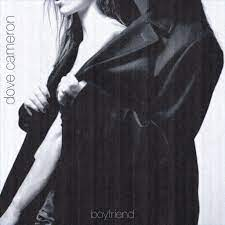 The Dove Cameron we all know and love has dropped a single, "Boyfriend," that everyone is going crazy over. Cameron is most famously known for her work on Disney Channel, starring in both "Liv and Maddie" and the movie series "Descendants." In "Liv and Maddie" she plays both twins and in "Descendants" she plays Mal, Maleficent's daughter. We all knew Dove could sing from both of these programs, although we never got to hear an original, that is until she posted her viral TikTok on January 30.  
Dove Cameron posted a video on TikTok of her lip singing to an original song, and everyone went crazy, especially people in the WLW (women-loving-women) community. The TikTok was only nine seconds long, although comments were begging for the rest of the song to be released. 
Cameron came out as bisexual during an Instagram live in 2020, but in 2021 she told Gay Times "queer" would be a better label for her. Since her first coming out, she hasn't been hiding her sexuality, and has been very open about it. Although, many people were still shocked when she released "Boyfriend" because they didn't know that she also liked girls.
Other true fans have expressed frustration over the situation. While her 2020 post garnered a lot of attention, it's clear that a large portion of her fan base did not know she was gay and assumed her heterosexuality. Many hardcore fans consider this slight unfair to Cameron, who struggled to come out publicly.
On February 14, "Boyfriend" was finally released, and all awaiting fans could finally hear the full version.
"I personally really liked the song," said sophomore Emersynn Fair. "It was really catchy and I'm not surprised that many other people feel the same."
And through everything I've seen on social media, nearly everyone agrees with Fair. It is an understatement to say the song is a hit.
Not only was the song a captivating tune, but Cameron broke barriers by being a Disney star, but also by not being afraid to be open with her identity.
"When it comes to Disney, there isn't much LGBTQIA+ representation within the shows, so to see actors and actresses not worrying about that and being themselves is awesome," said Fair.
Young children look up to actresses like Cameron who they see in their favorite movie/TV stars, and seeing their role model be openly queer, may open their eyes from a young age that it is okay to be gay.