"Be a father first, then a teacher": a moment with Oz, the unsung hero of RV
Mr. Osborne's energy and undying commitment to his students' well-being makes him an indispensable member of the RV family
To many students, the sound of the loud — and sometimes blunt or unexpected — "GOOD MORNING" from down the hall as they enter through the sliding glass doors can be jarring. Students who walk into RV bleary-eyed and half-awake at 7 a.m. are always met with this version of hello, which is often accompanied by a fist bump or equally abrupt "GOOD TO SEE YOU THIS MORNING." But this little burst of energy first thing in the morning is warm, memorable and a staple in the RV experience. 
Special Education teacher Michael Osborne (or "Oz," to many of his peers and students), is that burst of energy. In the hallways, he is the teacher who stops and talks to students about how their classes are going, or whether or not they have pulled that math grade up. Oz is known for taking the time to chat with teachers too; he always asks about how your weekend was, or what is going on in your classroom. Even in class, Oz's presence is like dose of positively that stepped into the room to put the attention and focus on students and their lives.
Why is this so important right now? If you haven't noticed, things are a little…bleak around school. The endless pandemic continues to make its rounds and students and staff are bogged down with extracurriculars, assignments, to-do lists, sports, jobs and lives outside of the building. Students and teachers are burned out, and it seems like everyone is in their bag, struggling to get to the finish line. It's easy to get weighed down in the doom, even at a school like RV, which has taken steps to support student and staff mental health.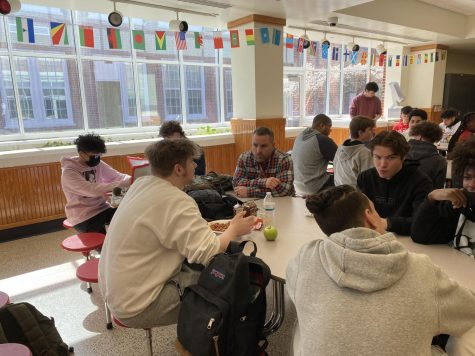 That's why those emphatic GOOD MORNING's in the hallway and fist-bumps before first block mean so much. Oz is, and has long been, RV's unsung hero.
"Mr. Oz is behind the scenes of many activities here. He doesn't need his name in lights or at the top of the advisors lists, he does the little things that no one sees and does them with a smile," said World History and fellow Special Education teacher Mrs. Hoyer. "He is the person many of us go to when we need a helping hand. Oz will always help and will always ask, 'What else can I do?' He doesn't want the praise or the accolades. He just does this because it makes RV a better place for our students."
Oz's selflessness is well known around the building, and many students and teachers point to the overwhelming positivity that Oz puts into his school day.
Although all of his energy is natural, the way he connects the classroom is notable.
"Everyone who knows him loves to co-teach with him," said Mrs. Seal, the history department supervisor. "He connects so well with students and teachers and that makes the environment really positive and connected." 
Oz is most notable for making others shine. Despite all the work he does behind the scenes, he is a teacher who rarely seeks attention or puts the focus on himself.
"I feel like he doesn't get the recognition he deserves, he never looks or asks for it," said History co-teacher Mrs. Carlson. "He does things out of his heart and will go above and beyond; he'd work with kids over the weekends, he'd help them fill out the FAFSA, he'd get scholarships for kids and he'd handle emotional crises. He prioritizes being a father figure first and being a teacher second."
"
He prioritizes being a father figure first and being a teacher second"
— Mrs. Carlson
While education is important, Oz focuses more on teaching skills important for life and helps students with practical concepts. In addition, he prioritizes the mental health and well-being of students and staff, and he is known for his kindness and generosity. His efforts were especially needed during the COVID-19 epidemic, when burnout was and is at an all-time high.
"Personally, Mr. Osborne makes me feel positive about my role as a librarian and mother," said librarian Mrs. Venuto. "Everyday last year he would greet [her son, Joey Venuto] and me as we left our car and entered RV to begin our day. Every morning at the temperature check, he made us smile with something positive or quippy."
At a time when many teachers are finding less and less time to support students in matters of Social-Emotional Learning, Oz has made keeping his door open an important part of his pedagogy.
"I had stuff going on in my personal life and he just let me rant and talk to him no matter what," said senior Emily Bute. "I give him fist bumps everyday in the morning every time I walk past him. He's an all around great guy."
Although Oz is a history teacher, his impact is seen across disciplines and around the building. Oz is also a longtime football coach at RV and is especially known for targeting and working with incoming freshmen who may have a tough time adjusting to being in high school. He is often seen in discipline, not to report students, but to check in on kids who may be having behavioral issues as they adjust to life at RV.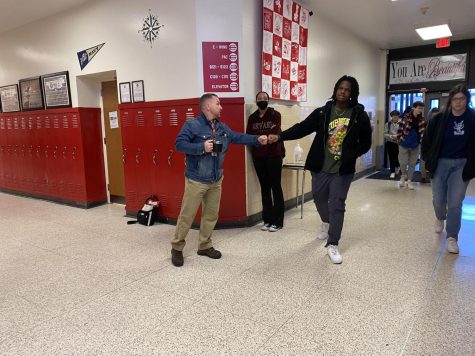 Mrs. Davis, a fellow Special Education teacher in the English department, notes Oz's selflessness, as they share many students in their classrooms.
"He is energetic, rambunctious, caring and kind," she said. "He has the biggest heart I know and he is willing to help anyone, ever since we got hired together. He will go out of his way to ensure the students feel comfortable in the setting they're in."
Getting Oz to sit down and talk about himself is beyond challenging. He would rather spend the time working directly with kids, monitoring the halls or talking about specific student success stories than talk about his own motivations and personality.
"Getting to work with kids and being the person that I always needed as a kid is what inspires me," he said of his inspiration to teach. "I needed guidance and someone that would work with me, help me be set up for success and [who] could get through to me when I'm stubborn."
Even during his interview with the Holly Spirit, he kept his energy and demeanor, fist-bumping people as they passed our table and stopping students to ask how they are doing.
Oz has been a fixture at RV for years. Prior to teaching at RV, he was at Burlington Township, where he coached football in addition to teaching. During his time at RV, he has helped many students and teachers with their troubles and still maintains his high energy. One of his biggest driving factors is the fact that every student, and every class, is different.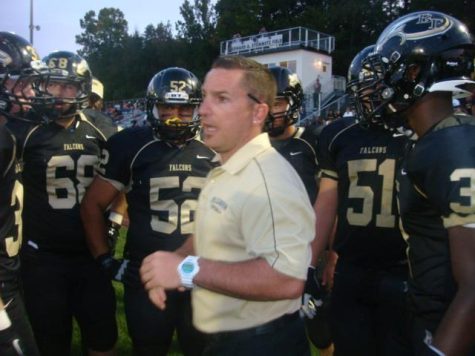 "Every human being is different," he said. "Coming from a behavioral background, the environment dictates all relationships and how we teach. Some classes need more, some need less, some need more of this or that, even with co teachers. You have to adapt and change to who you're teaching and who you are teaching with. As a coach and a parent, even not recruiting, you get what you get, so you have to learn to adapt because everybody is different."
The variety at RV allows for everyday to be a unique learning experience and provide people with different interactions with students from different walks of life.
"RV is like a country club," said Oz. "and I am so grateful that I get to work here everyday. The students here are kind, considerate and respectful, and everyday I get to meet people who are going to go into different backgrounds. From trade students, to students with olympic medals, to future major business owners, you name it, it is so diverse from interests, to backgrounds, to cultures."
This variety is also what motivates Oz to continue working at RV, in addition how he wants to impact the students at RV by being there for them more than just as a teacher.
"The biggest impact I try to have is for students to have a role model and see someone who, I believe, is a good person and father, a person who comes in with a smile on their face and sees that everyday," he said. "As a Special Education teacher, I believe skills are the most important thing in the world because it allows young people to go out and become self-reliant."
Oz insists on students developing life skills, and strives to provide students with multiple opportunities to learn and practice things like critical thinking, decision making and carefully examining all options. In Oz's classes, he emphasizes building healthy relationships with peers.
As to why Oz's energy is so strong (although he does drink coffee) he states that it has always just been who he is.
"I am just me, I don't know how else to put it," he laughed. "I appreciate all types of people, but I am so comfortable with myself that I wear my heart on my sleeve. I do not try to put on a show, it is not like I'm only high energy here. I'm like this at Target, with my kids, even at five in the morning with the music blasting trying to get everyone ready for the day."
Oz's insistence on being that teacher who will say hello to you in the hallways and ensure that your day is a little bit better continues to drive him, both on the football field and in school. For Oz, learning is 24/7 and goes beyond the classroom; learning stems from the relationships we build with the people around us.
"Once you learn a skill, then you can apply it to the world," he said. "And that is the lasting effect I want to have: to be a father first, then a teacher."