"I can still push through": RV teachers fight burn out
A check in with hard-working educators following two years of a pandemic, political unrest and a rise in mental health challenges
April 20, 2022
The shrill sound of an alarm cuts through the blissful peace of the early morning, announcing the arrival of another day. Coffee is made, clothes slipped on, bags packed, cars turned on. The drive to work is long and full of spiraling thoughts about lesson plans and creating, students and grading. Doors opened, faces greeted, computers started, work completed. The time before students arrive is filled with last minute copying, commenting and emailing. The stress that's been building all morning disappears as a switch is flipped: it's showtime, and here come the students. 
The day moves on as a dream, playing a character who must never fall, who must never break in front of others. The pressure of delivering the education students need daily while doing it in a way that keeps them engaged is ever present, inviting with it powerful feelings of anxiety and stress. No time is left for a break as assignments lie in wait for grades, emails beg for answers and questions cry out from peers and students alike. The craziness continues even as the switch flips off as thoughts, preparation and planning continue back at home, sometimes lasting late into the night. There is dinner to make and more kids who need help and attention. Exhaustion takes over as at long last heads lay on pillows, completely drained from the hectic day. For some, sleep arrives quickly, but for others, sleep is mixed with panicked thoughts about the coming day with all its anxieties. This is the life of an educator.
Excessive levels of stress are a part of the lives of any educator at one point or another. The high expectations placed on educators only leads to higher levels of stress, often at the cost of mental and physical health, and eventually turns into burnout. 
"[Burnout is] Constantly feeling like you're about to have an anxiety attack," said Ms. Shana Pulla, an RV Art teacher of 22 years. "Friday nights and Saturdays are a complete waste of space, you have absolutely no energy. All you do is lay around and sleep. You're mentally exhausted, as well as physically exhausted. I'm pretty close to that."
"
You're mentally exhausted, as well as physically exhausted. I'm pretty close to that."
— Ms. Pulla
The past two years have not been easy on educators, as the switch between remote and in-person learning not only caused issues during the 2020 and 2021 school years, but has left a mark on education that will last for years to come. Not only has it affected the growth that students have been making in their journey through school, it has also affected the way their educators teach.
"It's funny because in the beginning of the pandemic, teachers were seen as heroes," said English Teacher and advisor of RV's literary magazine Mr. Steven Burns. "And [now] teachers are so easily vilified. It's upsetting that we're still in a place in the United States where teachers are always seen as sort of like freeloading, or lazy, or mooching, or they don't work hard enough, or they don't make themselves available, or they're just babysitters, like glorified childcare. That's kind of the conversation now."
Even though educators have gone through it all and felt immense stress and pressure these past two years, most would surprisingly not label themselves as burnt out, instead categorizing themselves as worn out, stressed or stretched-thin.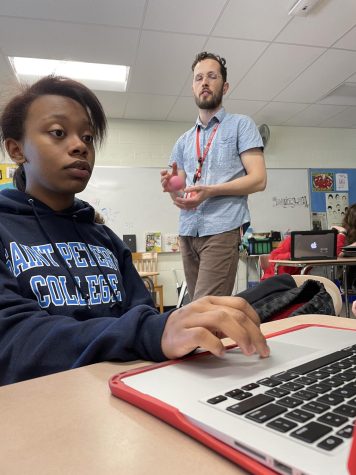 "I don't describe myself as burned out, I describe myself as not having balance," said Mr. Burns, a sentiment echoed by many of his peers. "Imagine me sitting [on the weekend] in an oversized hoodie, with pajama pants and my slippers. I'm on my third cup of coffee, my head hurts. I have a cat on my lap, and an empty dish of chips. And I'm looking at the lesson plans from last year going, 'I hate this project. I really like this project better.' And then I sip the coffee, I'm like, 'Oh, just you know what, who cares? They don't care about the book. And I don't care about the book anymore. And this project also sucks.' I get up, I leave, come back an hour later, cycle all over again. It's that feeling of kind of just being a little stuck."
This feeling of being "stuck" is something that many psychologists and social critics are beginning to take more seriously. Psychology Today describes burnout as "a chronic stress that leads to physical and emotional exhaustion, cynicism, detachment and feelings of ineffectiveness and lack of accomplishment." Many teachers are finding it harder and harder to experience any sense of satisfaction or even mild success amid waves of growing responsibilities, political rhetoric and learning loss.
"I think teachers are this special class of people who don't want to say they're burned out, because you do have a passion for what you do," said French teacher Mrs. Jessica Michael. "If you're a teacher, you love what you do. It's really hard to say that [you're burned out], because of course we still love it. Being in the classroom with the kids again has been uplifting, and it has given me some spark back. I feel I do have a fire still there, however dim, it's still there. And I still can push through. I'm not burned out. But yeah, I'm tired."
"
If you're a teacher, you love what you do. It's really hard to say that [you're burned out], because of course we still love it."
— Mrs. Michael
In June 2021, the National Education Association, the national labor organization that represents public school teachers, anticipated that 32 percent of all teachers would leave the profession earlier than they intended. In February 2022, the NEA reported that anticipated number to be as high as 55 percent. These unexpected departures are greeting massive holes in faculties, leading some teachers to take on more classes and some districts to look for more creative solutions — like a four-day workweek, an idea pitched in several districts including the Jasper Independent School District in Texas. The constantly-fluctuating profession has left many spinning.
"I don't think I'm burned out," said Math teacher Ms. Kathleen Somers. "I still enjoy teaching, and I look forward to coming into work. But I would say it's been exhausting these past few years. I would say [I'm] more tired, not with the teaching aspect of the job, I guess with all the changing rules."
Teaching amid the pandemic was difficult enough. Looming behind the difficulties the pandemic presented is the rising political rhetoric critical of teachers and the work they do. National Public Radio reported that, since January 2021, "35 states have introduced 137 bills limiting what schools can teach with regard to race, American history, politics, sexual orientation and gender identity." Rising tension amid buzzwords like "Critical Race Theory," which is not taught in any public K-12 school in America, has put extra pressure on teachers to remain apolitical in a time where everything is politicized.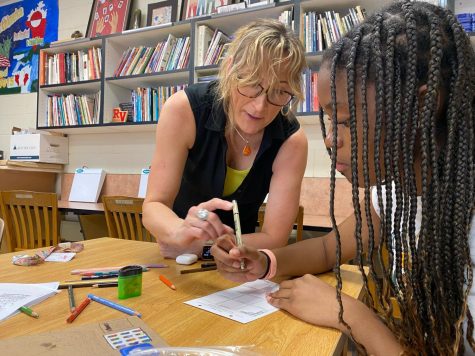 "Sometimes it feels like you're walking through a minefield," said English teacher and Holly Spirit adviser Mrs. Sarah Sherman. "There seems to be this wave of violent rhetoric against teachers, suggesting that [we] are not the professionals we are."
"In the back of my mind has been an even bigger issue," said Mr. Burns. "What is the perception of education and how is that perception going to shape the conversation and how we value education going into the future?"
"
What is the perception of education and how is that perception going to shape the conversation and how we value education going into the future?"
— Mr. Burns
The worst part about teaching lately? Student engagement. Teachers are seeing and feeling a great detachment from their students, another consequence of the pandemic and virtual learning. In March, the Washington Post reported that the U.S. Surgeon General, Vivek Murthy, issued an advisory on protecting youth mental health among rising numbers of cases of depression, anxiety, drug and alcohol abuse and suicidal thoughts.
"The pandemic era's unfathomable number of deaths, pervasive sense of fear, economic instability, and forced physical distancing from loved ones, friends, and communities have exacerbated the unprecedented stresses young people already faced," the Washington Post reported Murthy saying. "It would be a tragedy if we beat back one public health crisis only to allow another to grow in its place."
Overcoming this educational boundary has not been easy for many teachers.
"I try to keep everybody upbeat and happy and still enjoy being here," said Mrs. Somers about battling student disengagement. "For me, it's been hard [to stay] upbeat and not show that I'm tired… especially with statistics, the student engagement is such a big piece to it. [Online] I was getting tired of hearing my voice the whole time, so I couldn't even imagine what the kids were thinking."
"Some kids thrived in [virtual] and other kids drowned," said Fitness and Drivers Ed teacher Ms. Becky Perkins. "I don't know how I would have survived as a kid during [virtual learning] because if I don't have structure, I'm lost. Some kids really thrived and did well at home and because they're self motivated, but I also know a lot of kids cheated on everything."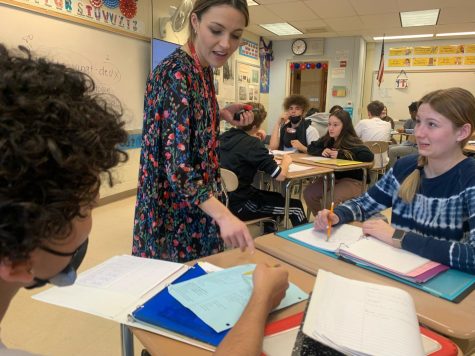 Mr. Burns agreed with the sentiment that the largest struggle these past two educational years is engagement, especially in the English department.
"The texts themselves and some of the projects — specifically with the CP freshman curriculum — are really difficult," he said. "It's my belief that when you're a freshman, and you're having your first English class, you want that thing to set you on fire. It should be engaging and interesting and it should feel cool. It should get you excited to study English and to read books at RV. But instead, I think we kind of give some of the least exciting books, and [the same for] projects to go with those books, those novels." Burns points to the need now to revitalize the curriculum amid dropping engagement and apathy towards traditional freshmen novels and texts.
Not only has teaching through the pandemic been hard in and of itself, but the addition of personal struggles and life events add to the list of hardships that educators have endured since early 2020. It is easy to forget that every person — including teachers — has their own struggles. Burnout is exasperated when the person in question is forced to tuck their feelings away in order to fulfill a duty.
"These are my first few years teaching with a child," said Mrs. Michael, who returned from maternity leave just a month before schools shut down in March 2020. "I'm coming from being able to stay after school all day every day and having a normal classroom experience, to not only teaching in our new landscape, but also having to be home with a two year old when I leave here and deal with all of that. I feel like it's been extra hard."
According to the National Center for Education Statistics, in 2018, 76 percent of all public school teachers in the U.S. were female. The Brookings Institute reported that women bore the brunt of the pandemic worse than men, and working women — particularly working mothers — suffered most. 
"When I'm home, I have my daughter," said Mrs. Michael. " I feel like the second I get home, my primary concern is trying to get as much time as I can with her. I try to get as much time as I can with her when I get home because I feel like I don't want to miss out on anything. I feel like when she's up, I'm with her and I'm making dinner and I'm trying to keep the house straightened up as much as I can. And then when she goes to bed at night, it's like 'Quick, quick, clean up, shower, do what I need to do.' I just feel like I haven't had a lot of time for self care kind of stuff. But, if I didn't spend the time that I do spend with my daughter, I feel like it would be a lot harder to take care of myself."
Ms. Pulla shared a similar sentiment, explaining the struggles of raising a teenage daughter, running a small business and teaching high school.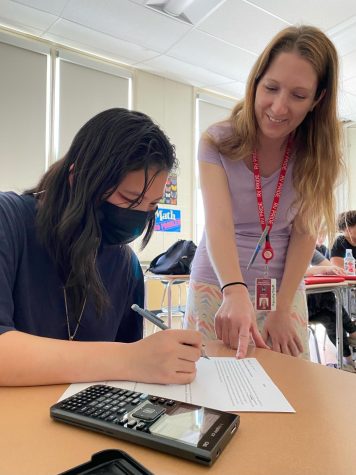 "I have a side business where I do pet sitting and boarding, and then I have a 14-year-old daughter," Ms. Pulla explained. "I'm constantly taking her to gymnastics because she does competitive gymnastics. Other than that, I have no time or energy other than to maintain my house, and then go grocery shopping and do laundry. It adds to the stress because sometimes you don't have enough energy to do it, but it needs to be done."
Ms. Somers echoed her colleagues' stress, as her daughter is graduating high school this year and looking forward toward the future. The constantly-changing pandemic and political landscape makes planning ahead difficult for many families.
"I can totally understand what the seniors are going through because of the college applications, and the scholarships, and trying to just get her through all of that," said Ms. Somers.  "I've done supplemental instruction for when kids were quarantined and home instruction too. Those things have kept me busy, but I'd say the majority thing is just trying to get my own daughter on track for next year at college."
Furthermore, many staff members and educators participate in several other activities outside of RV, including side jobs and advising extracurricular activities. While this can be burdensome to some, many teachers find relief in work that is less stressful than the school day.
Ms. Perkins, who drives for Crossroads driving school, explained that her part time job distracts her from the daily work stress.
"The great part about [my part-time job] is that I have a great relationship with my boss there and I don't work every day. I definitely can make my own schedule there," Mrs. Perkins said. "And, as things get into the spring I'll be able to do a little bit more because I'm not coaching softball and stuff like that."
Mr. Grant Mech, RV's choir teacher, is exceptionally active outside of the RV setting. He conquers stressful times by setting reasonable goals for his music-making inside and outside of school. 
"I'm always working towards a goal," he said. "We always have goals in music-making. It could be a concert, a trip or some other performance-based project. I think my work outside of RV enhances what I do here at school because it brings me into contact with people who can work and collaborate with us. It also ensures that I kind of have a mind space that is separate from the RV music-making and learning experience. I'm not constantly dwelling in it and it's fresh every day."
While some educators are able to separate their school life from their home lives in order to avoid the stress of their profession, many others are not. The demands of life and careers can easily lead to burnout, which is where the RV community comes together.
"I'd tell a struggling colleague to slow down, put things into perspective and see the big picture," said Ms. Sara Shelley, a History teacher and coach of the Girls Varsity lacrosse team. "Try to find humor and lightness and get to know your students when you can. Don't put so much pressure on yourself all the time to get through the curriculum, and do this and that. I do understand that curriculums are important. Some of the other subject areas have state standardized testing, so Math or English have a different level of pressure than History has, but try to find fun when you can."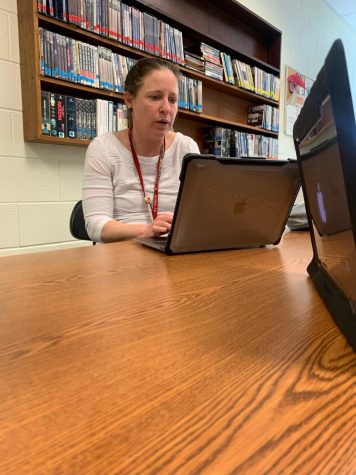 The one bright spot in the myriad difficulties that teachers at RV face is the rise in camaraderie. Teachers are more patient with each other and more willing to listen to a collegue in need.
"I would definitely listen to [a struggling colleague] and I would be happy to offer whatever insight I have from my vantage point, which may or may not be helpful," said Mr. Mech. "I think teachers in general the last two plus years have been very good about providing sounding boards for each other, as well as coping mechanisms for each other. We're all basically each other's biggest resource." 
"I'd say it gets better," said Ms. Somers. "It definitely gets better and it's been getting better. It's been tough these last few years, so I'd say hang in there. You know if you need to take a day off for yourself, take a day off for yourself and just relax for the day. Do something that they enjoy and then come back refreshed and you know, get through it this year. It gets better. It definitely gets better."
"Take care of yourself," said Ms. Perkins. "You have to find what you enjoy joining because we're all different. We like different things. We enjoy different things."
"Remember," said Ms. Pulla. "This too will pass."
"
Remember, this too will pass."
— Ms. Pulla
As summer looms and things continue to look up in the world of education, never fail to remember the teachers that put in countless hours, sleepless nights and hundreds of stressful hours into bringing their students an education through the distress of a global pandemic, and those that are still doing their best each and every day to close the educational gap left gaping after. They are truly heroes, and continue to serve on the front lines of America's future day in and day out.