"All that glitters": a review of the red carpet at the Met Gala
This year's theme, "gilded glamour," featured the good, the bad and the bizarre
The Met Gala took place on Tuesday, May 2. Guests come under the pretense of viewing a private fashion exhibit and eating dinner at the Metropolitan Museum of Art, but the real spectacle is seeing what the celebrity A-listers and social elites wear on the red carpet while they climb the Met's iconic steps. 
The title of this year's exhibit was "In America: An Anthology of Fashion," and the dress code for invited guests requested "Gilded glamour, white tie." This theme resulted in formal and elegant attire rather than the wacky, avant garde looks that are common for the Met Gala; however, there is plenty to discuss.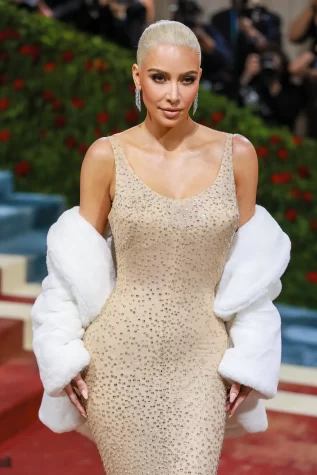 Let's tackle the talk of the night first. Kim Kardashian arrived wearing an actual piece of fashion history: Marilyn Monroe's glittering gown that she wore when she sang "Happy Birthday" to President John F. Kennedy in 1962. Kardashian never shies away from controversy, and this look speaks volumes about how she views her role as a celebrity icon. You can judge for yourself who wore it better. My personal take: the look was flat and lacked originality; we've all seen it before. For a fashion-forward event, this was not meeting the mark.
Some guests focused on the "gilded" portion of the dress code assignment, showing up in head to toe gold. Here are a few of the most successful golden looks of the night. Megan Thee Stallion wore a pale gold dress designed by Jermey Scott for Moschino. The sleeve detail is gorgeous; she looks like a siren straight out of Greek mythology. Sara Sampaio wore a shimmering, gold gown from the Michael Kors Collection. The modern cut-outs set it apart from the many other sequin dresses. Cardi B took home the gold with her Versace dress that was composed entirely of gold chains and coins. The look has texture and movement. She embodies the concept of gilded.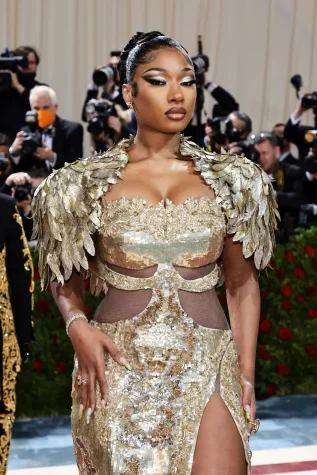 There was no shortage of glamor on display. Some highlights include Alexa Chung in a dress designed by Siriano, my favorite "Project Runway" alum. The understated white satin gown is elegant. Gabrielle Union looked lovely in a Versace sequined gown with an over the top feather train. Karlie Kloss was fierce in a black lingerie-inspired dress from Givenchy.
The men on the red carpet also deserve some attention. Many men looked glamorous; although, most of them ignored the "white tie" dress code request. Here are some of the standouts. Regé-Jean Page was the epitome of urbane in a blue velvet Armani jacket. Russell Westbrook looked secure in his masculinity in a Thom Browne ensemble that included a kilt and top hat. Dwyane Wade decided to forgo the tie and shirt altogether and was smoldering in a white Versace suit.
A fashion review wouldn't be complete without a word about the worst looks of the night. There were several contenders for this category, but I focused on looks that totally missed the mark of the theme "gilded glamour." Erykah Badu looked like she was channeling her inner hobo in a patchwork dress by the designer Marni. Adwoa Aboah's dress by Tory Burch is a copy of a vintage polka dot sheath dress, which has no relation to "gilded glamour." Odell Beckham Jr.'s suede hooded sweatsuit from Cactus Plant Flea Market was out of place among the other swanky suits.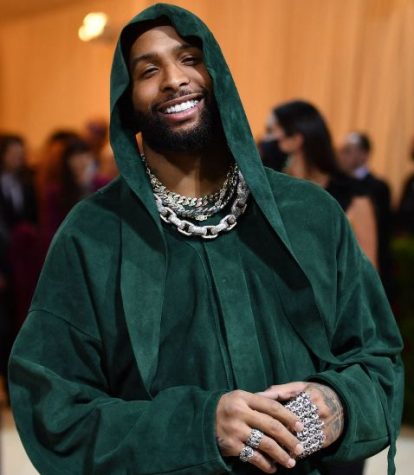 Finally, I'll end this review with the most exciting and bold looks of the night; the ones that exude fashion. They have that extra attention to detail and take risks, all while being beautiful and glamorous. Blake Lively's New York-inspired look from Versace was a feast for the eyes. The color changing train paid homage to the Statue of Liberty and the art deco print of the dress evoked the Empire State building. This could get gimmicky, but it was all pulled together in an elegant gown. Gwen Stefani went for an in your face chartreuse two-piece gown designed by Vera Wang. You could not ignore this look if you tried. Gigi Hadid owned the runway in a crazy Versace look that is basically a puffer jacket and vinyl catsuit. Who knew a puffer jacket could look this glamorous?!