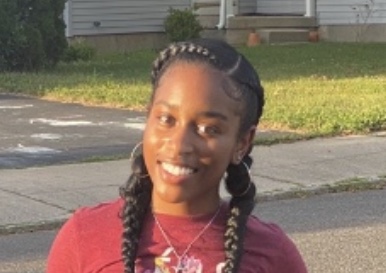 "My inner Red Devil": Brianna Ottey, Sports writer
To say the last four years at RV has been the best years of my life would be an understatement.
While I've made new friends, learned new things and indulged in many opportunities, the greatest thing that I will take with me from RV is myself.
I came into this school as a person who easily fell into society's standards, someone who questioned how I could love my color when the world hated it, someone who often straightened her hair and dressed and acted a certain way to escape the ghetto, loud and bougie stereotype that was placed onto me. However, in my high school years, I've learned to love everything about myself from my beautiful black skin to my beautiful black curls. I've had amazing teachers and coaches that cared enough to teach me some of my Black history and roots.
As I reflect on the girl I was when I entered high school, I can see how everything from my mindset to my appearance has changed. I am still 4'10 and have not undergone much physical growth, I have grown mentally and emotionally.
In joining the Holly Spirit, amongst other clubs, I became less timid to use my voice, a voice that is far bigger than my body. I would like to specifically thank Mrs. Sherman for utilizing Black authors and voices outside of Black History Month, in addition to introducing me to the Holly Spirit and helping me whenever I needed it.
I would also like to thank Mama Moore for having the difficult conversations with me, even if it's not always what I wanted to hear. She helped me in becoming more confident in myself on the basketball court and in my everyday life.
Coach Marquess and my teachers Mrs. Somers, Mrs. Carlson, and Mrs. Ochoa, in addition to many others have also contributed to the person I have become and providing me with comfort, positivity and a safe environment.
I thank all of RV for the opportunities and experiences. I will take everything I have learned in my years at RV with me to college and whatever life I pursue after. There is still so much future that awaits me, but I will be sure to bring my inner Red Devil with me. 
Donate to The Holly Spirit