Red Devils defeat Williamstown in their first win of the season
Despite a lack of experience, new head coach Garret Lucas's team has grit
Last Friday, the Rancocas Valley Red Devils kicked off their season with a 21-14 homefield win against Williamstown, effectively setting the tone for the fall and giving new head coach Garrett Lucas a big boost.
It's week zero for high school football and the vibe of RV's turf last week was set by a boisterous student section and cheerleader back handsprings. The Red Devils even made a dramatic entrance onto the field through a brand new inflatable tunnel, a gift from former Red Devil and current Philadelphia Eagle Shaun Bradley.
A fake handoff by senior quarterback Kevin Burr earned RV its first touchdown. For a team with a 2-8 record last year, leading the game in the first quarter provided positive momentum to follow through with the rest of their game.
However, the score would remain stagnant until the third quarter, when junior running back Nicolas Lingle used his speed and agility to cut around Williamstown defenders to secure a touchdown for RV.
The Williamstown Braves retaliated with their own touchdown in the third quarter only a few minutes after RV, bringing the score to 14-7. The Braves continued to threaten the Red Devils' lead after a penalty from an illegal hit to the quarterback put them in position to score. 
Burr began the play with the intention to pass, but instead ran the field; the opposing team slammed into Burr, sending him to the ground. The student section ignited as Burr's helmet flew off and a penalty flag was thrown in the air.
Later, an interception would put the Braves one step closer to the chance of making a comeback—until sophomore running back Montre Wilson changed the momentum of the game with a 40 yard run. He would then go on to score RVs third and final touchdown to fortify their win.
Wilson gives a lot of the credit of last week's win to the new coaching staff and the training that began months before preseason. 
"Coach Garrett came in [and] played a big role. I feel real good," Wilson said after the game. "We've been working hard since June, since we got out of school, we got our pads [and] we've been working really hard."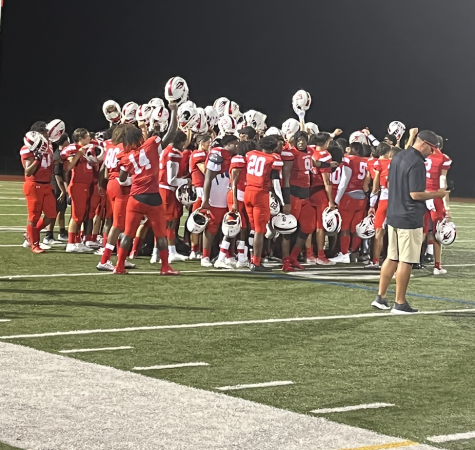 Wilson's emphasis on hard work echoes the tone of the preseason for many of the players. Despite the passion of the team, there is a demonstrated lack of experience for many players. This year, the Red Devils are down many seasoned vets.
Head coach Lucas said the team "had five guys out of an entire program with one hundred guys that actually had varsity experience. The team was two and eight last year…I keep telling people we're very inexperienced so it was great to see as a collective the way that they drove, they kept playing to the very end, it was really awesome."
Throughout the summer, Lucas has worked to keep his team both physically strong and physically healthy.
"
We harp nutrition, we harp taking care of your body year round, not just three months when we're playing football [and] that really translated."
— Coach Lucas
"You can even see in this game how so many of [Williamstown's] players cramped up," he said. "They were going down, [whereas] we harp nutrition, we harp taking care of your body year round, not just three months when we're playing football [and] that really translated."
This training may be responsible for the optimistic outlook of players like Burr, both before and after the game.
"I felt confident," said Burr. "I thought we were going to win and we did. I really think that's the mentality we need to have all season and I think we're going to do great things this season."
The next opportunity to show these great things comes tomorrow night on the turf. Until then, RV's winning 1-0 record will stand.