Cross Country places second in Ray Hoagland Meet
Both the Boys and Girls' team had numerous students place and establish new personal records
The Rancocas Valley Cross Country team raced in its annual home Ray Hoagland Meet on September 19. RV Boys placed second overall of 20 competing schools; varsity senior captain Ryan Smith came in first place, with fellow senior captain Dylan Selby behind him in fifth. 
The Mixed Freshman Race brought home medals for both the Girls and Boys team. Teddy Jones placed first of the Freshman Boys and Mary Casano was one of multiple girls who PR'd, which put her in second place.
The meet is named after former RVXC coach, Ray Hoagland, and is an annual way to celebrate his legacy.
"Each year our parents and athletes look forward to hosting the meet," Girls Head Coach Abigail Saiia said. "We had a great turn out this year and [we] were happy we could honor Ray Hoagland today. Coach Pat did a great job organizing the event and we are so thankful for all of our parents and staff that volunteered."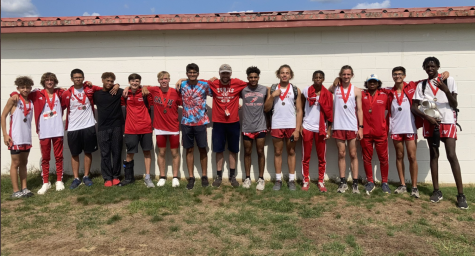 The shot went off at 9:30 a.m., sending freshmen runners exploding from the goal post start line. Boys and girls ran alongside each other in the 3200 meter, the first race of the day. 
Jones' 11:49 gave him a five-second edge to secure first place. Casano's PR of 14:06 earned her a second place medal. 
Following the Freshman Mixed Race were the Girls JV race and the Boys JV race. RV sophomore Emersen Schoonmaker had a huge three-minute PR in the 5000 meter race. JV Boys runner Lucas Salazar PR'd, coming in seventh, with RV junior Issac Jones behind him in eighth.
Senior captain Sarah Paulin and junior Bea Faigal ran together, finishing just 10 seconds apart with times of 22:46 and 22:56, respectively. 
The Boys Varsity race was the final race. From the starting line, Smith led the race to the end with a significant gap between him and the other runners; second place finished 44 seconds after him.
"My strategy in the race was trying to go out hard," Smith says. "I knew I had it in me, so I just…made sure no one could keep up with me. [At the] end of the race I just raced right, I hit my splits and I finished hard."
Many runners had different goals: meeting a certain time, breaking a PR or just finishing the race.
"My goal was to break 17 [minutes] and I went 16:30, so I definitely hit my goals," said Smith.
Selby's fifth place time of 17:41 was ten seconds faster than his previous PR. Selby wasn't the only runner to PR in the varsity race: senior Shishir Patel, junior Isaiah Shannon and senior Mikal Simmons did as well.
"I'm very proud of the boys," said Smith. "All of the boys finished. We had some good freshman performances, some good JV performances, and the boys on varsity, they put us up too."
Boys coach Patrick Heffernan has big goals for the season.
"We're going to try to make a play for making it to States and trying to place top five in Sectionals," Heffernan said. "Most of all I just want all of the RV guys to improve along the way."