RV Sports Week in Review: midseason update
A quick recap of the fall season thus far
RV's stands aren't shy to the glowing lights and roaring student section. Whether an athlete plays right in the comfort of RV or away, the team can count on the Red Devil Nation Spirit that RV lives in. All of our athletes and teams deserve spotlight on all of their accomplishments. As the fall 2022 season is half-way through, it's time for a look at stats, highlights and news from the world of RV sports. 
Boys Soccer 
The boy's soccer team greatly benefited from the tough summer training and hard work. The boys have had a successful start to the season, with only one loss. Their current team record at the time of publication is 7-1-1. Even with close games, they manage to end the game with a score they can look back on proudly. 
One impressive win was their 6-0 game against Moorestown. Looking back, the boys had their "Senior Night" on September 9 against Seneca. This was not only their first game, but also their first win. The RV stands were full of students dressed in their safari/camo themed clothing. 
The team, as well as Head Coach Damon Petras, has high goals for the rest of the season. 
"[Our goal is to] continue to play well and to continue to develop and get to the next level. Hopefully we bring out a couple of championships," Petras said. As of October 2, the team currently stands in second place in the Olympic Conference, only one game behind Cherokee. Their match against Camden Catholic will take place on October 4, and the results will be up on nj.com.
Girls Soccer
The girls soccer team jumped right into the season with seven consecutive wins. As of September 30, they hold a 8-1-1 season record.
 Their recent game was a 4-0 win against Cherry Hill East. Goals were scored by senior Erin Lally, two from freshman Johanna Marlin and one goal and one assist from junior Leah Howe. The team is home to Division 1 verbal commits who plan to continue their soccer career beyond high school. Among these players is senior Nicole Everard, committed to Saint Joseph's University, senior Kennedy Garcia, committed to the University of Alabama and recently, junior Leah Howe, committed to Central Connecticut State University.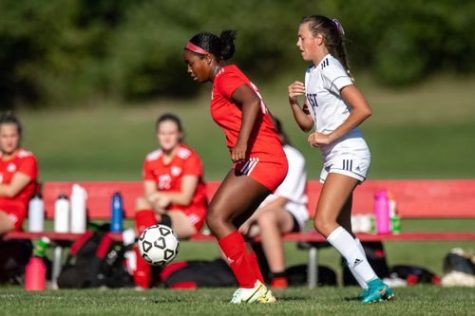 The team's environment plays a key contributor in both the teams and player's success.
 "As a coach [my goal] is for everyone to have fun, learn and get better," said Coach Brighid Marquess. 
Currently, the team stands as second place in the Olympic Conference rankings and is closely behind Cherokee. The team's leading goal scorer is senior Kennedy Garica with 12 goals thus far. 
Girls Tennis 
The girl's tennis team knows how to stay positive when difficult challenges come their way. They are currently in the midst of a comeback after having a 3-8 record. But their last two matches have been successful wins. On September 26, the girls defeated Burlington Township and left with a 3-2 win. And just recently, on September 29, the girls swept through the match with a 5-0 win against Audubon. Senior Shemariah Basquinez, junior Kaitlyn Orzol and senior Victoria King all won their singles matches. 
Head Coach Ryan Fish shared his goals for the second half of the season. 
"We had a tough first half of the season schedule. We are going to turn it over and see those same schools a second time, so we are looking to improve against those schools in the second half of the season," Fish said.
The girls will play again on  October 11 against Winslow. 
Girls Cross Country
The girls' cross country team is halfway through their season and has already achieved numerous personal records for running times. The girls started out the season with their first meet, Cherokee Challenge, where runner junior Bea Faigal claimed the ranking for the fastest 3200 meter of this season for the team with a time of 13:39.77. The RV girls team has also competed in three Olympic Conference Batch Meets thus far, placing 2nd overall in the 5000 meter Girls 1 Race at Moorestown. 
Two meets have been hosted at Rancocas Valley's sport complex this season, Ray Hoagland RVXC Invite and an Olympic Conference Batch Meet. At Ray Hoagland, senior Sarah Paulin ran both a PR and a team-best for the season, with a 5000 meter time of 22:46.71. 
Looking forward, head coach Abigail Saiia spoke about what the girls RVXC team is aiming for during the second half of the season. 
"[The goals are] for our girls to get stronger and faster each meet and to continue to feel proud in their races and to get some PRs," Saiia said. 
Upcoming meets include the BC Open at Mill Creek Park on October 14 and Sectionals at Thompson Park on October 29, where the team will be competing to utilize the hard work put in over the past months and run their best times. 
Boys Cross Country
Boys cross country at RV is competitive—the team is eager for PRs. At the recent Osprey XC High School Invite at Stockton University the boys had multiple personal records in the 5000 meter race, including junior Jonathan Antwi's time of 18:45.67. Senior Ryan Smith currently holds many records, including the team's season best 5000 meter with a time of 16:03.87 and the school's fastest 3200 meter with a time of 9:57.14. 
For the boys team, two upcoming meets include the BC XC Open on October 14 and the Olympic Conference Championships on October 19. 
Junior captain Isaiah Shannon shared some insight on the team and their goals for the rest of the season. 
"Going into the second half of the season you know we're really excited," he said. "That's where all the big races are and that's where we have to…put our training to use and keep consistent and break some PR's. But we have some new guys that are stepping up in the roles of the seniors that left last year [who] were really good runners and we had some big shoes to fill but I think we're filling them alright… I think our top 7 [runners are] pretty good and we also have a really good young team…As the years go on we're [going to] build and make cross country one of the top teams of RV." 
Overall, the boys are putting in the effort now in hopes to be competitive at Sectionals and place for States. 
Girls Volleyball 
The girls volleyball team has been working hard this season and their record proves it, with seven wins out of 11 and a current three-game winning streak. The most recent game of the season was on September 29, against Northern Burlington, and it ended in a win for the Red Devils; the girls beat the opposing team in both the first and second set. In the first set the score ended as 25-21, and ended as 25-22 in the second set. Senior Abbie Bachman scored 6 kills and junior Devon Young had four kills in this match. 
Overall, the team had 11 aces and 19 digs, giving the girls the win. Currently junior Olivia Colling is a team leader, holding the most assists on the team with a total of 151 over the season. The team's next game is on October 3, and will be played against Camden at the Rancocas Valley home court.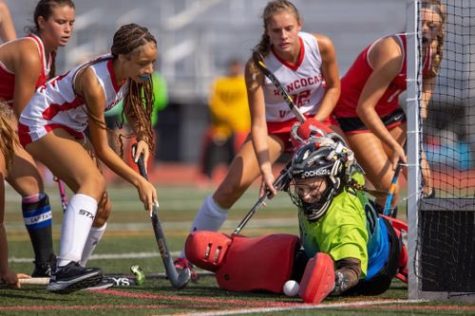 Field Hockey
The RV field hockey team has been competitive with a current record of five wins, two losses, and one tie as of October 1. Starting out triumphant, their first game at Seneca on September 9 ended with a final score of 2-1. The goals were scored by junior Stephanie Pallante and freshman Tula Ravikio. The most recent game on September 30 at Cherokee resulted in a 2-1 win for Rancocas Valley. After Cherokee's team scored once in the first quarter, senior Brook Mohan assisted junior Mikayla Simmons in the second quarter to give the girls their first goal. The second and leading goal was scored in the fourth quarter by freshman Tula Ravikio with an assist by junior Paige Gray. Sophomore goalie Tess Philips earned another four saves, giving her a total of 42 this season. Junior Carly Seal has scored the most on the team so far this year for Rancocas Valley, with 10 goals and 2 assists. She has verbally committed to play Division 1 field hockey at Penn State University, joining the future class of the 2028 Nittany Lions. 
Football
The football team's success is no secret to RV. This season the team started off strong with three consecutive game wins. This a huge turn around considering the team only had two wins the previous year. Their recent success excited the RV community, and the stands were packed for the first few games. 
The home opener game on August 26 reunited students before the start of school. The stadium was filled with students rocking red during the red-out themed game. The team beat Williamstown 21-14. One notable player is senior Kevin Berr with a total of 447 passing yards. Junior Malachi Castle has a total of 274 rushing yards. And finally, senior Jameir Rollins with a total of 209 receiving yards. For a full list of compiled stats, visit maxpreps. 
The Red Devils have fallen to 3-3 since their loss to Hammonton last week, but they're hoping to turn it around against Delran this Friday night.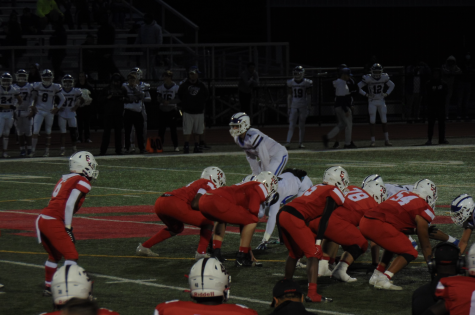 To stay updated with football game themes, visit @rvstudentsection on Instagram.