RV gears up for Homecoming 2022
The school-wide competition features a weekend of fun, including a parade, skits and a home football game
It's fall, which means it's Homecoming season here at RV. Like many surrounding districts, RV's Homecoming is rooted in competition between classes who vie for bragging rights for the year.
The Homecoming schedule can be brutal, and includes everything from building a structure for the parade to performing an original skit to decorating the school with posters. All material is centered on a theme which is selected by the student council. This year's theme, different movie studios, has allowed for more creativity and innovation.
Homecoming also seeks to involve students from all backgrounds, especially those who are new to RV.
"I am involved because coming into the school as a freshman, you're not really involved with anything," said freshman Ava Morton. "For Homecoming…the entire community is present. We are all gathered here to celebrate and appreciate our school's pride. Despite the fact that the grades are competing, we are all presenting as a team."
Most students agree that the fun really is held in the preparation of these events, despite the fact that they compete with other major clubs and activities at the beginning of the year.
"I definitely love the late nights working on the structure with my friends the most," said sophomore Annie Morris, who has had to juggle a number of obligations, including leading other clubs and participating in the school's upcoming musical, Elf.
In spite of the time commitment, many students participate because of the chance to stretch some creative muscles with their peers.
"Doing the skit with all these rehearsals is a complicated process," said junior JT Mozes. "But I think when you do that final rehearsal and you're just running [through] it, that is my favorite part of it, because it's just fun to present the actual product."
For many teachers at RV, Homecoming can mean a number of things. Class advisers have the task of organizing skit practices and structure building, as well as poster painting and tee shirt designs. It's an enormous amount of work that often takes place in evenings and weekends.
Business teacher Mrs. Carolee Gray has plenty of experience with RV's Homecoming — especially since she's an alum.
Gray is this year's senior class adviser, which means she not only has the most pressure to make sure the senior class (who usually win Homecoming) is successful, but also that she oversees one of the largest Homecoming-prep groups. For her, the work is personal.
"One year, somebody walked by and asked two kids working on posters in the hallway, 'Why are you doing this?'" Gray said. "One student said, 'the person that I'm sitting with right now, I didn't know in middle school. I met them through coming to Homecoming events, and now they're [one of] my best friends, and I would not have met them had it not been for me choosing to do homecoming. It almost drove me to tears. But I can see that it was such an important moment."
Gray is also in a unique position, since she gets to see many former students who have also joined the ranks as RV teachers, some of whom are now leading classes of their own. Science teacher Mr. Evan Snyder, another RV alum, is now the sophomore class adviser.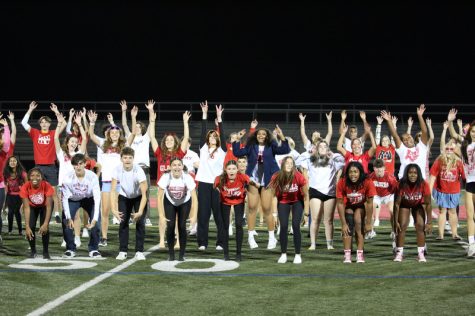 "Mr. Snyder was a former student of mine," said Gray. "As a student, I was his class advisor. To see him in that role already as a second-year teacher, I'm beyond proud of him."
"When I was a student here, I was heavily involved in Homecoming," said Snyder. "I did posters and skits, and I enjoyed my experience as a student here. I loved it so much that I want to give back and be an adviser now and be on the other side of it."
The grind of Homecoming prep can be a big turn off to many teachers who consider becoming a class adviser. 
"One of my philosophies with teaching business ed is that, you know, when you're in the workplace, whether you've had a bad day outside of your workplace or not, your customers, who in my case or my students, are not my victims, and they should not be your victims," said Gray. "I keep this in mind and try to always put on my encouraging smile."
This year's Homecoming has high hopes of becoming a more typical performance and experience. For the last two years, there were numerous disruptions as a result of the pandemic, including limiting skits and activities as well as masking for parades and performances. The importance of Homecoming cannot be underestimated for upperclassmen especially who will be heading in different directions following graduation. For many, it's one of the last times they get to work with multiple members of their class.
Homecoming festivities kick off with spirit week this week, for which students dress according to different theme days. Posters will go up Thursday night around the front entrance of the school, and the parade begins at 7 p.m. Friday night. The football team takes on Northern Burlington for the game Saturday afternoon.