BOE approves motion to test drones and robots at RV
Testing of different school safety measures using Zeroeyes discussed at last BOE meeting
The Rancocas Valley Board of Education (BOE) approved a motion to allow software company Zero Eyes to test gun-detection drones and a robotic dog at its September 27 board meeting. 
A motion to approve the testing of gun-detection drones and a robotic dog at Rancocas Valley passed at the September 27 board meeting with 6 out of 9 votes. The gun-detection drones were tested outside and the robotic dog inside. The motion was put forward by Ryan Donelly and seconded by Nicholas Peditto. They both voted "yea" in addition to BOE members Eric Fueger, Robert Sapp, Everton Burke and Board President Charles Miller. Christina Lestician, Allan Hollowell and Board Vice President Christina Daily opposed the motion.
Despite the motion passing, the use of gun-detecting drones was not actually tested. Mr. Fields, RV's head of security, commented on the school's decision to test drones following the BOE meeting last month.
"We did not use drones because of the weather when Zeroeyes was here," said Mr. Fields. "Also we have no plans on using drones for gun detection here."
Zero Eyes was founded in 2018 by Navy Seals and Military Veterans. They make A.I.-powered gun detectors inside security cameras. The purpose of the detectors is to prevent mass shootings and save lives.
According to the ZeroEyes website, it is "a proactive, human-verified A.I. gun detection solution that integrates into existing security cameras to stop mass shootings and gun-related violence; by reducing response times, providing actionable intelligence, and delivering clarity – ultimately saving lives." 
RV has been using Zero Eyes technology for four years. However, it has been used in security cameras, not drones. 
"It is almost impossible for us to monitor cameras constantly." said RV school resource officer Deborah Murillo in the "customer testimonial" section of the Zero Eyes Website. "ZeroEyes is very helpful because our first responders would like to know exactly where the threat is inside the building."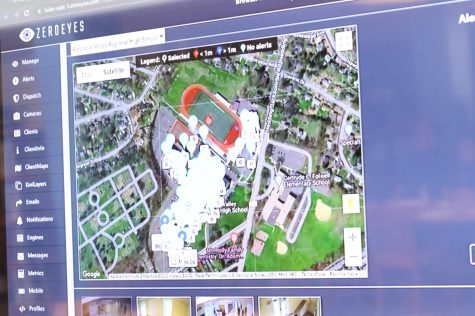 Zero Eyes has partnered up with robotics company Asylon in order to integrate gun-detection technology into drones and robots. In addition to the partnership with Asylon, the Air Force awarded Zero Eyes a 1.25 million dollar grant to integrate its gun detection technology into its unarmed aerial vehicles. 
"A quarter of active shootings take place on government property, and we will take every step possible to protect our airmen," said the chief innovation officer at Dover AFB Capt. Nicholas Martini said. "ZeroEyes' technology not only provides another layer of security. It will also enable us to reduce our investment in security personnel and use our manpower for more mission-critical tasks."
The testing of gun-detection drones has sparked some debate among the student population at RV about school security. 
  "Would it be useful? Yes. But is it feasible? No," senior Sky Cowperthwait said. "You can't exactly run a drone through the hallways and in the classroom…while it will be possibly useful and could help with the situation, it would just be more expensive and would be worth more than it would be provided for."
"Maybe not the drones, the drones seem pretty excessive…it seems kind of scary for kids who don't bring guns to school which are the majority" sophomore Terrance Clark said. "No, I am not really worried about it. The security guards [but] they are keeping me safe, so I appreciate it but they're like 'where's your pass… [but]  I understand it."
The footage on the Zeroeyes website actually stems from Zeroeyes gathering data and video for another client.
"Zeroeyes was going to fly a drone to get some video for another project they are developing for another client," said Mr. Fields.
"RV does not use gun-detection drones," said Principal Martin via email.