Report details abuses in professional women's soccer
Groundbreaking report details numerous instances of physical, sexual and emotional abuse of women playing on professional teams
All quotes in this article are from the report itself: King & Spalding – Full Report to USSF 
An investigation with over 200 relevant witnesses has provided evidence for the claim that the NWSL (National Women's Soccer League) and other professional organizations have failed to keep the environment safe for the athletes within it. There are accusations of verbal, physical and sexual assault committed against multiple (mostly female) athletes within the program. 
The following information provides an overview of vital information and statements, which are all discussed in greater detail within the report itself.
The Investigation
The "Report of the Independent Investigation to the U.S. Soccer Federation Concerning Allegations of Abusive Behavior and Sexual Misconduct in Women's Professional Soccer," report was relased on October 3. The report says, "Our investigation has revealed a league in which abuse and misconduct—verbal and emotional abuse and sexual misconduct—had become systemic, spanning multiple teams, coaches, and victims." 
The report includes 316 pages that include an in depth report of testimonies, policies, changes and the cause as a whole. 
"In well over 200 interviews, we heard report after report of relentless, degrading tirades; manipulation that was about power, not improving performance; and retaliation against those who attempted to come forward," the report says "Even more disturbing were the stories of sexual misconduct." 
The table of contents shows a glimpse of quotes of real players that provide a grasp of some of the belittling statements at hand. 
Some of these quotes include: "Nobody believed those teenagers;" "Yet another monster operating in plain sight for decades;" "Fear-based culture;"  "I was bearing the weight;"  "They just let him walk away;" "It did not stop;" "And the team fell to bits." 
 The report covers a variety of teams, levels and age groups.
"The players affected are not shrinking violets," the report states. "They are among the best athletes in the world. They include members of the U.S. Women's National Team ('National Team'), veterans of multiple World Cup and Olympic tournaments and graduates of legendary NCAA Division I soccer programs." 
The U.S. Soccer Federation
On June 29, 2017, Congress passed the "Safe Sport Act." This act was initially established after the abuser, Larry Nassar, was accused of assaults by the women on the National Women's Gymnastic team. The primary goal of the act was to catch abusers at the start of their abuses by ensuring that the acts are reported. 
According to the report, "the Act requires USSF [United States Soccer Federation], its employees (including National Team players), and licensed coaches to report information concerning sexual misconduct or child abuse to SafeSport and to law enforcement, making them mandatory reporters." 
As proven in the report, the act did not ensure the safety of the athletes, which was further discussed in greater detail within the report. 
The National Women's Soccer League
As stated in the report, the atmosphere within the NWSL was not a welcoming environment. In a survey, players rated their experiences from "poor" to "excellent." They were asked to rate the conditions and qualities of equipment, services, staff and other experiences. 
"Survey results from each year raised red flags about multiple teams, ranging from poor playing conditions and low salaries, to allegations of emotional and verbal abuse, and toxic work environments." 
Professional teams such as Sky Blue, FC Kansas City, Chicago Red Stars and Western NY Flash all had various complaints about the low quality and unprofessionalism of the program as a whole. Survey results were commonly reported as "poor" or "very poor."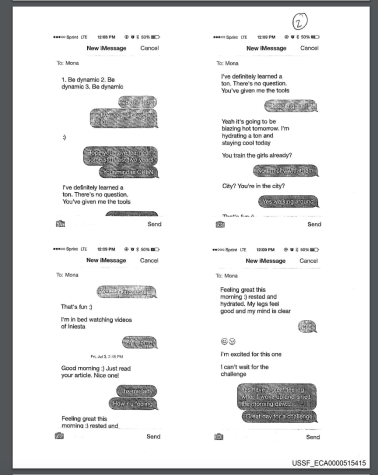 "Players reported living in houses with broken windows, cracked floors, leaking ceilings, dried mucus on the walls, and, in one instance, a whole human toenail sitting on a windowsill. One player stated that her housing was so abysmal that she believed the house had been abandoned," the report states. 
A toxic league culture and systematic abuses were additionally discussed within this section.
"The investigation found that inappropriate and abusive behavior permeated the culture of the League as a whole." 
Examples about these behaviors included an environment in which the players felt uncomfortable and unwelcome. 
In addition, coaching tactics that were commonly implemented were shown to have a negative effect on the players. 
"Emotionally abusive conduct forms such as belittling, threatening, humiliating, scapegoating, rejecting, isolating, and ignoring players." 
The unprofessionals of these facilities and organizations made an opening for the abusive behavior to be ignored. 
Coach Paul Riley 
Paul Riley was the first abuser discussed in full depth within the report. He was accused of physical, mental, sexual, emotional and other forms of harassment. 
Riley is the former head coach of the professional team  North Carolina Courage from 2017-2021. Previously, he coached Western New York Flash, Portland Thorns and the Philadelphia Independence. He was a three-time recipient of the prestigious NWSL shield. Prior to coaching, he was a player himself in American professional leagues.
A cause for Riley's abuse being disregarded for so long is that he hid behind his various accomplishments and awards. 
"Riley led the club to back-to-back league championships in 2018 and 2019, secured the NWSL Shield for three consecutive years from 2017 through 2019, and received NWSL Coach of the Year honors in 2017 and 2018…By the end of 2021, Riley was one of the winningest coaches in the NWSL's history," the report states.
Back when Riley coached the Portland Thorns, there was a report of an inappropriate relationship with multiple of his players, including Meleana Shim. Riley created an uncomfortable environment towards Shim by making sexualized comments. On multiple occasions, he would invite her to his room to talk about soccer, but in reality the topic of soccer was barely discussed. 
"I just didn't feel safe. I didn't enjoy playing. It was a bad situation," Shim is quoted as saying in the report.
Then, Shim sent Riley an email, expressing her concern towards his behavior towards her:
The report states that "when Riley received this email, he deleted it, and then went into his trash folder and selectively deleted it again, effecting a permanent deletion from his Thorns account." 
Soon after, Shim was no longer receiving any playing time on the field. 
Later, Riley was fired from the Portland Thorns but was then later given another job with the North Carolina Courage (in which he was recommended for). A former player and victim of Riley even emailed former NWSL commissioner Lisa Baird, expressing her concerns. But with little effect, Riley continued coaching, and his abuses didn't stop. 
"Players and staff on both the Thorns and the Courage commented that the way Riley spoke about weight promoted eating disorders…When [a player] subsequently gained weight again, he "punished" her, making her weigh herself and text her weight to him every day for two months, telling her she would not play again until she made the goal weight he set," the report states. 
As numerous more abuses happened, it was not until 2021 that he was fired from the NWSL as a whole. During this time, victim Sinead Farrelly, who faced abuses back in 2015 gave her testimony on why she stayed silent for so long. "I was so scared [reporting] would hurt my career, my reputation, my standing with these people. . . . I just wanted to not rock the boat, just do what they expected me to do so I could continue" playing soccer."
Coach Rory Dames 
Rory Dames first began getting known for his youth soccer club the Eclipse Select Soccer Club. Many boys and girls would apply to get into this prestigious club knowing he would make many of their soccer dreams a reality. One player even recalled that Dames "was like a god. Everyone wanted to be on his team." Though when these players made the team, instead of being welcomed with open arms and constructive criticism, they began noticing his mental and verbal abuse caused by the coach they once adored. 
Many young girls on Dames' team reported him being publicly humiliated and sexulazed towards them on the field. Even parents and the opposing teams playing against the Eclipse remember the embarrassing comments blurted by Dames. 
The report explains, "Dames's behavior was unpredictable. His mood vacillated rapidly. On a given day, players and staff did not know what to expect or how Dames might act." 
Dames' personality and coaching style was out of control and his outburst led to trauma on young players.
Not only was Dames called out for his verbal and mental abuse, his physical actions toward young girls was something no parent or coach could overlook. Rory Dames's influence on young adolescents is one of the major red flags presented in youth soccer. 
Coach Christy Holly 
Christy Holly, who was fired in August 2021, was the former coach of the Racing Louisville FC team. Prior to that, he was fired in 2017 as coach to the "Sky Blue" team. 
"The misconduct began prior to his tenure at Racing Louisville and continued throughout. It involved sexual contact, coercive text messages, abuse of power, and retaliation," the report states.
Erin Simon was one of the victims of Holly. She was sexually assaulted by Holly while she was asked to review game film in his room. 
After the occurrence, Simon recalled her feelings in the report, saying,  "I hated myself. I was bearing the weight and shame and guilt, and I thought it was my fault."
Soon later, Holly was fired from Sky Blue, but faced little to no repercussions. 
"Players were also asked to keep the matter of Holly's departure confidential, which left many feeling that their experiences were not validated or acknowledged. As said by a player on the team, it "breaks my heart that he could just walk away, [while we took] the brunt of it, and he was able to just get another job," the report states.
Not too long later he was hired (and recommended) to coach for Racing Louisville FC. After years of complaints, the executives finally fired Holly from the NSWL for good. 
Conclusions 
As a conclusion, the report wraps up with a "recommendations" section. This section provides a lengthy overview on the steps to move forward and the necessary changes the organization must make as a whole. It discusses guidelines that include, transparency, accountability, clear rules, player feedback and discipline. 
The report ends with: "Primary responsibility for player safety, however, must rest with the teams and the League. Teams are on the front lines with first-hand information about coach conduct and they are best positioned to be knowledgeable about potentially abusive conditions. The League is responsible for ensuring that teams are complying with their obligations to prevent abusive conduct and hold wrongdoers accountable." 
Please visit the report, for more evidence, interviews, screenshots of texts/emails, and further information regarding the topic.