"Patron Saints of Nothing" sheds light on struggles within the Filipino community
The 2019 award-winning novel pulls from the headlines to examine notions of grief and identity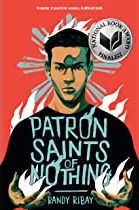 "Patron Saints of Nothing," the novel by Randy Ribay, is a candid yet complex novel that weaves themes of family, grief, self-exploration, political corruption and human complexity. 
Published in 2019, the novel is a National Book Award Finalist and depicts the life of Jay Reguero, a seventeen-year-old Filipino-American of mixed heritage. Jay is a high school senior who plans on attending the University of Michigan. However, when Jun, his cousin from the Philippines dies, his life is suddenly turned on its head. He soon finds that Jun has died because of former (but current at the time of publication in 2019) President Rodrigo Duerte's war on drugs, and he begins to research a topic that he had never known about before. Determined to find the truth, Jay goes on a ten-day trip to the Philippines to investigate. 
During this time, Jay stays with Jun's sisters and parents and his aunts. His trip takes twists and turns to uncover the truth and when the truth finally rears its head, it's not what Jay is expecting. He begins to realize that people aren't just one-dimensional.
The book portrays the emotions of Jay vividly and realistically. Jay's struggles with his self-identity and future resonated with me. The addition of Grace, Jun's sister, is a great major secondary character that is a favorite of mine. She provides Jay with a point of view that made him grow and wasn't just in the background of the story. Ribay even made Tito Maning, Jay's uncle, a complex character. His character is perhaps not my favorite, but the most interesting because of his struggle between caring for his son Jun and being a police chief in the Philippines who believes in Duerte. There are so many themes woven throughout the story and Ribay still brings the audience news of current events that have happened in the Philippines. 
As a whole, "Patron Saints of Nothing" has garnered great reviews from readers. Kirkus Reviews expresses that the book is "part coming-of-age story and part exposé of Duerte's problematic policies, this powerful and courageous story offers readers a refreshingly emotional depiction of a young man of color with an earnest desire for the truth." They recommended reading the novel and it is included in Kirkus Reviews' Best Books of 2019. 
While I did absolutely enjoy the book, there were a few negative points. Mia, who was a secondary character who helps Jay throughout his journey, wasn't really a fleshed-out character to me. I also would have liked to see Reyna, who played a minor role in the story, to have played a bigger role in the book because her character was very interesting.
The book was great and tied into events that happen in the Philippines, and its investigation of the tensions in the country went beyond fiction. I felt excited going into it and after reading it, I had to put it down and take it in. Not only does it provide the reader with a great story, but it also gives much-needed representation of the Filipino community, which is something that I became even more aware of after reading this book and having a conversation about the topic of Filipino representation with one of the Filipino students at RV, freshman Angela Cruzat.
"There isn't much representation for the Filipino community in books," she said. "In books, there aren't even minor or secondary characters that are Filipino. In recent years, the representation has gotten better but still there isn't much." 
Overall, the book opened my eyes to the need for representation of the Filipino community and bringing more diversity to the books that we read, while also being a great book with genuine moments.
Rating: 8.5/10