Top five fall fashion trends
Five easy add-ons to your wardrobe to make you comfy and stylish this season
With the leaves changing colors and the weather (finally) getting chilly, fall is officially here! It's arguably the best time of year; Thanksgiving is not so far away and the smell of candles and pumpkin spice warms my heart.
Best of all is the fashion this season brings. This year fall fashion is truly something else. Across different social media platforms, fall fashion has taken on a lot of popularity. There seems to also be a pattern in everyone's fall outfits, which all include the following: miniskirts and tights, low-rise jeans, leather jackets, chunky sweaters and Doc Martens. Everybody is filling up their closets with these pieces.
Let's see what makes these pieces essential for fall.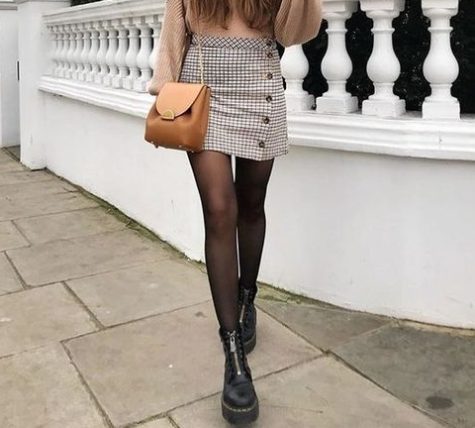 Mini skirts and tights
We all are aware of the Mini skirt and black tights combo by now. It's been around for quite a few decades. Now this combo has made a return this fall and EVERYone is wearing it. I mean who can you blame, this combo has the most classy and elegant look to it. It can be worn with fitted shirts and blazers for a more formal look but worn with an oversized sweater for a more casual look.
Low Waist Jeans
Low-waisted jeans were the go-to jeans back in the early 2000's, every 2000's movie characters wore low rise jeans. If you like these jeans, get excited because they have made a comeback this season. Everybody is rushing to find the perfect pair of low rise jeans to go with other fall necessities. They shape your hip figure giving a more flattering look and just like any other jeans, they can be paired with any kind of top( sweaters, shirts,blouses,etc.).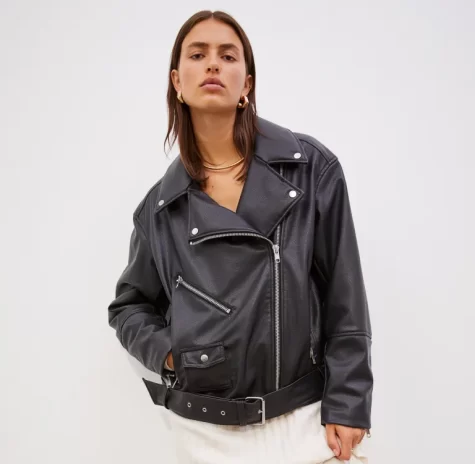 Leather Jackets
Baggy leather jackets have gained popularity this fall as well, especially brown leather jackets. Brown leather jackets have a retro look to them giving an 80's/90's vibe. Brown leather jackets, or really any leather jacket for that matter, can be paired with various other pieces. You can throw them over a sundress or any fitted dress. You can wear them over sweaters or shirts or blouses. "They are really comfy and best styled with wide leg jeans or mom jeans," said Jordyn Heyward, a Freshman student here at RVRHS.  Overall leather jackets are a staple piece that is both warm and fashionable.
Chunky sweaters and cardigans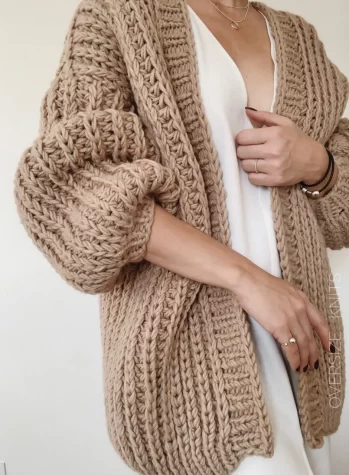 The main priority I think we all have when it comes to any outfit is being comfortable, especially as the weather is getting Chillier. Well, we can be comfy and still look absolutely amazing with the proper outfit. All you need is a chunky knit sweater and cardigan. Most knit sweaters have the softest, feather-like material, that not only looks nice but is very very cozy. A chunky knit sweater with a good pair of jeans and matching accessories makes for a simple but stylish fall outfit.
Doc Marten boots
Everybody has them, and everybody is wearing them. Doc martens have been popular for quite some time now but they have made a major comeback this fall. Doc martens are classy black combat boots, which come in high top and low top, and they go with everything. You can dress them up or dress them down, they are expensive but staple pieces in one's closet. Another option besides Doc martens can be Loafers, "I like doc martens but I prefer loafers," said Isa Collins, a freshman student Here at RVRHS. Loafers have a similar look to Doc Martens.Doc martens can be paired with any outfit to pull a look together.
At the end of the day, your closet should consist of pieces that you like to wear and that you feel comfortable in. These pieces are simply a starting point to build a fashionable fall wardrobe.