Inside the Marvelverse: "Werewolf by Night" is a fun blast-from-the-past for Marvel fans
The latest short project from the Marvel Comic Universe is a change in pace for fans
Inside the Marvelverse is a regular column by Arts and Culture Assistant Editor Tra'Sean Nichols, a self-proclaimed Marvel maniac and superhero enthusiast.
With the massive amount of new media content, finding something new to do or that has never been done before is hard.  Marvel, as we know, is a major motion picture force; they have made many significant strides within the movie industry. But besides the main focal storyline involving traditional superheroes and characters, what's next? You can't expect to keep fans entertained with the same overused superhero story, which I believe led Marvel in this not-so-new direction.  What's old works, and that's why fans are excited to watch Marvel's new black-and-white Halloween special "Werewolf By Night."
The film "Werewolf by Night," directed by Michael Giacchino, is Marvel's twist on the classic black-and-white horror movie, hence the name. The film is relatively short but packs a lot for fans to keep them on edge. 
Unlike the past projects we have seen come out in recent years after "Avengers: Endgame," "Werewolf by Night" is a stand-alone 50-min black-and-white film. This is equivalent to the average amount of runtime for an episode of "Loki." Despite its short runtime, it isn't a series like "Loki," nor is it a full-length movie; it merely serves as a Halloween special in the MCU, but this doesn't mean that it isn't worth the watch. "Werewolf by Night" is filled with things to keep Marvel fans entertained and any casual watcher if you are open to the colorless aesthetic aspect. 
The movie also follows classic horror tropes from years ago, including dark, gloomy settings and shadows (black-and-white comes in great here). "Werewolf by Night" follows a secret group of monster hunters who gather at the foreboding "Bloodstone Temple" following the death of their leader, Ulysses Bloodstone. His wife, Veusa, played by Harriet Sansom Harris, leads the group, but there is clearly tension between her and Ulysses's daughter, Elsa, played by Laura Donnelly. Meanwhile one of the hunters, Jack, played by Gael García Bernal, has a secret that becomes violent for many in the group. 
The lack of color in the film gives it an older, more vintage vibe and allows the filmmakers to utilize strategies that vintage film directors used. From the screen to the music, the movie's blast-from-the-past homage to the past gives a feeling of nostalgia to the older audience. The film embodies tactics used in movies like the classic horror flick "The Shining" and even more modern thrillers like "Scream," including how the cinematography and camera movement, and the music used to create suppleness and fluidity. I thoroughly enjoyed these hints of older movies; it makes the film fun to watch, as it differs from the MCU and typical modern TV.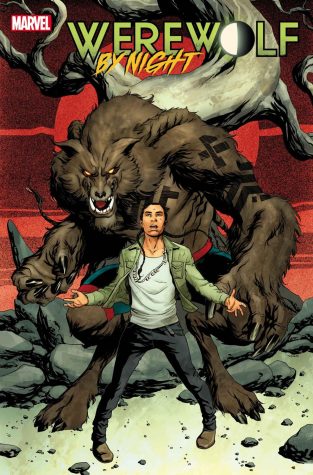 This film does not progress the MCU storyline whatsoever. For the past 15 years, since the first "Iron Man," Marvel hasn't been known to create specials like this. Of course, there are their shorts and behind-the-scenes specials, but never a full-out short film. Although more significant projects like "She-Hulk: Attorney at Law" slightly overshadow it and the upcoming Black Panther movie: "Black Panther: Wakanda Forever," "Werewolf by Night" is setting us up for stuff outside the main MCU storyline.  I expect we will get relatively same-length projects for other major calendar events like Christmas or other holidays.
"Werewolf by Night's" storyline heavily reflects the comics. The story is taken from the 1972 Marvel comics, similar to how the "Infinity Saga" storyline was lifted from comics as well. It is incredible to see a separate storyline in the MCU that isn't following the "Multiverse Saga" and the "Kang Dynasty" completely. It gives the audience variety because before, Marvel heavily focused on the "Infinity Saga," and every movie made in those first three phases is geared toward progressing the storyline of the Saga. "Werewolf by Night," being an outlier to the newest saga, is showcasing Marvel's flexibility. 
Marvel's"Werewolf by Night" serves its purpose of being a Halloween special that also progresses how we will be getting content in the MCU.  In addition to its 90% on Rotten Tomatoes (both critics and audience score), it takes everything good about older movies and puts them into a new modern format, which is why I recommend that all fans watch it.