Drake disses everyone on recent album
The fallout from the November release of "Her Loss" continues to draw attention and criticism to the rapper
Drake's collaborative album with 21 Savage "Her Loss" made waves with its release last month, dissing a wide range of celebs including other rappers to the spouse of a past flame, and, perhaps not surprisingly, his lyrics were received with substantial pushback.
The recipient of Drake's ire was popular rapper Megan Thee Stallion, whose real name is Megan Pete. The validity of this theory is often questioned, but on the track "Circo Loco" Drake proclaims "This b*tch lie 'bout getting shots but she still a stallion." The context for the diss is that fellow Canadian rapper Tory Lanez allegedly shot Megan Thee Stallion in 2020. 
However, on Instagram Live, Lil Yachty, a credited writer for the song, affirms,"It's not about Megan, it's about women lying about their butt shots, saying it's real when it's fake."
While Yachty denies these claims many still accept it to be true especially since a few lines down he also notes "Shorty say she graduated, she ain't learn enough, … Play your album, track onе, OK, I heard enough." Many believe the reference ties back to Megan since January of this year she graduated from Texas Southern University, with "#MeganTheeGraduate" trending on Twitter. 
Pete fired back, tweeting: "A stallion is slang for a TALL THICK WOMAN"
Although her response never mentions Drake, it seems fans were offended since they were in her comments section making light of her traumatic experience. Pete tweeted the question on November 4, as the album was released, "Since when tf is it cool to joke abt women getting shot!"
Second on the roster for Drake's disses is Shelley FKA DRAM, formerly known as DRAM. The singer-rappers feud was sparked in the summer of 2016 with Drake's release of "Hotline Bling." At first "Hotline Bling" was thought to be a "Cha Cha Remix" due to their similarities. The issues occurred when DRAM was never credited for his role in the creation of the song. In an interview with Billboard DRAM remarked ​​"I feel like my record got jacked," amplifying the thread of tweets he sent about his frustrations. 
In Drake's response he offhandedly made mentions the song, telling Fader, and online music publication, "You know, like in Jamaica, you'll have a riddim and it's like, everyone has to do a song on that. Imagine that in rap, or imagine that in R&B. Imagine if we got one beat and every single person—me, this guy, this guy, all these guys—had to do a song on that one beat. So sometimes I'll pick a beat that's a bit, like, sunnier, I guess is the word you used, than usual, and I just try my hand at it. And that's kind of what 'Hotline Bling' was."
After that fiasco everything was radio silence between the two until Drake dropped "BackOutsideBoyz" in which he raps, "Tried to bring the drama to me / he ain't know how we cha-cha slide." DRAMS responded with the notion that Drake was dragging up problems from five years ago, and even mentions the time where Drake's bodyguards fought for him, contrasting the tough persona Drake exudes in the song.
Although they were presumed to be acquaintances, rising rap star Ice Spice was referenced in Drake's "BackOutsideBoyz." Before the album dropped, Ice Spice confirmed they were friendly; in fact, Drake had co-signed her breakout song "Munch (Feelin U)" and was spotted with her during the OVO Fest 2022. The line "She a ten tryna rap / it's good on mute," was believed to be about her especially since he unfollowed her on Instagram shortly before his release. Many fans speculated that Ice Spice perhaps rejected Drake's advances which in turn offended him. 
When asked by RapCaviar Ice Spice said she doesn't know why he unfollowed her, but it was "all love" from her side. 
Rumors aside, she jokingly responded to the sly diss with a quip on Twitter: "at least ima 10 🤷‍♀️😂."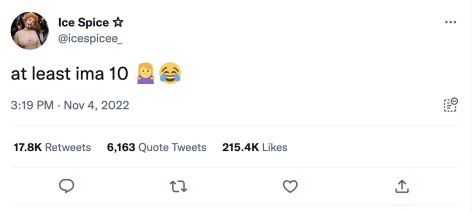 By far the most bizarre diss was targeted at the co-founder of Reddit and husband to Serena Williams, Alexis Ohanian. In his track "Middle of the Ocean" Drake states "Sidebar, Serena, your husband a groupie / He claim we don't got a problem but / No, boo, it is like you comin' for sushi." According to CapitalXtra, Drake and Serena started as friends in 2011, but it seemed like they were more. Even if the pair were never officially together, it was rumored that they were seeing each other in 2015 when alleged photos of them kissing surfaced. No one knows what really happened, but fans speculate that the rapper still isn't over Serena. 
Her husband responded in a now-famous tweet proudly bearing the title of "groupie" for his wife: "The reason I stay winning is because I'm relentless about being the absolute best at whatever I do — including being the best groupie for my wife & daughter."
The frequent disses have drawn the criticism of some fans.
"Drake really called out everyone and their mom for no reason," said senior Helios Gayibor, a hip-hop fan. "There wasn't any beef between these people, he just randomly called them out on things that don't even matter. On top of that, he didn't even diss the one person he had an actual good basis for dissing, Pusha T. It says a lot about Drake's priorities in the music space, just trying to create buzz rather than defending his dignity."
Whether you liked the album or not, everyone can agree that his diss was incredibly messy, chaotic and weird.
But as they say: there's no such thing as bad press.